Ravi Shukla, 23, became the Amul Star Voice of India 2008, beating fellow contestant Saptaparna Chakraborty. Shukla has won a cash prize of Rs 25 lakhs, a Chevrolet Spark car and a three-year contract with T-Series. The finalists will also get two gold coins from the title sponsor Amul.
Ravi comes from a business family. Unlike most parents who want their kids to follow their steps and continue the family business, Ravi's father has been an inspiration to him to become a singer.
Ravi talks to Rajul Hegde about his victory, his journey in VOI and many other things.
How does it feel to win Amul Star Voice of India?
Great! I am very happy to have won the title and make my parents proud. God has been really kind to me and five months of hard work has finally paid off. I am basking in my newfound glory!
How has your journey been?
It's been very difficult. I have put in a lot of effort. Initially, I didn't get the judges' support but slowly, the public and the judges started supporting me. When I entered the show, I didn't aim to win but tried to give my best. Once I was among the top five, the passion became stronger and I worked hard.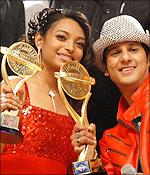 You were not the judges' favourite, yet you won. What was their reaction?

The judges didn't support me initially because they felt I didn't have the potential and capability to win the title. I took it positively and worked hard. Slowly, I changed their judgement. God has been very kind to me and judges are also happy that I won.

 Why do you think that Saptaparna lost to you?

The final results are based on public voting. She should have had a better connection with the audience, then that would have worked for her. She is an equally good singer and a winner too.

So you have won purely because of public voting?

It is a combination of good singing and connection with the audience.

Do you think public voting is important?

Judges can be biased sometimes with their personal favourites. The public

will throw you out if you are not a good singer. But yes, there have been instances where contestants felt that audiences have let them down.

Who was your favourite judge?

Monty Sharma. His positive comments really encouraged me. It is better to appreciate the participants to boost the confidence than put them down.

This season of Amul Star Voice of India wasn't as good as the last season. Why do you think that is?

It didn't rock but didn't do badly either. We did everything required for a successful reality show. There are so many reality and talent hunt shows that people are looking for something new like Aap Ke Kachehri and Balika Vadu.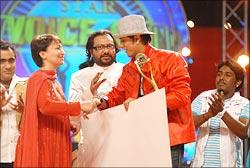 People have compared your look to Sonu Nigam.
We had all gone to his place before he came on the show as a celebrity judge. Many people have told me that I look like him. I was on top of the world when I heard it from the horse's mouth (smiles). He even said that we must have got lost in the Kumbh mela. He appreciated my singing. I will stay in touch with him. He has promised to help me if I need it. I was honoured and excited when he announced my name at the grand finale. I will always cherish that.
What will you do with prize money?
I have not decided yet. But part of it will be donated to an orphanage.
What kind of music do you like? Who is your idol?
I like all kinds of music. I don't have any idols but I like the styles of Sonu Nigam and Kunal Ganjawala.
What is the first thing you will do once you get home?

I will just sleep, eat and play my computer games. I would switch off my mobile for a week.
What next?
I want to meet my parents in Kolkata first, and then go to Vaishno Devi. I have a business with my dad in Kolkata but would love to move to Mumbai. It's tough to decide at the moment. It's not important to be a playback singer. It's more important to be musical.
Apart from this, I would do at least one song with all 12 of us together from the T-Series contract that I have got.