If you missed the action at Raveena Tandon's extravagant wedding, here's your chance. The star of Mohra, Daman and Satta is planning to make her wedding into a movie.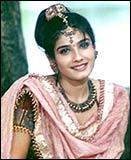 The 31-year-old actress wed film distributor Anil Thadani on February 22 at Udaipur's Shiv Niwas Palace against the majestic backdrop of Jag Mandir.
A top of the rack camera crew was organised to cover the 'event'.
A news report on msn.co.in mentions that the actress and her husband want to transform the lavish proceedings of her marriage into a feature film.
The website quoted the actress confirming, 'While I can't disclose too many details, it's certainly true that the wedding will also serve a different purpose. We will be shooting for a film and the footage could be used later. I don't think I could have found a better setting in either reel or real life.'
The report added that Raveena chose Udaipur, Rajasthan, as her wedding venue because she loves the city. 'It has always shows me a lot of hospitality, showered me with adulation and brought me fame and fortune.'
The ravishing star sat in a 100-year-old doli that once carried the Queen of Mewar.
Raveena wore her mother's wedding lehenga, which was reworked by Delhi designer Manav Gangwani with gold threads and semi-precious stones. Other members of her family like brother Rajeev, sister-in-law Rakhi and adopted daughters – Pooja and Chayya -- wore Gangwani's creations as well.
Last year saw Raveena turn producer with Stumped. She was also appointed chairman of National Children's Film Development Corporation.
Raveena's forthcoming films include Aan, Ek Se Badhkar Ek and Sandhya.