'For me personally, there was nothing till Aranyak made me say, 'This is it!''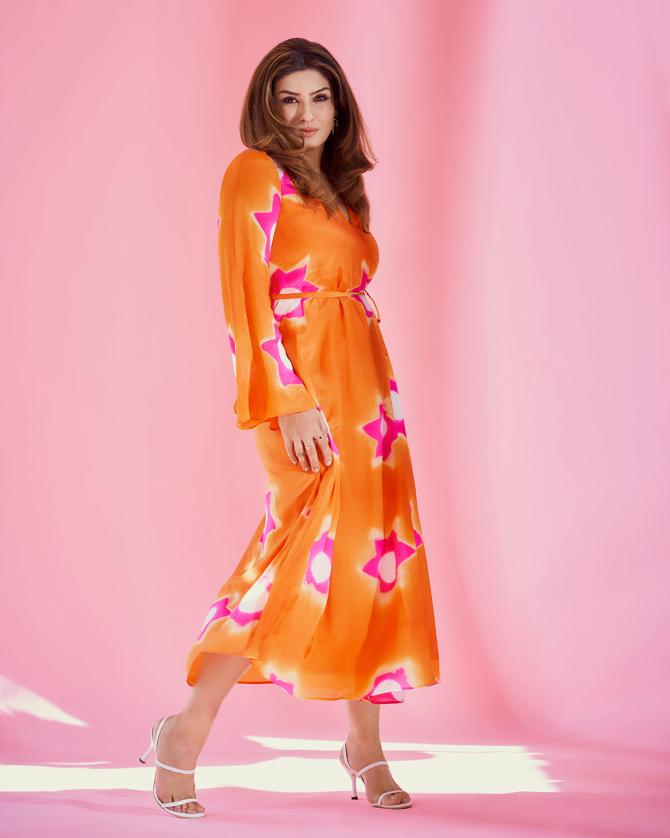 Raveena Tandon has been away from the screen for four years, but her memories haven't faded, thanks to the fact that many of her chartbusters, including the recent Tip Tip Barsa Paani, have returned in a new avatar.
The actor recently staged a comeback with Aranyak, a Web series about a baffling murder, political ploys, personal agendas and a mythical beast in a remote hill station.
In a freewheeling chat with Rediff.com Senior Contributor Roshmila Bhattacharya, Raveena discusses work, family and her daughter Rasha's big Bollywood launch.
Aranyak is not the usual singing-dancing heroine role. You play a no-nonsense cop, Kasturi Dogra.
Yeah, and that's what made it exciting.
It's easy to play yourself.
A lot of actors are quite comfortable playing a city slicker in every film, someone very similar to them, but I have always liked to challenge myself.
Aranyak took me out of my comfort zone, not just with respect to the role, but away from home, up in the hills, in the middle of an ongoing pandemic.
It was quite an adventure!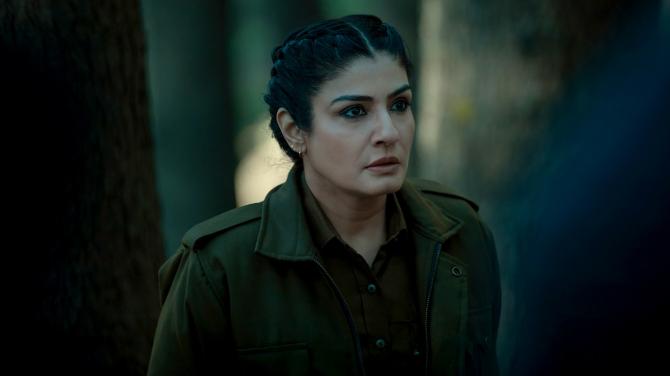 Why the four-year break from acting, given that this is the ideal time for an actor like you with OTT generating so much interesting content?
It was not as if I wasn't offered other shows.
Some of them, done by my contemporaries, were very successful and I'm so happy for them and the makers that it worked out so well for them.
But for me personally, there was nothing till Aranyak made me say, 'This is it!'
I like to do roles that are thought-proving, which challenge me as an actor.
Will there be another disappearing act?
(Laughs) No, I am definitely continuing now.
K.G.F Chapter 2 is coming up.
I have completed another film and they will be making an announcement soon.
I've signed a third film which should be starting soon. And I have my fingers crossed for Season Two of Aranyak.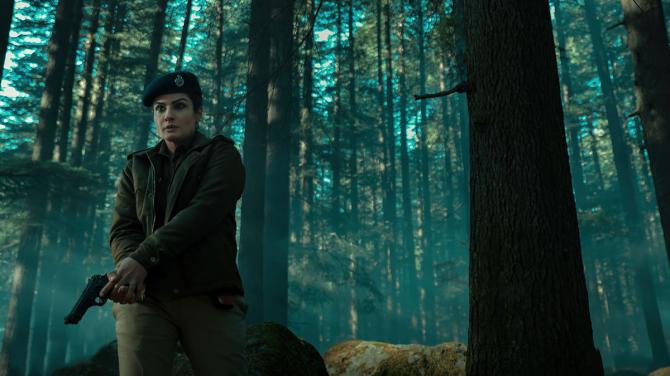 Aranyak is an interesting title and the forest, so dark and deep, is an interesting world...
Yes, I keep running away to a forest every time I get the opportunity.
Anything out-of-the-ordinary ever happened to you there for real?
Nothing mysteriously strange like Aranyak, but in 1999, when I was in South Africa for my first safari, our jeep fell into a ditch and got stuck.
It was the middle of the night, we were deep in the forest. There were lions prowling around us and we were told we would have to alight so they could pull the jeep out.
There were flashlights, but still the knowledge that the wild cats had us in their sight and could pounce on us if they wished, made it unforgettable.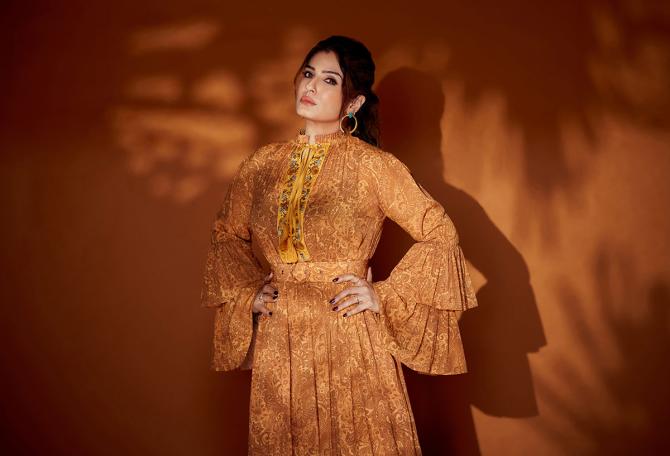 They say acting is like riding a bicycle or swimming. So was it easy getting back?
It was a little different this time because when we started our prep, Mumbai was still under lockdown. So we did our readings and workshops on Zoom.
We realised just how much of a disadvantage that was once we got on set.
That's when we started improvising and that worked so much better honestly.
Is that the reason the actors' accents keep coming and going?
That was intentional. Even during the reading, the brief was that since it's a pan-India show and Sirona is not a place on the map, they did not want our accent to identify us as being from Haryana, Himachal Pradesh or Uttarakhand.
In fact, during some of the intense scenes, those of us who were playing the locals, like Ashutoshji (Rana), Vivek (Madaan) and I were actually told to let go of our accent so it would not distract the audience.
For example, if I had to say, 'To kya uski biwi ko unn pe shaque hai?', I would opt for the more familiar shaque instead of Kasturi's usual sak because we did not want people saying, 'Yeh suck suck kya hai?'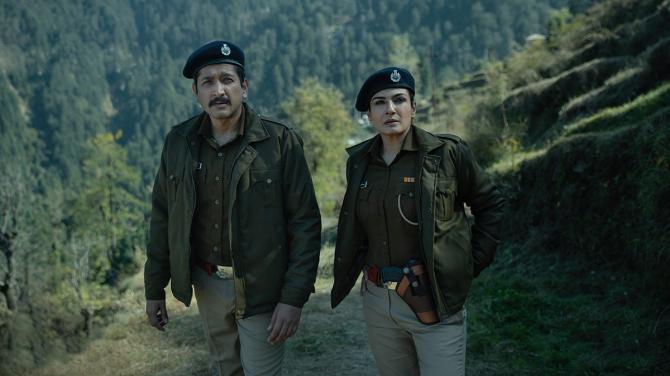 Point noted.
Also, as Kasturi Dogra works closely with fellow cop, Angad Malik, who is not a local, she slowly starts emulating the way he speaks while he picks up some of her habits.
Like, in the beginning, he tries to stop her from hitting every other suspect.
Then, there comes a point when he slaps too and she looks on appreciatively.
That's the growth curve we wanted to show through little nuances that spoke of a strong chemistry while not crossing the line because Kasturi and Angad are comrades.
I don't know how much of it has come through ,but that's how we played it out.
What was the equation like with Parambrata Chattopadhyay, who plays Angad?
All of us were very happy playing our parts and on the days when we would be shooting till 4 or 5 am, we would be so exhausted, we would just giggle nonstop.
Param is such a gentleman, so kind.
Mr Cool, nothing ruffles him, while Vinayji (Director Vinay Waikul) has a bit of Kasturi and Angad in him.
He's a gentleman too, but with a temper that fires when things don't go right.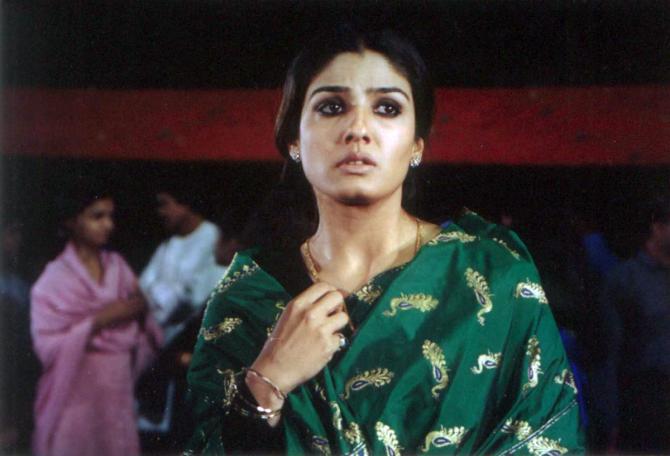 What are your memories of the National Award ceremony?
I wish I had a smartphone then, I would have recorded everything and watched it over and over again.
It's a landmark I will cherish all my life.
The only thing I remember is going up on stage, turning and seeing my parents beaming with great pride.
That's a visual I will never forget because it means so much to me.
The climax in your National Award-winning film Daman is unforgettable too. You could almost have been Durga...
It was a very ambitious climax shot in the midst of a real Durga pooja and not on a controlled set with actors.
We took a chance knowing that we had to give our best shot because there might not be an opportunity for a retake. It was quite an experience.
(Sighs) I miss Kalpana (Director Kalpana Lajmi) so much. She went away too soon. There was so much more she could have done.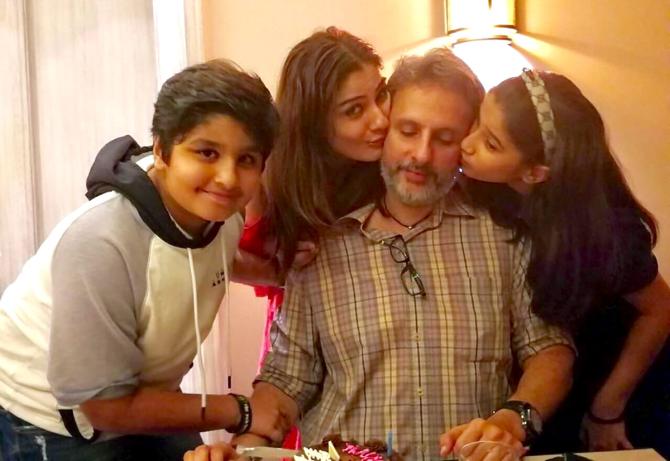 You post a lot of videos on social media, having fun with your daughter. Rasha is only 16, but is she showing signs of following you into the movies?
Not yet, but there's a sense of history repeating itself when I hear people telling me that we should launch Rasha.
I remember they told my dad (film-maker Ravi Tandon) the same things all those years ago and he would say it's Raveena's decision.
I'm waiting for Rasha, who is still studying, to tell me what she wants to do.
Once she decides, I will support my children in everything.
I guide them on what is right and wrong but tomorrow, if they make a mistake, they have to learn from it.
I want that my children to stand on their own feet and prove their mettle.
What is Rasha's equation like with your two adopted daughters, Pooja and Chaya?
My three girls are best friends and we four are so close-knit that when we are together, we don't need anyone else.
Where does your son Ranbir fit in this world?
(Laughing) He gets bullied by all his sisters.
He's the geek in our family. Ranbir is always been interested in academics and coding.
He recently took part in a competition, designing a toilet for some NASA labs, and his was voted the best design.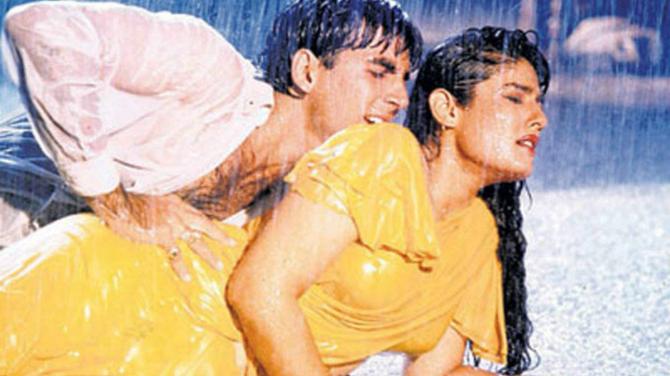 Two films in your repertoire stand out because of diversely different performances, Andaz Apna Apna and Aks. Tell us about them.
Andaz Apna Apna is an amazingly funny film, we were laughing in every scene.
What made it special was that it is simple, clean humour, not relying on double meaning dialogue which was the trend then.
Aks is intense, even the songs are so intense that every time they would play, I would start crying.
Neeta was a complicated role because even with all the villainy, the tender love in her relationship with Manoj's (Bajpayee) Raghavan had to come across.
It was a glamorous role, yet the performance stood out.
It's easier to look more human when stripped off all the glamour.
I won all the awards that year.
The new version of your Mohra chartbuster with Katrina Kaif swinging to Tip Tip Barsa Paani is a rage today. But one still remembers Raveena in a yellow chiffon sari.
That's really kind of you.
I love that all my songs are coming back.
Now, when I'm at a party, I get pulled on to the dance floor every time the Mast Mast replay, the Ankhiyon Se Goli Maare or Sheher Ki Ladki remix, the Tip Tip Barsa Paani remix or Badshah's Matak Matak Jaise Raveena Tandon comes on, with friends screaming, 'Raveena, they are playing your song!'
I look at Anil (Husband Anil Thadani) and tell him my songs are getting a new life.
It's a win-win situation for me.