'The 17-year-old boy, who pulled out Nirbhaya's intestines, should have got the harshest punishment because he was not human at the time.'
'Instead, he was given a sewing machine and some money to have a new beginning!'
'Are we giving out incentives?'
'Are we telling our unemployed youth that if they do something like this, the government will give them jobs?'
Straight talk with Raveena Tandon.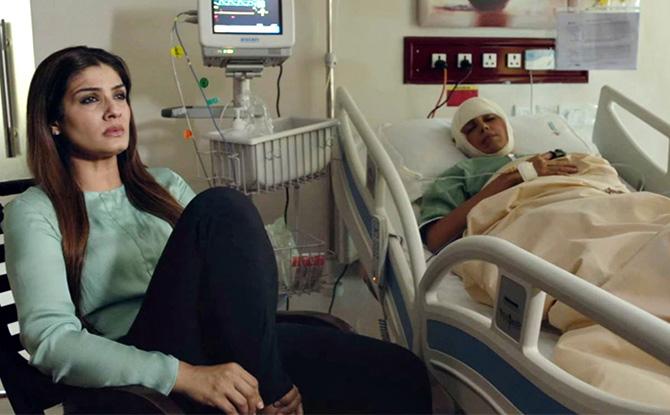 IMAGE: Raveena Tandon and Alisha Khan in Maatr.
Raveena Tandon has very strong opinions.
She tells us that husband Anil Thadani tells her to calm down at times.
The gorgeous actress will be seen in the hard-hitting film Maatr where she plays a mother to a young daughter who is raped and killed.
Raveena speaks to Rediff.com's Patcy N.
There have been back-to-back women-centric films -- Begum Jaan, Naam Shabana, Anaarkali Of Aarah... Your film Maatr is releasing with another women-centric film, Noor. Do you think women are getting more play on the big screen?
The very fact that these films are coming out week after week is such a great sign. I am so proud of my industry that we can see the revolution happening.
Inspirational films like Queen, Mary Kom, NH10, Highway, PINK, Phillauri and Begum Jaan (are being made).
We are at that point in time where we are recognising the power -- we are working for the cause of women empowerment. These films seem to be relaying that message across.
I hope this phase does not stop. There should be at least one film with a strong message every three months.
VIDEO: Raveena on what the punishment for rape should be. Video: Afsar Dayatar/Rediff.com
You play a mother who seeks revenge. How much could you related to this character?
The film is not only about revenge. Maatr deals with the atmosphere that is in the country today because of the rising statistics of rape and violence against women.
Sadly, as we are progressing towards a new and progressive India, it is not balancing out as far as crime statistics go.
Rapes are on the increase, in villages and in the cities.
Criminals don't fear the law. If a high profile actress -- like that incident in the south film industry -- can get molested in her car by her staff, there seems to be no fear in those criminals.
They believe they will be let off. That is the saddest part.
So when this film came to me and I read the script, I could identify with it.
My blood has been boiling since the Nirbhaya case. Sadly, we needed a horrific case like Nirbhaya's to start changing our juvenile laws.
Even then, the worst and the most brutal (criminal) of that case was set free.
He is walking free while Nirbhaya's family is left to face the emotional torture for a lifetime.
It is a life sentence for them, but for the guy who committed the most horrific and brutal crime -- he pulled out another human being's intestines! -- is walking free!
As a mother, that boils my blood.
Imagine your child going through that horror!
I met Nirbhaya's mother and I could not sleep for nights, thinking of the pain she is still suffering. Her tears have still not dried up.
My blood boils when I think why our system does not work towards giving harsh sentences or passing or amending laws that were made 70 years ago according to the times we live in today. There has to be change somewhere.
Our political set-up does not help either -- some political and religious leaders make absurd comments like 'She is wearing jeans so this was definitely going to happen to her' or 'Why was she going at 9:30 pm?'
You hear such comments where they shame the victims and you know something needs to be done.
In Maatr, we do not justify taking the law into our hands. That's not the right thing to do. We are not promoting that.
What we are saying is that until and unless something is not done, there will come a time when this fictional story will become someone's reality.
So let's wake up and take action.
Let our voices make a noise so that it shakes up some people... our law makers... we need to make that difference.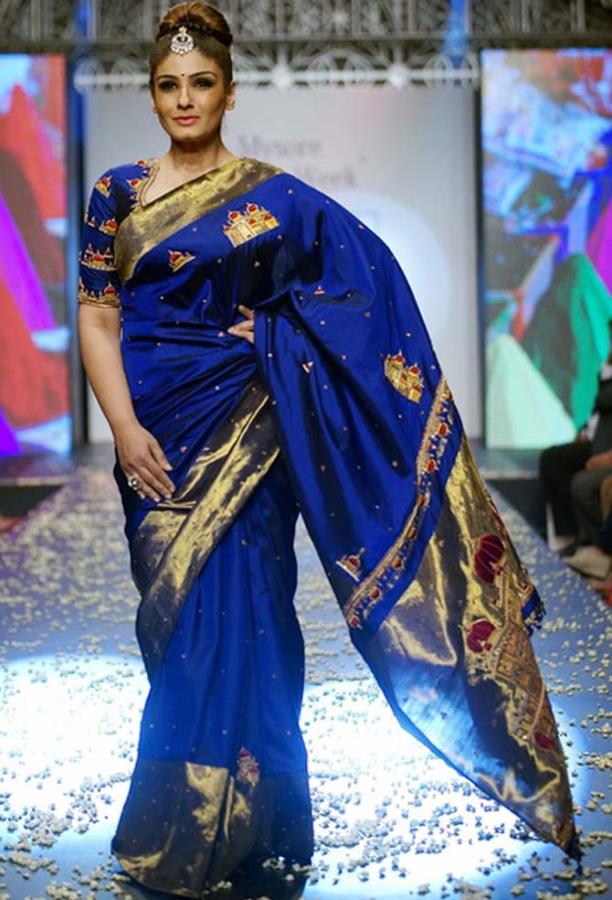 Photograph: Kind courtesy GLAD U CAME
What do you think should be the punishment for rape?
In a lot of countries, there are degrees to manslaughter. Likewise, according to the brutality of the crime, the punishment should be given.
The 17-year-old boy, who pulled out Nirbhaya's intestines, should have got the harshest punishment because he was not human at the time.
Can you imagine doing this kind of brutality to another person, making someone suffer like that?
Didn't he hear her screams? And he enjoyed the pain?
He should have been given the harshest sentence. Instead, he was given a sewing machine and some money to have a new beginning!
Are we giving out incentives? Are we telling our unemployed youth that if they do something like this, the government will give them jobs?
VIDEO: Yes, Raveena has been molested. She speaks about it here. Video: Afsar Dayatar/Rediff.com
Every woman gets molested, touched inappropriately or teased at least once in her life. Have you ever faced it?
Yes.
I was too embarrassed the first time it happened. A boy actually stood up and fought for me.
I was 13. I would take a bus from Juhu to Santa Cruz (north-west Mumbai) for my tuition classes.
One day, a middle-aged man tried to touch me inappropriately in the bus.
A young boy was sitting across and watching this. As soon as the bus stopped and the man was getting down, the boy caught the man and a crowd gathered.
I was so embarrassed that I put my head down and disappeared into the crowd.
I wish I had thanked that guy because we need such heroes.
Now I have reached a point where I don't take this kind of behaviour. I have slapped people and fought back.
This happened to me at the MTV Awards in the 1990s at Famous Studios (south Mumbai). There was a guy who tried to grab me. He said something bad.
I turned around and slapped him. He took his beer glass and wanted to throw it at me. Then, Arjun Rampal and all came out and took over.
Later, a magazine made a caricature of this incident and me. I realised a big joke had been created even though a woman was attacked.
I couldn't understand it. I remember calling the editor and asking how he would feel if it happened to someone close to him. People need to change this attitude.
IMAGE: Raveena Tandon with son Ranbir and daughter Rasha. Photograph: Pradeep Bandekar
What parenting advice would you give young mothers?
Parenting tips are highly complicated. But let me tell you, the minute you hold the baby, it comes very naturally.
It changes your world and you want to protect that child from everything.
You really pray and try very hard to make this world a better place for future generations.
There is a long list of do's and don'ts, but one needs to start teaching girls about the harsh realities of life at a certain age.
It is also important to teach them about good and bad touch.
You must teach them not to be timid, but to stand up for their rights.
Does the casting couch exist in Bollywood?
The so-called casting couch exists everywhere. I have been hearing about it in the airlines and in corporate offices too. Let us not blame only the Indian film industry.
Here, I would also say there is a certain desperation that some girls go through, where they succumb to things like this.
My dad (director Ravi Tandon) always taught me, 'Tumhari izzat tumhari mutthi main hain, agar tumne apne mutthi khol diye toh tumhari izzat utni he jaldi nikal jayengi (Your self-respect is in your fist. If you open your fist, the self-respect will go out quickly).'
So you need to keep that self-respect and honour intact.
Unfortunately, there are situations in our life -- and I am not just talking about the film industry -- when a lot of people do go through the casting couch.
Fortunately for me, I come across as a person who will fight back or destroy or humiliate the other person if they try to do something because I am not scared of the truth. I will go public.
I have never been scared and people know that. I have always said what is in my heart. So people have been scared from the beginning and stayed away.
I have had no godfather. I have never believed in any camps. I have not taken anyone's obligation.
I have stood on my own feet.
But I have seen this happen in different fields too.
One of my mother's friends was an airline stewardess. She said if she did not 'please' the captain, she would be grounded for a week.
If a girl works hard and gets a promotion, her jealous male colleagues will say she must have slept with the boss.
Unfortunately, this is what we women have to deal with. We have to work harder than our male colleagues to prove a point.
After Buddha Hoga Tera Baap, you did a Telugu film and an item song in Bombay Velvet. What's keeping you away from Bollywood?
I've taken sabbaticals a hundred times.
I did Maatr now and I think I will retire again.
I am already tired. I have done so many promotions! I am everywhere!
My children are missing me as I am never at home.
I did a full day of promotions and went home and covered my daughter's books.
I have certain responsibilities. My children are still small, they need me.
I want to enjoy each phase of my life. I have given so many days to this film.
If I do more (films), I will be working constantly and I am not looking forward to that.
I have worked so many years; I want to enjoy life now.
I have become choosy. I will do one film at a time.
When I say things like 'I've become choosy,' some people feel, 'She's choosy because usko kaam nahi mil raha hoga (she's not getting work).'
But let me tell you, I was offered a lot of films -- Chasme Baddoor, Gulaab Gang, Kya Kool Hain Hum and many more.
If I want to work, I can take up anything. But I want to do films that I believe in.
Gulaab Gang was a great script, but I choose Maatr because I believed it had a strong message.
So I can do a lot of films, but I am not interested in seeing my name in the arclights every Friday.
I have been there, done that.
I want to enjoy being a mother to my children, spending time with my friends, being with my parents... I want to travel with my kids.
I am doing a reality show (Sabse Bada Kalakar) as well, so my life is well balanced.
Between endorsements, doing a film and television, what more can I do? I am writing columns as well.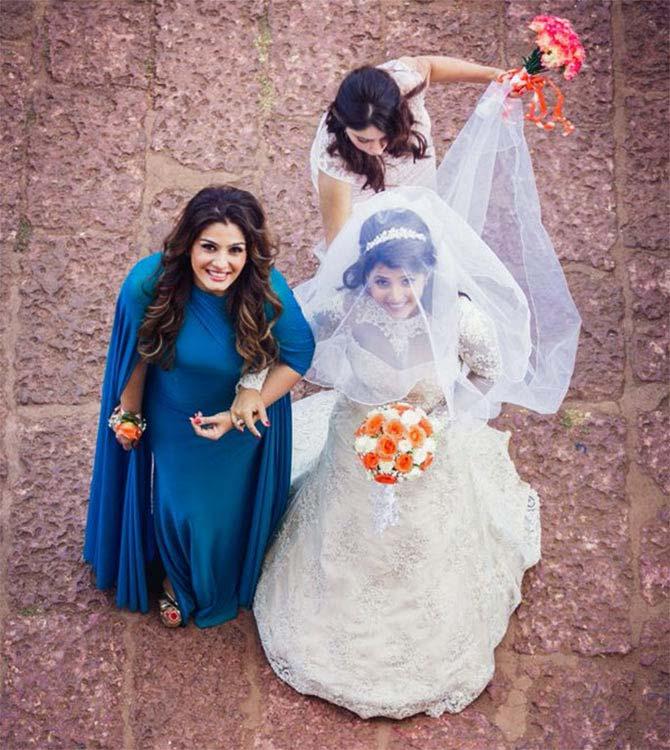 IMAGE: Raveena Tandon at daughter Chhaya's wedding. Photograph: Kind courtesy Raveena Tandon/Instagram
You adopted two girls when you were 21. What made you take a step like that?
I had been helping many NGOs and working towards the wellbeing of the girl child.
When this happened in front of my eyes (Pooja and Chayya are the daughters of a distant cousin, who fell on bad times in 1995), I felt these girls deserved a better life.
I just took them in; it was a no brainer. I did not think about how I would deal with it later.
It was a collective family decision and we just brought the girls home. I am so proud of them.
Your husband Anil Thadani is the distributor for Baahubali: The Conclusion. What are your expectations from the film?
We have all got our fingers crossed!
I am dying to know what happens in the sequel.
I am very excited, and I keep teasing Anil.
Maatr is a realistic film with a social message, but commercially these films don't do well.
So I tell him that he is the one in the family who brings the hits home while I am fine with doing the social message-wali films.
You recently inaugurated the new CBFC office with Censor Board chief Pahlaj Nihalani. Do you support him?
I am not supporting him; I am supporting the person who is in that situation.
There are certain guidelines that are dated. The laws were made 70 years ago.
According to me, whether it is the Censor Board or Constitutional laws, they were set for us 70 years ago.
The world has changed a hell of a lot since then. It has become more dangerous and yet, these laws haven't changed. They are all archaic and draconian.
Anyone in his position will have to toe the line. He cannot suddenly stand up and say, 'Main guidelines badaloonga.'
Nobody can do that, not Shyam Benegal saab or Sharmilaji (Tagore). Even when Sharmilaji was the Censor Board chief, she faced so much flak.
But why? Why don't we realise that we must change our laws, not pinpoint it on one person.
We can't witch-hunt one poor person who doesn't have the power to change the laws.
As part of a distributor's family, I know how much problem he (husband Anil Thadani) faces when his film gets banned.
My husband has distributed beautiful films on the lives of our saints, but because of one association or one person, the films would be stopped.
We have to show it to so many factions for approval. Then, because of one word or one thing that is not even harming the film, the films can't be shown and they are canned.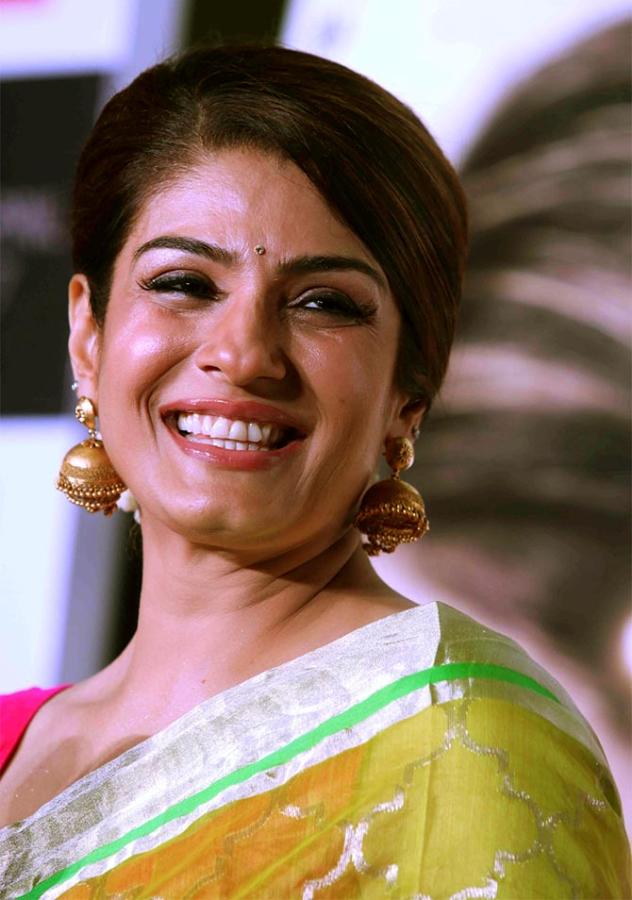 IMAGE: Raveena Tandon. Photograph: Pradeep Bandekar
Have you ever thought about joining politics?
I believe we should all become the change that we are hoping for.
Until people like you and me don't join (politics) and try and change the system, that change will never happen.
Goons will continuously get voted because of their money power or bhaigiri ka power.
See what happened with Air India last month.
We need socially aware people to bring a change in the system or else we don't have the right to criticise the government.
I have always believed whatever I do, I would like to put in my hundred percent.
But right now, my films are releasing, my children are too small and they need me.
One day, when I can give my hundred percent, I will think about it. But now, my hands are full.
You are a staunch supporter of Prime Minister Narendra Modi.
I have grown up being a huge fan of Rajiv Gandhi. In fact, my father and Sunil Duttsaab would work together and I remember as a child, sticking 'Vote for Congress' posters all over.
I support people who I think are doing well for the cause. Before the BJP government came into power, I campaigned for five of my closest family friends.
Like the Jindals (Raveena campaigned for the Congress' Naveen Jindal in the 2014 Lok Sabha election). So it is not that I follow just anyone.
I am all for that person who does good for my country.
In a recent interview, you rooted for adoption over surrogacy. Why?
I have worked with orphanages for a long time. I have seen children who are so cute, you just have to hug them and take them home.
I appreciate what people like Sushmita Sen have done to make a life more gratifying.
It is a selfish need to be happy, but when you see these children flower and become successful, you love that sense of gratification.
You don't need to adopt or bring a child home. You can sponsor a child's life and see the joy it brings.
Shah Rukh Khan, Aamir Khan, Tusshar Kapoor and Karan Johar have opted for surrogacy. What do you think about that?
What they have done is wonderful.
They are continuing their legacies forward. I have seen Karan's twins; they are adorable and look exactly like his father.
Do you think Akshay Kumar deserved his National Award?
I have not seen anyone so hard working and dedicated to his work like Akshay. He is incredible.
Don't you think Aamir Khan was a better performer in Dangal?
I cannot judge this at all.
DON'T MISS reading the features in the RELATED LINKS below...