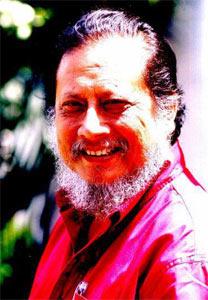 Noted theatre personality Ratan Thiyam said on Friday that Indians have a "chimpanzee culture" where everything is imported.

Thiyam was conferred the second National Bhupen Hazarika Award by the Pune-based non-government organisation Sarhad. The award was presented by film and theatre personality Amol Palekar. Hazarika's son, Tej Hazarika, was also present on the occasion.

Speaking on the occasion, Thiyam said, "We are adapting the chimpanzee culture. In this culture, the chimpanzee is given training in every aspect and he behaves accordingly. But the chimpanzee can never discriminate between the holy water of the Ganga and mineral water. Likewise, we are importing everything from China," he said.

He said that everybody must contribute something to the betterment of this world and Sarhad is doing that. The work of Bhupen Hazarika, he said, identified with his roots and it carried the smell of the soil.


Amol Palekar made a plea for recognition of every region and language in India and giving it its proper share of respect. "One is identified with one's work only in Hindi. The films or plays in other languages also deserve the same respect. When we held a festival of Thiyam's plays some years ago, people asked us who he was. This is the level of our ignorance," he said.
Tej Hazarika highlighted his father's work in the education field. "There were many similarities between my father and Dr Babasaheb Ambedkar. My father propounded the idea of using modern technology in imparting education, which was way ahead of its time," he said.
Ratan Thiyam is the founder-director of the Chorus Repertory Theatre in Imphal, Manipur. He was awarded the Padmashri by the Government of India in 1989, and the Sangeet Natak Akademi Fellowship in 2012, the highest honour in the performing arts conferred by the Sangeet Natak Akademi. He is currently chairperson of the National School of Drama Society.
In the picture Ratan Thiyam. Photograph: Ratan Thiyam/Facebook