'Shah Rukh Khan is a great actor. To be the only other actor that a great director selects after him is a matter of great pride.'
Straight talk from Ranveer Singh.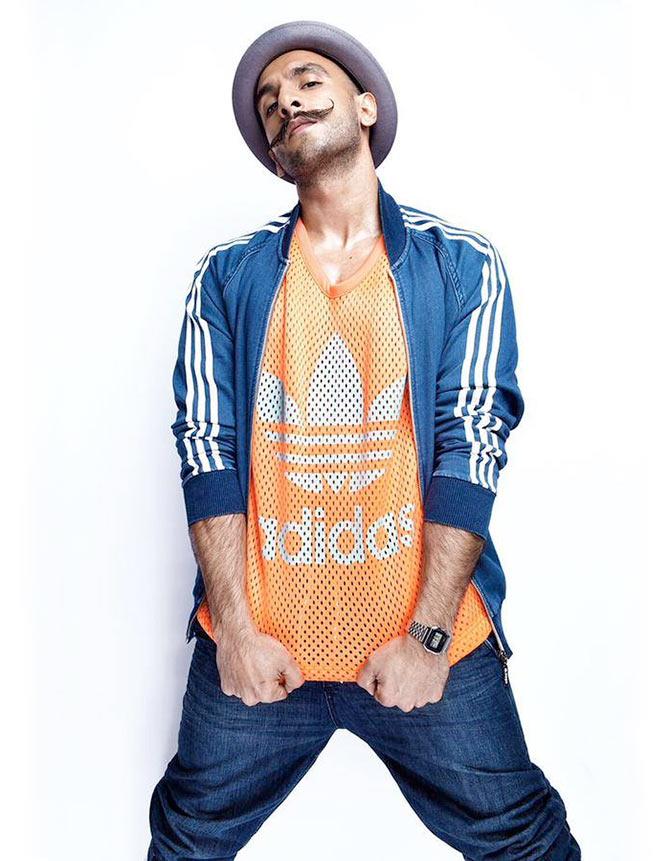 Image: Ranveer Singh/Facebook
When you are around Ranveer Singh, entertainment is guaranteed.
When we reminded the actor that there were only two days left for Bajirao Mastani to release, the actor -- who was reaching out for his cup of black coffee just then -- asked for some poison on the side!
Ranveer is terribly restless before the big release, but he answered some questions at a media interaction earlier this week. Jahnavi Patel/Rediff.com captures the moment.
Deepika Padukone said people will be totally stunned after watching Bajirao Mastani.
Deepika is absolutely right.
It's the kind of film where you will take time to come back to this world. It has such an impact. The way the story crescendos is something that will leave people stunned.
I knew that even at the narration level. You always take Mr Bhansali's (Sanjay Leela Bhansali, director) visual ability to tell a story in a grand spectacle kind of way. When I heard the climax, I went like 'WOW!'
When you watch some movies, you find it tough to have a conversation later because of its impact. I can see that happening with this film. When the movie gets over and the lights come on, it will leave you in a semi trance for a while.
The Peshwa's descendents have said you are not the right choice for Bajirao.
I think a lot of people are jumping the gun as far as the film is concerned. They should watch the film first.

Some people have objected to the song Malhari.
I am very happy with the song. We have been very clear about what we were making. We weren't making a documentary or a propaganda film. This is mainstream entertainment and is inspired from the book Peshwe Gharanyacha Itihas.
Mr Bhansali has been very open and straightforward and has been saying it from the beginning. There will be a disclaimer too.
People should watch the film and accept that it is fictional mainstream entertainment that is inspired from a book.
Do you think the protests will help the film?
Who wants this kind of publicity? It gives a very negative feeling.
Deepika said you wanted people to call you Bajirao on the sets. Did that help?
It's a very difficult process to get into such a distinct character. I changed the way I looked, changed my body, my voice and accent...
I would come on set, go to my make up room and take about two hours to get ready, with all the scars, eye make up, earrings, angrakhas, layers over layers... At one point, I also had a fake moustache.
I would change, do exercises for my voice and body, so that I would get into my character completely before the shooting.
It has never taken me more than 30 minutes to get ready for my characters before.
So, after spending these two hours getting ready, and after I stepped out of the room, completely in character, if the AD (assistant director) said, 'Ranveer is walking on the set,' I would be like, 'Mere saare kaam pe unhone paani pher diya.
Why are you reminding me that I'm Ranveer when I've done all this work to leave Ranveer behind and step into this distinctive characterisation?
It was a bizarre request, but it really helped.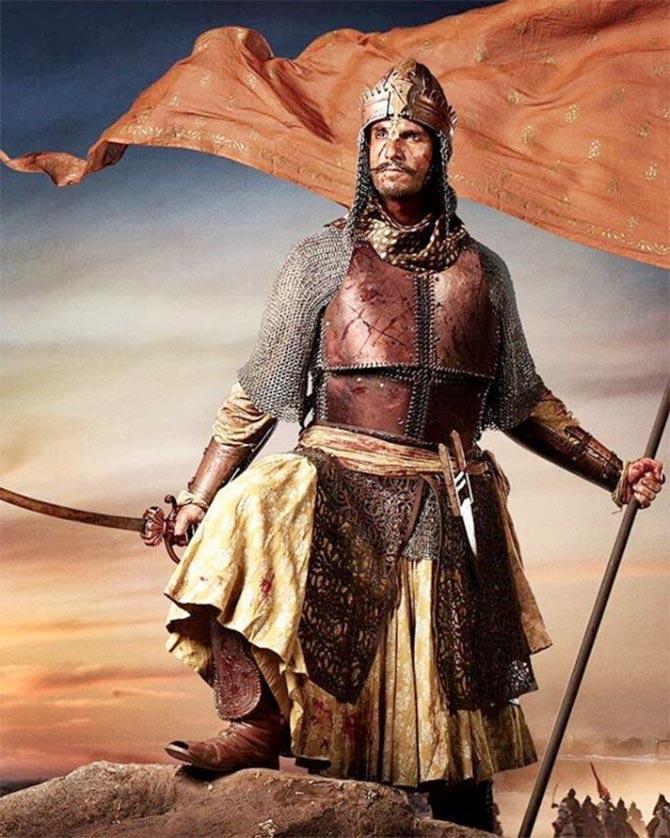 IMAGE: Ranveer Singh/Instagram
Do you put in the same kind of effort for every role that you do?
I give more than a 100 percent to every character.
It depends on the character and the kind of film I'm doing. If it's a light, breezy film, the shooting will probably be light and breezy, like it was for Dil Dhadakne Do.
The demands of every film are different.
Bajirao Mastani was a very demanding film. Usually Mr Bhansali's films are like that.
How did you work on that Marathi accent?
I had 21 days to create this distinctive character.
When I heard the narration, I could hear the voice, the accent. I have worked on accents in my earlier films -- I had a Delhi accent in Band Baaja Baaraat, a Gujarati accent for Ram Leela...
Mr Rishikesh (who taught me Marathi diction) was like my shadow. Mr Bhansali gives you a lot of lines at the last minute. So to process those, Mr Rishikesh always had to be there. So for those 200+ days of shooting, it was my spot boy, Mr Rishikesh and me.
Is it overwhelming when a director like Sanjay Leela Bhansali selects you for a strong character like Bajirao?
It was daunting.
After the narration, I was as daunted as I was excited.
But I wanted to do it. For one year, I didn't do anything else. I knew it would be demanding. But it was a big challenge and I did everything to meet that challenge.
Sanjay Leela Bhansali had penned Bajirao Mastani with Salman Khan in mind. Did you feel you had large shoes to fill?
I don't think the script was written for Salman sir, but yes, he was the original choice for the part.
Honestly, when films are offered to me, I don't consider the baggage and history they come with. This is not the first time I am doing a film for which I wasn't the original choice.
Ultimately, I feel that once the film is made, all that becomes irrelevant.
Salman sir is one of my screen idols. I've grown up watching his films. I really hope he watches Bajirao Mastani and likes it. It would be amazing if I get a call or a message saying I did a good job.
You injured yourself during the shooting.
I got injured on the last day of the action schedule. It was just bad luck. I could have come out completely unscathed, but it happened on the last day.
We couldn't have taken another shot after that because the light was fading. It was so unfortunate.
I was forced to be out of action for two-and-a-half months. I got depressed, angry and frustrated. It's my biggest, physically demanding film where there was so much action, talwalbaazi (sword-fighting) and dance left... I was at my peak -- running faster, jumping higher, being the fittest I've ever been.
But in one second, I went from that to being completely bedridden.
I get a lot of happiness and self confidence from my physical fitness, so I went into a negative slump.
But I made good use of the angst and frustration and put it all in my performance.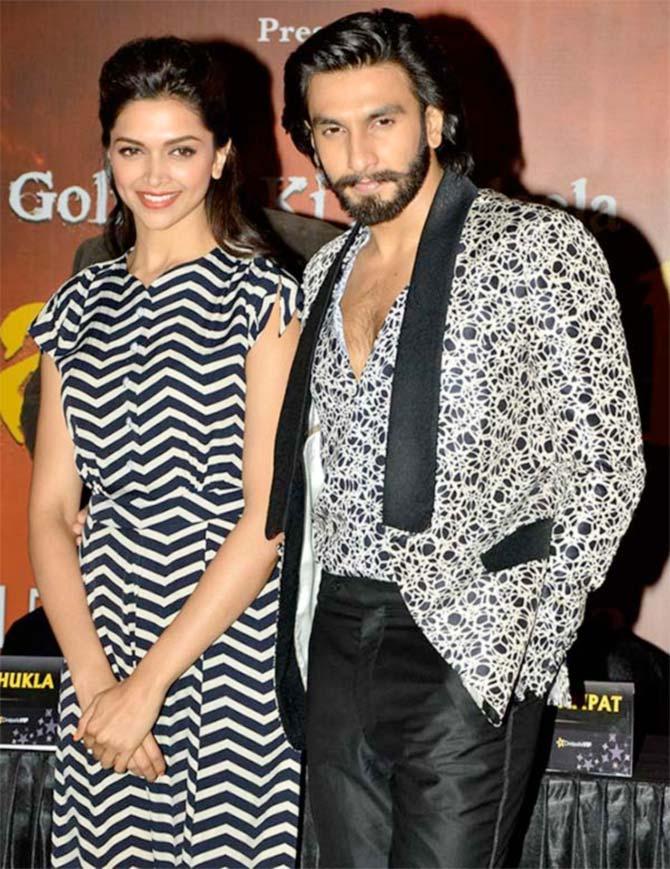 IMAGE: Deepika Padukone and Ranveer Singh at a promotional event. Photograph: Pradeep Bandekar
What quality would you like to take from Deepika and Priyanka?
Both of them have an incredible ability that I find very difficult -- multi-tasking.
I can do only one thing at a time. If I am performing on the film set, I can't do other aspects of business. It's like I have blinkers on. If I'm shooting between 7 am and 7 pm, I can tackle endorsement work only after 7 pm.
But they can multi-task beautifully. They make each day so productive.
Has marriage ever crossed your mind?
Of course. I don't know when, but I do think about it.
Priyanka is working in an international television show, Quantico. Do you have any Hollywood plans?
I want to focus on Hindi films now. I'm very happy doing that.
It has been my dream since childhood. I'm doing some of the biggest films in Hindi cinema in just five years. Bajirao Mastani is only my eighth film.
You are passionate about music and poetry. Will we see these talents in your films?
One of my aims is to be an auteur like Woody Allen, Clint Eastwood, Raj Kapoor, Guru Dutt and Charlie Chaplin.
That means the entire creative vision is yours -- you have written, produced, directed, acted, written lyrics and songs for it. The whole thing is your baby. That's where I want to graduate at some point.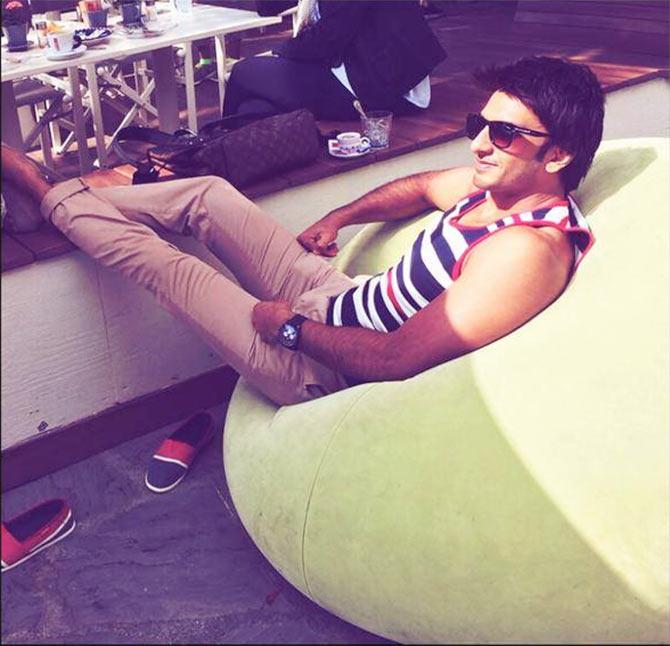 IMAGE: Ranveer Singh/Facebook
After Bajirao Mastani, you wiil be heading to Aditya Chopra's Befikre?
Befikre is a light-hearted romance. It's just what the doctor ordered after a year-and-a-half of such intense work. I need a light and fun shooting experience and it doesn't get better than Befikre.
It will be shot in Italy and Paris. The shooting will start as soon as my hair grows back.

I'm just waiting for Bajirao Mastani to release. It's like I've been holding my breath for a year, and I'll let go of it after the release.
Then I will need a vacation to get my sanity back. After that, I will jump into Befikre.
Aditya Chopra has always directed Shah Rukh Khan. Do you feel proud that he is directing you now?
Shah Rukh Khan is a great actor. To be the only other actor that a great director selects after him is a matter of great pride.
Have you signed anything else?
I am considering a bunch of films.
What is the craziest thing a female fan has done for you?
I've got a letter in blood and it's not cool.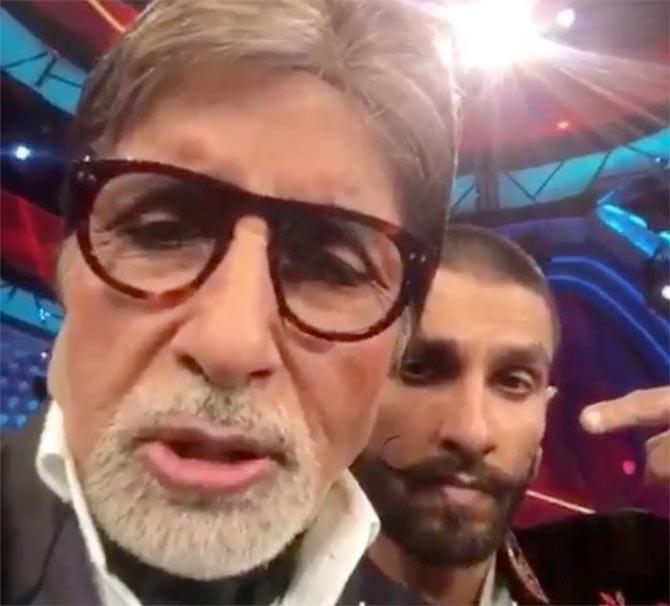 IMAGE: Ranveer Singh/Instagram
New Year resolutions?
I want to drink more water every day.
I want to meditate.
I want to become more flexible with my body.
I want to strengthen my core.
I want to have a clean diet.
I want to start riding motorcycles again. I used to be a rider, but my mom forbade me from riding. I am 30 years old, so I'm not listening to her now.
How did you get Amitabh Bachchan and Sourav Ganguly to do the Bajirao dubsmash?
I asked them and they said yes. They are very sweet and large-hearted. It was very nice of them to support me.
Bachchansaab's (dubsmash) is my favourite because it was the first one. We've grown up saying Mr Bachchan's dialogues and to see him say my dialogue felt great.