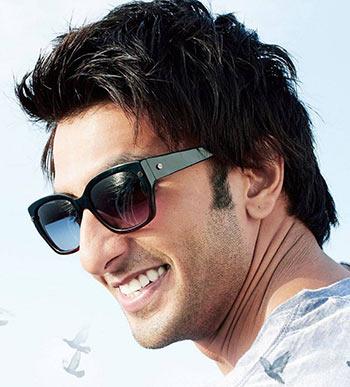 'I find it hard to watch my own films. I prefer to watch my face when it is covered with some facial hair.'
'I like certain moments in my films. Most of them are in Lootera.'
Ranveer Singh talks about his movies.
Ranveer Singh doesn't like watching himself on the big screen. He prefers watching his rumoured girlfriend Deepika Padukone, or even other actors like Alia Bhatt, Irrfan and Nawazuddin Siddiqui.
The actor admits that his acting style has changed a lot through the years, and he credits his Lootera director Vikramaditya Motwane and Goliyon Ki Raasleela Ram Leela director Sanjay Leela Bhansali for that.
This week, we will see the actor in his next release, Dil Dhadakhne Do, directed by Zoya Akhtar.
He talks to Patcy N/ Rediff.com about his movies, and what brought stability to his performances.
What makes you so energetic all the time?
I naturally have a lot of energy. I never thought about it before, but a lot of people are saying it.
When I was a kid, teachers wrote on my report card that he has got a great amount of energy, is gregarious, garrulous, vivacious... So nothing has changed; I have always been like this.
I think it's because of the zest I have for everything I do. I believe we have one life and there is too little time and too many things that I want to do. So I try and do as much as I can.
I believe life comes with no guarantees. I once broke my back and I didn't know whether I was going to work ever again. So everything I do, I treat it like it's my last.
If I am working out, it's my last workout ever, if I am hanging out with my friends, I think this is the last time I am meeting them, because, god knows, I have had experiences where it literally was the last time that I saw my friend.
Everything I do, I approach it with the sense that I will never be able to do this again -- this film, this shot, this performance.
Therefore, I put everything into it and that translates into energy.
Don't you have bad days?
I feel like I need to be positive so that I can spread the happy vibes.
I do get affected sometimes, but I try and get over it as soon as possible; I don't wallow in melancholy.
Also, I eat lots of chocolates (laughs) that keep me very happy.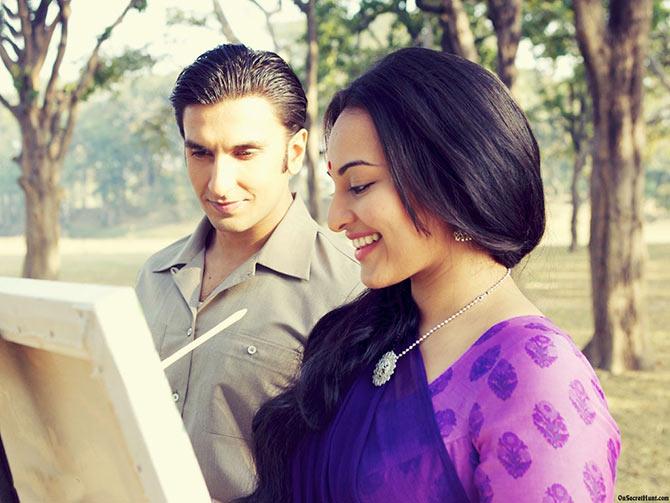 Image: Sonakshi Sinha and Ranveer Singh in Lootera
Do you think you have changed as an actor from the time you started out in Band Baaja Baaraat?
Yes, I have changed completely.
In the initial stages of my career, everybody kept telling me I lacked a thing called therav (stability).
That's why I chose Lootera. That was the turning point for me. It was very challenging. I had never attempted a part like that.
I learnt a lot from Lootera and, later, working with (Sanjay Leela) Bhansali in Ram Leela.
There is a lot to learn from Zoya (Akhtar, director of Dil Dhadakne Do) and her style and from the other actors around me in the film.
Band Baaja Baaraat was my first film and obviously my biggest learning curve. I hope to continue learning.
I have done films that didn't challenge me. I was terrible in them. Just the fact that they didn't teach me anything is a waste.
How much have you changed in these years?

In Band Baaja Baaraat, I was completely over-rehearsed, though it may not seem like that.
My directors Maneesh (Sharma) and Vikram (Motwane, Lootera) used to complain that I had come so prepared and rehearsed to the sets of their films that it was very difficult to change anything if they wanted to!
I was too rigid at that time. I needed to adapt and that is what I learnt on the sets of Ram Leela.
Mr Bhansali does not decide what he is going to do. He just throws you into the water and asks you to swim.

You may not even know what emotion is attached to a particular scene. He may make a happy scene into a melancholic scene and turn it on its head on the day of shooting itself.
You cannot possibly prepare because that is not Mr Bhansali's style. He creates on the set.
Through that process, I learnt how to be instinctive and be spontaneous. You only get that after you gain confidence in your craft. And the validation is when you have a hit film and people appreciate your performance.
Now it's reached a stage where I was preparing for Bajirao Mastani and Mr Bhansali and I didn't do a single reading.
It's perhaps the biggest movie of Hindi cinema and he doesn't know who Bajirao is, what he sounds like, what he walks like, what he talks like, what he sits like, stands like.
I locked myself in a room for three weeks and I came out and went straight onto the set and stood in front of the camera. The camera rolled and I said my dialogue and he said okay. So it's that level of faith he has in me.
I have learnt to trust myself and my abilities. I used to function out of nervous energy. That's probably why I was so over-energetic in Band Baaja Baaraat, because I was so nervous.
Now I have become more confident with my craft, and more comfortable.
From being somebody who would be able to read out the script backward in my sleep, I don't even look at the script the night before or morning of the shoot.
It's a huge evolution for me.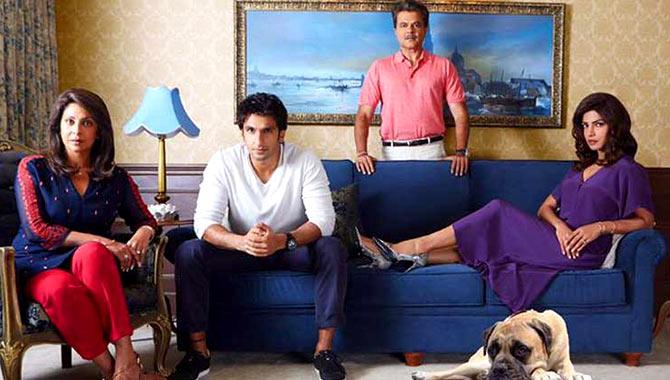 Image: Shefali Shah, Ranveer Singh, Anil Kapoor and Priyanka Chopra in Dil Dhadakne Do
Bombay Velvet is also a period film and a lot of effort has gone into the making of it, but it hasn't connected with the audience. Are you worried that audiences will not take to Bajirao Mastani, which is also a period film?

They are two completely different films. Different films, different scripts, different directors, different periods…
I liked Bombay Velvet. I thought there were some fine performances and stunning film craft. I appreciate everybody's work in it.

Is there something that you've learnt from your contemporaries?
I learn from all my leading ladies. They are all very, very solid actors.
I've worked with Sonakshi (Sinha) in her best performance in Lootera, with Parineeti (Chopra in Ladies Vs Ricky Bahl), who is one of the best, and Deepika (Padukone in Goliyon Ki Raasleela Ram Leela) who I think is the best. The kind of work that Anushka Sharma is doing is great, like NH10, PK, Dil Dhakdne Do.
I have been fortunate to work with Priyanka Chopra (in Gunday). She has such a vast body of work and she is so versatile.
How did DDD happen for you?
Ritesh (Sidhwani, producer) and I wanted to collaborate on something for a very long time, so I told Ritesh that if Farhan or Zoya has a leading role for me, I won't even ask you for the script.
He called me while I was shooting for Ram Leela, in Udaipur, and told me about Zoya's film.
I was a bit upset because Zoya knows me from my struggling days, as we are both from Bandra, and we have common friends. I called Zoya and asked her why she didn't call me directly.
I went to her house for the narration. Ten minutes into the script and I was hooked. In 20 minutes, I had decided I was doing the film whatever the climax, because it was too interesting and delicious a film.
It's a brilliant script, and on paper, the strongest film that I have done perhaps since Band Baaja Baaraat.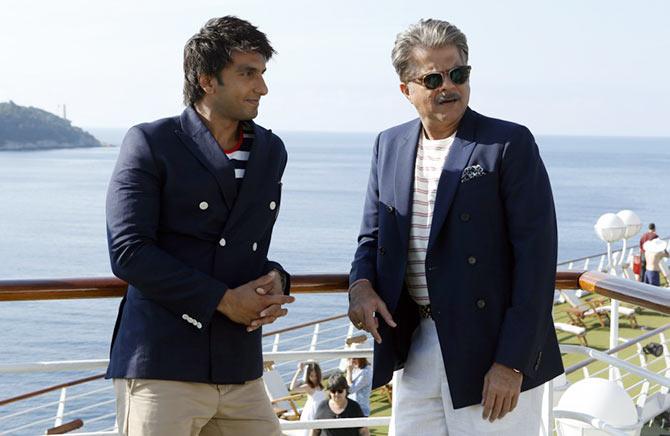 Image: Ranveer Singh and Anil Kapoor in Dil Dhadakne Do
What was your reaction when you saw the first rushes of the film?
It is a pretty looking film. I am happy that Zoya has this matchless aesthetic. She worked closely with Carlos (Carlos Catalan, the cinematographer on DDD).
Zoya is very particular what kind of haircut her actors should have, the colour palate of everything... she is very specific.
The film looks big and I always wanted to be part of this kind of film, which has an urban, contemporary theme.
You are a huge fan of Anil Kapoor, who plays your father in the film.
Anil Kapoor and I were like bros on the sets. We had this bromance going. It is not the guru-chela thing that I have with Govinda.
On the sets, we would work out together, go out together... I really bonded with him well.
It was surreal, straight out of a dream. Here's the guy I saw, when I was three years old, in Mr India, Ram Lakhan, Kishen Kanahiya, Tezaab and Rakhwala.
I just wanted to be like him. And here I was, sharing screen space with him.
On the first day of the shoot, all 26 primary characters of that scene were standing together and I was standing next to him, waiting for the sun to come up so we could start rolling.
I was in awe. Anil Kapoor was standing next to me and preparing for the scene.
What did you learn from him?
He has worked in 150 films in 38 years and still has that childlike enthusiasm towards his work. He is so excited, not in the least jaded.
I hope I can have the same kind of drive and passion when I am at that stage.
He is disciplined about what he eats, even if we're rolling at 5 in the morning. He will get up at quarter to four to do his cardio so his face looks fresh in front of the camera.
He is very focused; he is all about his work even after having done so much.
It's amazing to watch him work.
How did you all convince him to dye his hair grey?
A lot of work went into that! Zoya took months to convince him.
She would go to his house and drink wine with him and try to convince him.
I was there through the process. He was very specific how he wanted to look.
I think he must have sat for 10 hours over 12 days getting that salt 'n pepper look.
He would dye it back for the time we were not shooting -- that is his commitment. He looks outstanding in the film.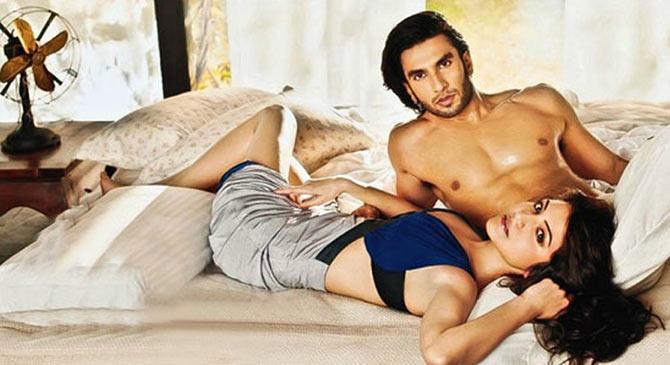 Image: Ranveer Singh and Anushka Sharma in Dil Dhadakne Do
Are you very hard on yourself when you watch yourself on the screen?
I don't like what I see, I am always critical of it. I have a very basic problem: I don't like my face.
I find it hard to watch my own films. I prefer to watch my face when it is covered with some facial hair.
I like certain moments in my films. Most of them are in Lootera.
I made lots of mistakes in Lootera because I was very new. But I trusted Atul Mongia (casting director) who was helping me with the film and Vikramaditya (Vikramaditya Motwane, director of Lootera) who helped me too. I did better in the second half of the film.
I love Band Baaja Baaraat as a film, but I like my performance in Lootera the most.
Among your contemporaries whose face do you like watching on the screen?
Deepika's face. I think she has got amazing features -- big expressive eyes and the looks of a marquee cinema star. She has a gorgeous face.
I like watching Irrfan Khan and Nawazuddin Siddiqui. They express a lot through their eyes, especially Irrfan, with his bulging eyes.
I really like Alia Bhatt. She is wonderfully effortless on the screen and she is getting better with every movie. She was awesome in Highway and very cool in Humpty Sharma Ki Dulhaniya.
Will we ever see you directing?
I want to write a script, I want to write lyrics and I want to direct, I want to sing, I want to produce creatively, not the dhanda (business) of producing.
But right now, I am enjoying acting too much and it is taking up all my time.
I like to collaborate on films creatively and I will, some day, write, direct and do everything.
I just need to build up enough confidence; maybe in a few years I will be able to do it.