'He took Simmba to a different level.'
'Sara has the energy of a commercial heroine.'
'She has a very bright future.'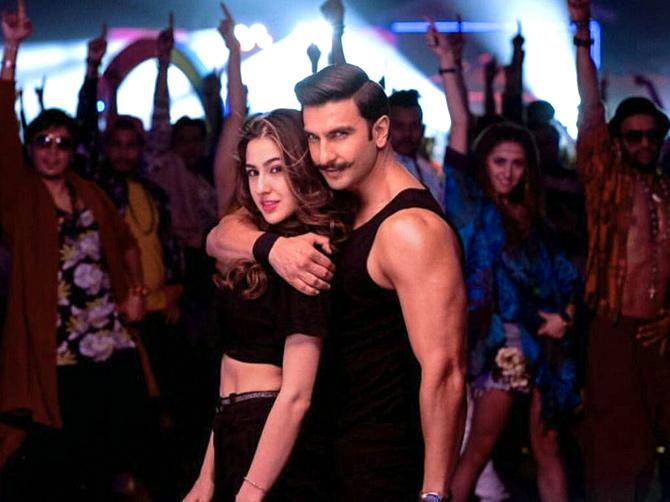 Whatever the reviewers may say about Rohit Shetty's Simmba, the box office is clearly loving the film.
Simmba, starring Ranveer Singh and Sara Ali Khan, is on its way to becoming a hit.
"If Singham is a lion, and he has a child, it had to be Simmba," Rohit tells Patcy N/Rediff.com.
How did you decide on making Simmba?
Two years ago, we saw Temper.
The character Jr NTR played was interesting, so I thought why not write our own story and screenplay with this character?
We had already done Singham about an honest cop.
This cop had different shades. He's a corrupt and dishonest cop, but at the same time, lovable.
We bought the rights before Golmaal Again.
Ranveer and I were doing an ad, so I told him about this idea. He agreed.
It took me five months to shoot the film; we started on June 6.
What made you name it Simmba?
This is Singham's universe, where another boy grows up to become a cop. But he's a corrupt officer.
If it was the same story, I would not have made it because it would get boring.
The thought behind naming the film Simmba is that if Singham is a lion, and he has a child, it had to be Simmba.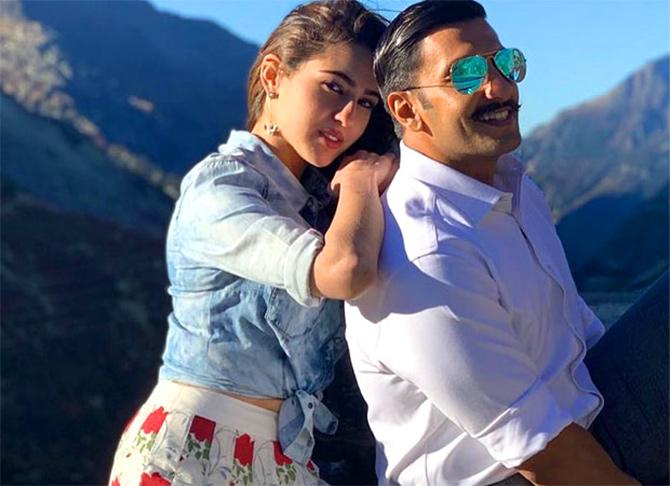 Former Mumbai police commissioner Rakesh Maria praises you a lot.
Whenever I make a cop film, they think it's their brand and the entire force watches it.
After watching Singham Returns, Rakeshji thanked me and said he was proud to be the commissioner after watching the film.
I don't show all cops as corrupt because that is not true.
If the headquarters is shut for a day, we will behave like animals.
When a signal does not work, and a havaldar is not there, we behave like animals. Yeh mat sochna hum sab sharif hai.
Did Saif Ali Khan approach you to cast his daughter?
No. In fact, Sara approached me.
Baap re, itna message kar kar ke usne mujhe paaka diya!
Kedarnath was coming, so I told Karan (Johar) if I make film, I will finish it in four months. We will release our film before Kedarnath and that would be wrong.
But the next day, Gattu (Abhishek Kapoor, Kedarnath's director) called me and said, 'Sara ko lelo.'
So Sara happened because of Gattu.
He took the initiative when they were facing problems (Kedarnath was stalled for a couple of months).
He asked me to see the bits of Kedarnath that they had shot and see if Sara suited the character. But I did not see the rushes, I went with my conviction.
I did not want Simmba to be her launch pad; I wanted Kedarnath to come out first.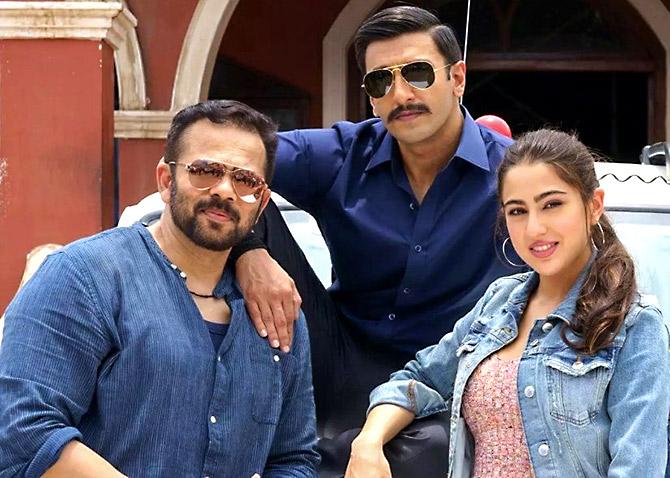 What is Sara like to work with?
She is a typical Hindi film heroine.
If you see her in Aankh Marey, she is a young Karisma Kapoor. She has that energy of a commercial heroine.
I don't know what qualities she has got from her parents, but she has the qualities of a good actress.
Also, she's lucky that she's got two big releases within 25 days.
She has a very bright future.
Did Ranveer enhance your vision of Simmba?
Yes, by leaps and bounds.
He took the film to a different level.
In a few scenes, his performance gives you goosebumps.
He's like a kid; he has a clear heart.
He would be roaming around with my ADs (assistant directors) and doing masti-mazaak.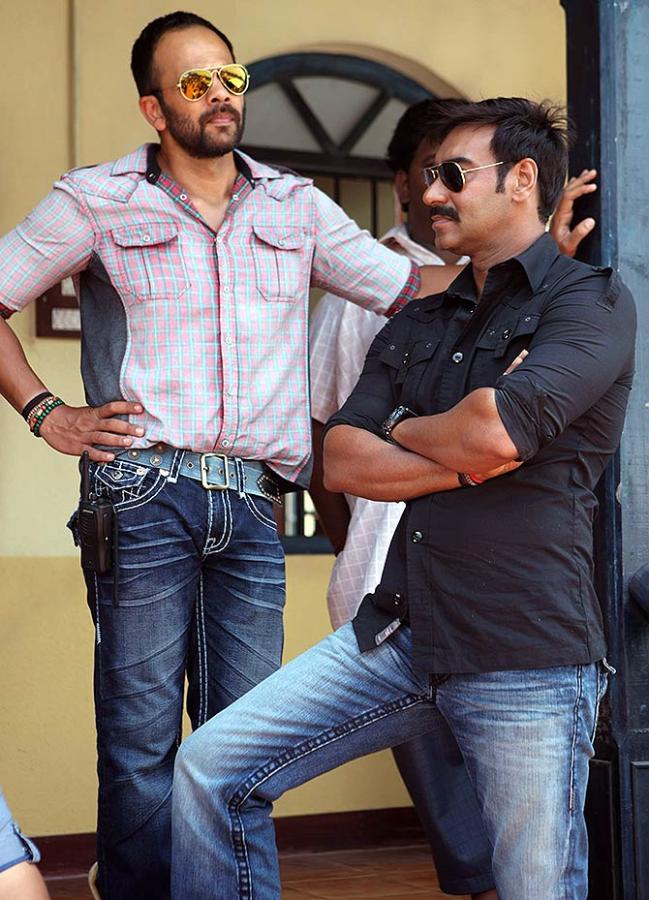 Did you get worried Ajay Devgn would get upset since you cast Ranveer in your latest?
There is no stress with Ajay. He knows exactly what I am working on.
I discuss with him.
He is my elder brother, he knows everything.
Even if I purchase a car, he will know which car I will be buying.
He knows everything that is happening in my life.
Plus, Simmba would be incomplete without Ajay because it belongs to Singham's universe.
The film explores women's safety. What made you take that up?
The first 45 minutes has song and dance and fun.
Then, the film takes a turn because we are dealing with a serious issue.
Then, after 45 minutes, the film never shifts from the issue.
It becomes serious just like in Singham. There are no songs or comedy after that because the issue we are dealing with is a responsibility.
Every time my team and I watch the final cut, they say I have made a woman-oriented action film.
My films have a family audience so if even one line or gesture is vulgar, we immediately edit it.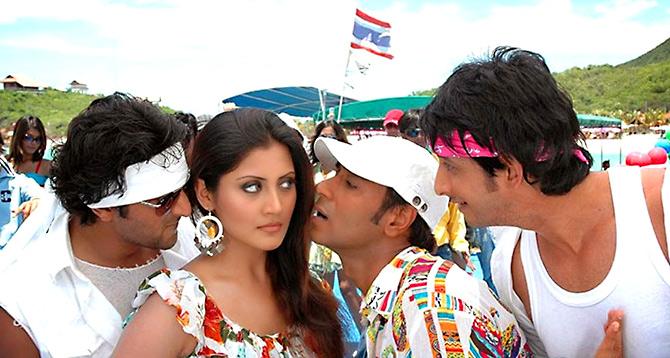 So which sequel is next: Singham or Golmaal?
It depends on whichever story comes first.
Are you afraid that the two franchises may cut into your audiences?
No. Let me explain: Golmaal came 13 years ago. The boy, who saw the film as a five year old is a teen today.
He will think, 'Yeh mere bachpan ki film hai.'
The teenager then is a young man with a child today; and both of them are watching the film together. As a father, he wants to show his child the film he used to watch.
So Golmaal is like Colgate. It will never lose its audience.
How difficult is it to make a commercial film?
It's difficult and it's sad that people look down upon it.
To shoot in a room with two people is easy, but to shoot with 200 people on a main street is difficult.
Who makes good commercial films besides you?
I like Rajkumar Hirani's films.
What happened to your plans of making Ram Lakhan?
Ram Lakhan and Angoor are in the bank. I have no idea when they will get made.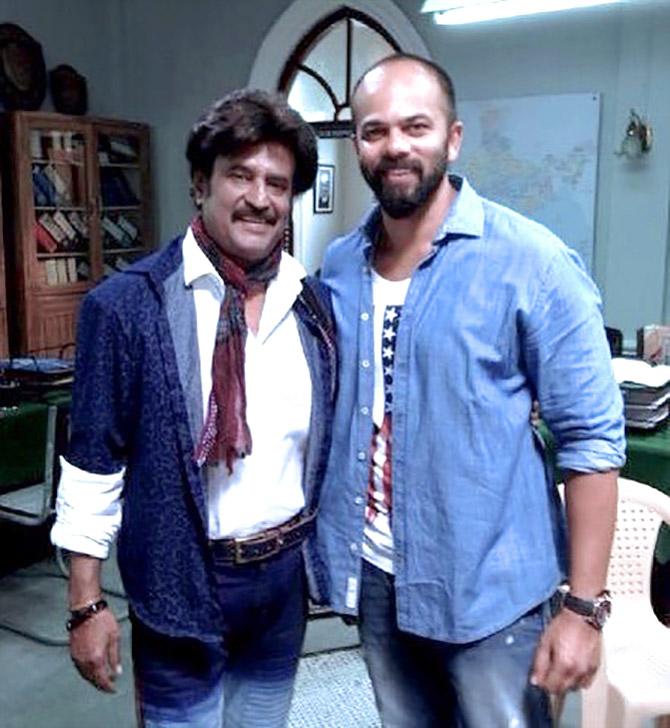 How do you see your career?
Because of Ajay, I did not have to struggle much.
I just had to wait for a year or so and suddenly, Golmaal: Fun Unlimited came.
(Writer) Neeraj Vora came out of the blue and said let's make Golmaal. He narrated a play and I liked it.
I made it into a film, and there was no looking back.
I am content with my career graph and the love I have received from my audience.
They call me a brand and that makes me happy.
I don't take all this for granted; I work hard towards it.
Who would you like to work with?
Bachchan saab and Rajini sir.
But I have not found a good script for them.