'Sriji knew me as a kid because I used to go in my school uniform to see her shoot.'
'The last two years, ever since I had my child, she has been so supportive. So inspirational.'
'The kind of love that she has given Adira and me has been phenomenal.'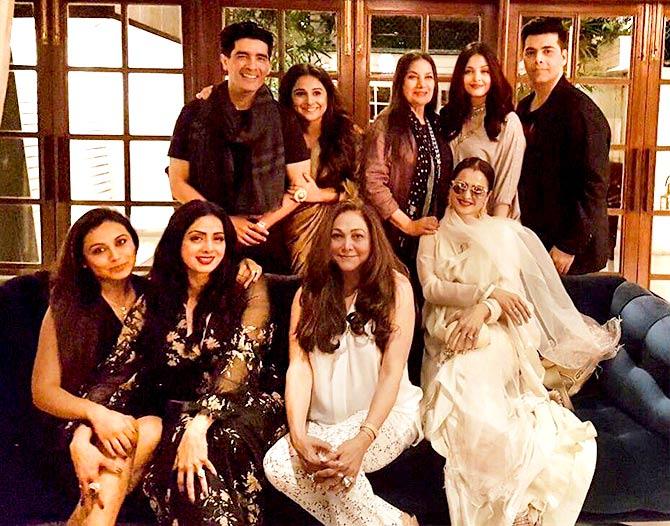 IMAGE: Standing: Manish Malhotra, Vidya Balan, Shabana Azmi, Aishwarya Rai Bachchan, Karan Johar. Sitting: Rani Mukerji, Sridevi, Tina Munim and Rekha.
The occasion: Sridevi's birthday, August 13, 2017. Photograph: Kind courtesy Manish Malhotra/Instagram
Sridevi's sudden demise has been heartbreaking for her 'Laddu' -- Rani Mukerji.
Rani gets emotional as she talks about the late actress.
"What's happening now is very tragic. I was very close to her. Before she went to Dubai, she told me she wants to see Hichki," Rani tells Rediff.com's Jahnavi Patel.
"I told her 'Aap shaadi-vaadi karke aa jao phir main aapko Hichki dikhaati hoon. Hichki abhi taiyaar ho rahi hai'."
Rani is very sad that two people who were very close to her are no more.
"I would have got very genuine and good reactions from my dad and Sriji. Both of them are no more in my life. It's a huge loss for me."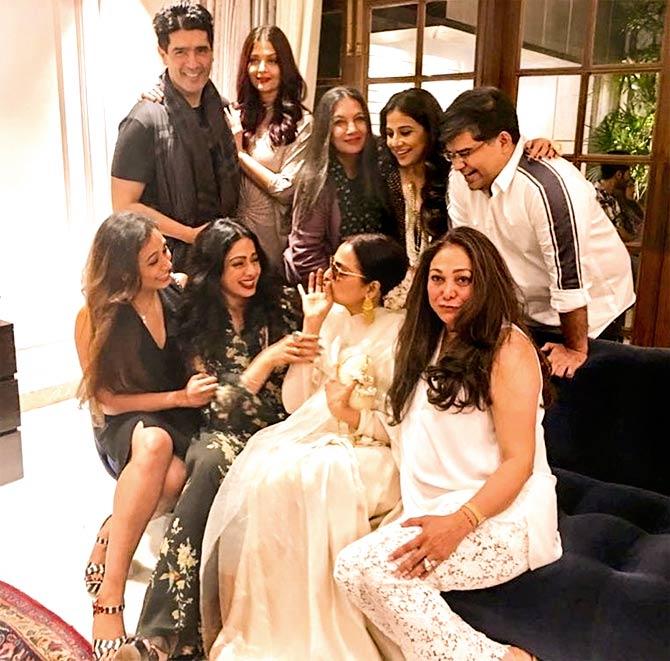 Photograph: Kind courtesy Manish Malhotra/Instagram
Rani has decided not to celebrate her 40th birthday on March 21.
"I have been too hurt by what has happened with my favourites. I don't think I will be able to celebrate this year. I have dealt with too many loses this time," she says.
"Sriji has been my favourite from childhood. She knew me as a kid because I used to go in my school uniform to see her shoot. She worked in my Shomukaka's film (Pathar Ke Insan in 1990)."
"I connected with her in a very different way when I grew up and became an actor. She used to love my work. I received a lot of love from her. She used to call me 'Laddu'."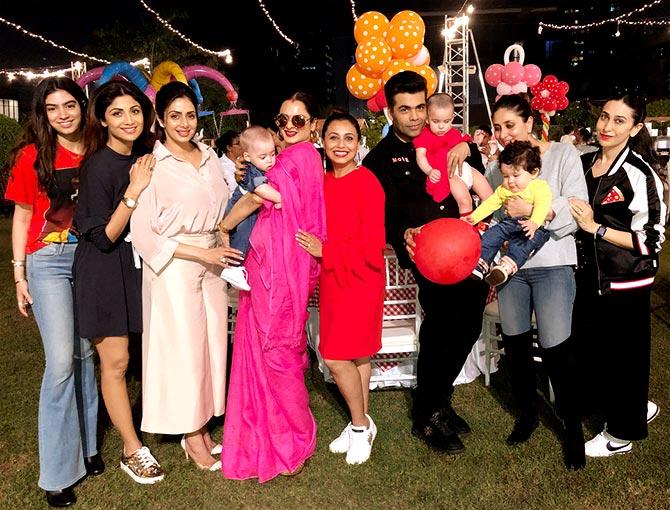 IMAGE: Khushi, Sridevi's younger daughter, with her mum, Shilpa Shetty Kundra, Rekha with Karan Johar's son Yash, Rani Mukerji, Karan with his daughter Roohi, Kareena Kapoor Khan with her son Taimur and Karisma Kapoor at Adira's second birthday party. Photograph: Kind courtesy Shilpa Shetty Kundra/Instagram
"I feel very surreal that we are talking about her in the past tense," she says.
"It's a huge loss not only for the film industry, but also for us, the family who belongs to the movies. The film industry is like a family. Anybody who departs, we feel that sense of loss," she says.
"The last two years, ever since I had my child, she has been so supportive. So inspirational. The kind of love that she has given Adira and me has been phenomenal."
"She was like an elder sister to me, like a maasi (to Adira). She has been like a pillar of support to me. I will never forget her contribution in my personal life."
Rani and Sridevi will be seen on screen in a song in Aanand L Rai's Zero, starring Shah Rukh Khan.