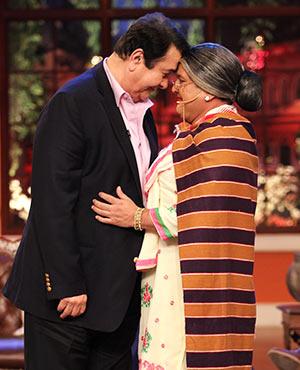 'If I tried remaking my father's films, he might just come out of his grave and give me a tight slap.'
'Kareena doesn't want to have babies,' Randhir Kapoor tells Sonil Dedhia/Rediff.com "Aaj kal ke bacchon ko kisi se advice nahi chaiye."
Think of the first family of Hindi cinema and there are some things that immediately come to mind.
Their boisterous nature. Their love for good food and alcohol. Their temper. And their passion for cinema.
Randhir Kapoor is no different.
He is loud, blunt and refreshingly candid about the decisions he has made in his career.
The veteran actor returns to the movies with his favourite co-actor Rekha in Super Nani, which releases on October 31.
In an exclusive interview with Sonil Dedhia/Rediff.com, 'Dabboo' Kapoor tells us why he lost on work because of his nature, hints about the revival of the RK banner and reveals what Raj Kapoor was like as a father.
You are pairing up with Rekha in Super Nani and have known her for the past four decades. How has your relationship with her evolved?
I have known Rekha since the early 1970s and found her to be one of my loveliest co-stars.
She is much misunderstood. Lots of people find her temperamental and moody, but she isn't. I've had a fantastic on and off the sets relationship with her.
She is a great friend, my favourite co-actor and she is still the same human being I knew when we interacted for the first time, except that she is better looking now!
I am grateful that I am still working with her.
A lot of people find you temperamental too..
Yes, I am temperamental (laughs). I have stopped working in films. I do very few films.
Why have you slowed down on your work?
Hai kuch log pagal hote hai (some people are mad) and I am one of them (laughs).
I am very moody and I work only when I feel like it.
Is it because the films being made today don't excite you?
Maybe that is one of the reasons. I am not criticising the films as I am not an authority. But I feel today's films are good, but they lack soul.
Earlier, during our time, films weren't as beautiful looking as they are today, but they had a soul. There was innocence in the films that we made.
Today, films are all about packaging and marketing. It's like a film gets marketed well, the film works for three days, makes Rs 100 crore and it's gone.
I remember once I was having a drink with my brother (Rishi Kapoor) when Ranbir came in and told us that he had heard a fantastic script and was working in the film as the lead actor.
He said the film did not have a producer. My brother and I said that we would produce the film.
Ranbir warned is, "Yeh subject thoda risky toh aap log mat produce karo "(The subject is a bit risky so you don't produce it)."
That film was Barfi! It is one of those rare films in today's time which has a soul.
So Super Nani excited you enough to become part of the film?
Yes, Super Nani excited me, as it is my type of film. It is a proper family entertainer.
I like this kind of cinema. I hope and pray to god that this film does well so we encourage such films.
The days I am not shooting, I go to our office at RK Films and look after the day-to-day work.
All the three brothers are at the office if we are not acting. In the evenings, I am like any other normal man who spends some time with his friends.
The kind of films your father Raj Kapoor made...
(Interrupts) That cinema is dead.
Do you think anyone can make those kind of films today?
I don't know if it can come back. I can hope that we can make better stories.
Today we are making films only on certain incidents that have happened in our society.
Maybe I am a little old school, but I prefer old films and the old songs to the new ones.
If you notice, the contestants in most of these singing reality shows are singing old songs. Aaj kal ke gaane ki shelf life sirf do mahine hai (The shelf life of today's songs is just two months).
What was your relationship with your father like?
My father was my best friend. He was conservative and traditional, but at the same time, he wasn't strict.
I could talk to him about my girlfriends and my affairs openly. He was non-interfering and would always encourage his children.
He never asked me how much money I was earning from a particular film, or even for that matter, what films I was working on.
The most he would ask me about my career was "How's it going, son?"
I would say that my last film didn't work and he would reply, "Koi baat nahi aur mehnat karo sab thik ho jayega. (It doesn't matter. Work harder and all will be well)."
If I told him that my last film did really well and I was really happy, he would be like, "Aur mehnat karo, aur taraaki paoge. (Work harder and you'll get more success)."
Did you get any privileges being Raj Kapoor's son?
We led a very normal life and never got any preference anywhere.
We travelled by bus and train during our school days. Our upbringing was mainly looked after by our mother as our father was a very busy man. My mother was a strict parent.
When I decided to join films, my father did not say, "Aajao beta main tumhe launch karta hoon (Come son, I will launch your career)." Instead, he insisted that I apprentice with someone else.
Your father was a busy man. Did you miss him?
Looking back, yes, I did miss him. But we had got used to the fact that he was a busy man.
We knew he was a very big and famous man and that's why he was very busy.
Which of his films do you like the most?
My favourite films would be Awaara, Shree 420, Jis Desh Main Ganga Behti Hai, and Jaagte Raho.
Would you like to remake any of his films?
Don't fidget with classics. I don't think films should be remade.
There is a reason why a film is made in black and white. There is a reason why my father made Jis Desh Main Ganga Behti Hai in black and white.
If he wanted to make it in colour, he would have done it himself. If I tried doing it, he might just come out of his grave and give me a tight slap (laughs).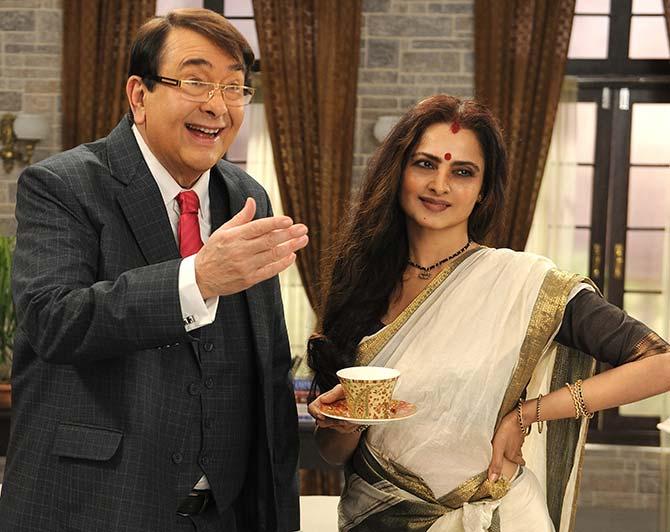 Image: Randhir Kapoor and Rekha in Super Nani.
Did the fact that you were never taken seriously as an actor bother you at all?
No, it didn't bother me at all. I played my innings well. I did some great films, have some big hits to my name, and worked with some fantastic co-stars.
I also got to direct and act with my father and my grandfather (Prithviraj Kapoor) in the same film (Kal Aaj aur Kal).
I was very laidback right from the beginning and didn't care much about what people thought about me.
You suddenly slowed down and stopped acting in movies. What was the reason for that?
As I said, I am temperamental and I wasn't happy with the kind of work I was doing.
I am sorry that I disappointed my fans by not doing many films.
The kind of films that were made in the 1980s did not fit in my scheme of things. I could not fit in and so I started getting terrible roles.
Most of the films had either a cop or a dacoit in it. Aur meri shakal na police jaise hai aur nahi daaku jaisi (I did not look good in either of the roles).
Then there were films which were all multi-starrers and I was getting the third or fourth lead.
I was bored and by that time, I didn't need the money, so I gave up on acting.
You made a film like Kal Aaj Aur Kal which was, well, different. Why didn't you direct more films when the acting roles dried up?
I should have directed more films. It is my fault.
My film Henna worked. But somehow my heart was probably not in it (making films). I lost interest.
I promise my fans that I will direct a new film next year.
Are you reviving the RK banner?
Yes, there are plans. I might direct the film and early next year we will make an announcement.
Do you envy anything about today's actors?
I wish I was young today. Aaj kal ke actors kitna saara paisa kamate hai (Today's actors make a lot of money).
We worked really hard to earn money. The tuition fees of my children, my electricity bills, Babita ke kharcha (referring to wife Babita's expenses), my Scotch, was all paid from the money that I earned from acting in films.
Today's stars have become very choosy. They just do one film a year. That is because they also earn from endorsements, events and other avenues.
We could never do just one film a year. If we did not work, there would be no money to run our homes and pay our bills.
How is your relationship with your brothers, Rishi and Rajiv Kapoor, and your daughters Karisma and Kareena Kapoor and your son-in-law Saif Ali Khan?
We are a normal family and we do not talk about work at all.
We do not advise anyone about their careers.
We laugh, crack jokes and pull each other's leg and talk about the things that are happening in our lives.
You are playing a nana (maternal grandfather) in Super Nani. Have you spoken to Kareena about her having babies?
She doesn't want to have babies.
Aaj kal ke bacchon ko kisi se advice nahi chaiye (Kids these days don't want advice from anyone).
As long as she is happy with her life, I am happy too.