Bob meets Bob.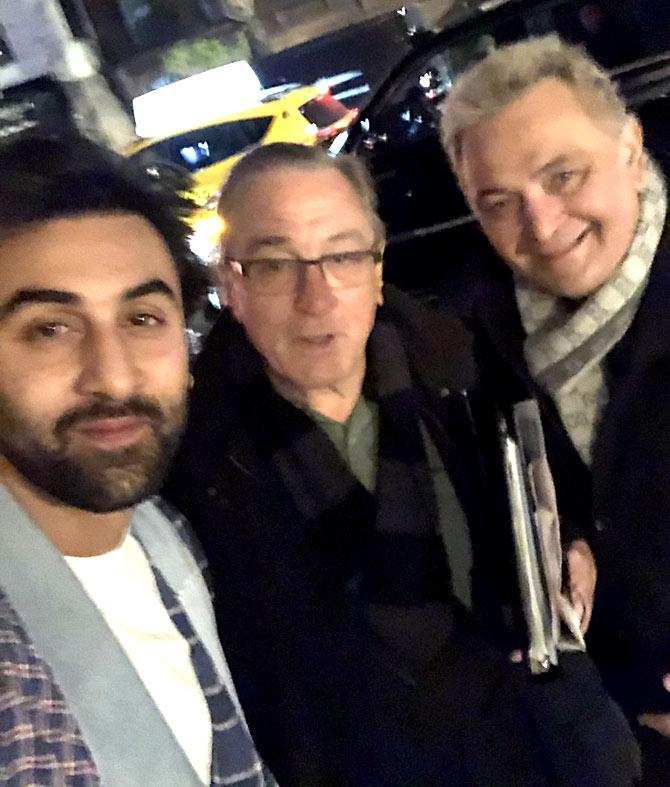 Rishi Kapoor, who is currently in New York for medical treatment, caught up with Hollywood star Robert De Niro.
Tagging along with Chintukaps for the encounter was son Ranbir Kapoor.
'Wow moment. Impromptu meeting with Robert De Nero on 65th and 3rd. He knew Ranbir coz he had met him and Anupam and said come over with Kher for a drink', Rishi tweeted.
'Simplicity and super stardom. I realized I have been such a bloody brat. Cannot get over his demeanour. Thank you Bob', gushed Rishi.
Interestingly, Neetu Singh Kapoor calls Rishi 'Bob'.
Rishi has been in New York for three weeks now and has had several visitors including Priyanka Chopra, Sonali Bendre, Anupam Kher and Alia Bhatt.
Before flying for his medical treatment, the 66 year old had tweeted, 'Hello all! I am taking a short leave of absence from work to go to America for some medical treatment. I urge my well wishers not to worry or unnecessarily speculate. It's been 45 years "plus" of wear and tear at the movies. With your love and good wishes, I will be back soon.'
Photograph: Kind courtesy Rishi Kapoor/Twitter