'Bombay treats me like a king.'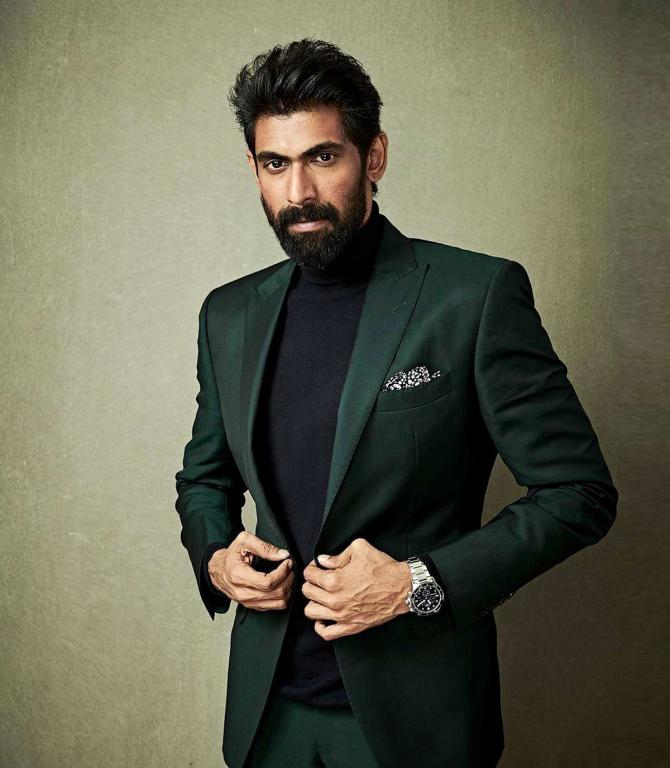 Want to know all about Rana Daggubati's fairy-tale wedding to girlfriend Miheeka Bajaj?
The Baahubali actor talks about it in some detail with Neha Dhupia on her chat show, No Filter With Neha.
"When good things happen, I don't question too much, I just go," he says.
On his love story with Miheeka
I know her for a very long time because my sister and her went to school together.
So I have known her pretty much all my life and there's only a handful of people who move from Hyderabad to Bombay.
So we got talking during lockdown and I said okay, this is right and that's about it.
When good things happen, I don't question too much, I just go.
\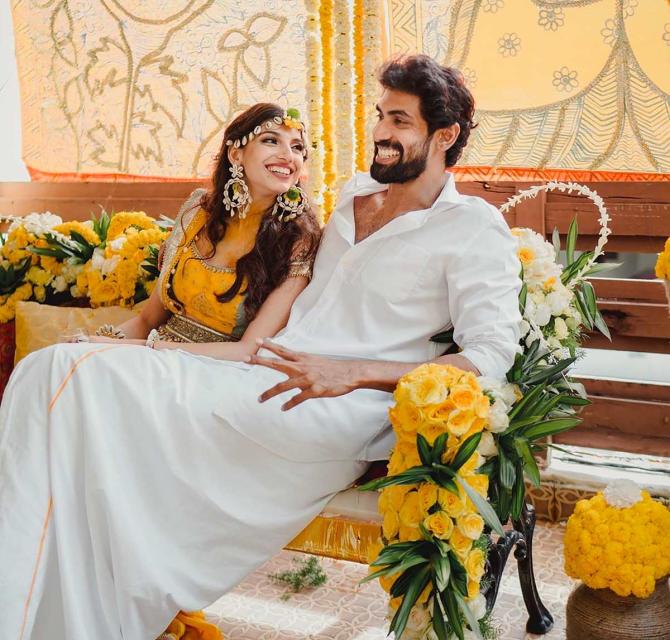 On getting married in a film studio and shooting his wedding in virtual reality (VR)
Honestly, there's no filming happening, anywhere.
Obviously, because a time like COVID, like the way we are in right now, it's got social distancing, it's got least number of people, a studio is the only place where you have a place, right? So I was like okay, there you go. And everybody thought it was a great idea.
It was five minutes from my house. Only two friends of mine were at the wedding.
So, it's like 30 people, I think less than that.
Everyone was tested and then it was like a huge lawn where only 30 people were, so it was fine. It was a lawn and a car park, together.
I think we just made that one and then there you go, enough space for everybody.
But what I did was I shot my wedding in VR and sent it to my family who couldn't come and all of that and I sent them VR headsets so they could watch it. This is for real.
So we shot it in Virtual Reality and sent a bunch of VR boxes and sweets and stuff for family and some friends. So, they got to see it live.
In VR, it feels like you are actually at the wedding.
Now my family is calling me and they want other VR stuff on it. They are like, what else do we watch on this now?
On his animated talk show YRU and how animation was his profession at one time
That was actually my previous job before I became an actor. I used to run a visual effects studio and then I used to do animation in that point.
So interesting people that I met and I said lets start putting some kind of content together which is animated.
Like if you see how the West is, I'm saying the animation culture that's so mature. Somebody decided to make a man look yellow and then you have 300 episodes and it's called The Simpsons.
See, that culture is kind off fully not there in India.
So I said okay, let's just start with this.
It's a show called YRU. It exists in shill and it's irreverent.
I have everyone from Karan to Ramu to Kangana to Rajakumari in the States to Lakshmi Manchu so it's a bunch of different people and exploring art and exploring yourself independently. It's a show like that that'll come out.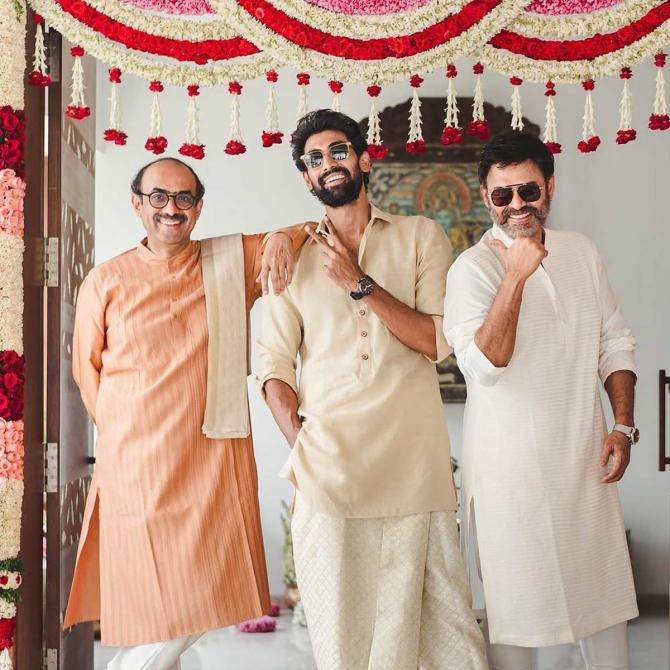 On his grandfather D Ramanaidu and the role he played in Rana's life
Everything I know is pretty much because of him. I wasn't the kid who studied really well or I wasn't one of those academically bright kids, at all.
So the thing you see growing up in a house where shootings going on pretty much everyday, the basement of the house, there used to be an editing room and stuff like that.
I mean, that kind of fascinates, you know, you like that more than what's happening in school for sure at that point.
I think he was pretty much very motivational in whatever direction I took.
He was happy that I was just working.
So, it's like a guy who didn't study figured out how to make it so he was happy with that. And, all the principles that he kind of draws and what made him who he was, kind off, I mean it has an everlasting effect on, I think everybody in the family who continues to be in the movies and we all just continue to work for it.
It's like you're born on the finish line.
You just have to protect legacy and make sure it does the right thing consistently.
Our understanding was very different.
If you're from it, you just have to get up and go to work, without doubt, you got to learn everything, figure how to be alert so its another job, it's a different kind of job you got.
On father Suresh Babu and uncle Venkatesh's love for sports and the conversation in the Daggubati household
My dad and uncle are huge sports fans.
I think the sports influence, a little bit that I have is just from my uncle and my father. They are pretty hardcore.
My dad wakes up like at 4 in the morning to watch American football. He has a bunch of friends who come here at home at 4.30 in the morning and there's a full like match and a thing going on.
There are like different age groups, so they wake up at that point in time.
But I think it's pretty awesome to watch like American Football.
My dad studied there and stuff like in Michigan so he's got that connect to American football.
I'm sleeping for sure, I don't want to wake up.
But then it's crazy when you're just waking up, there's a whole party happening and I think there's a group here that my dad's got where everyone who went to the same college in America but in different years but live in Hyderabad, just come and hang out with my dad.
So, that way there's a lot of interest whether its movies whether its sports, books, everyone's interested in everything. Farming, gardening, food, like everything. Interests are a lot.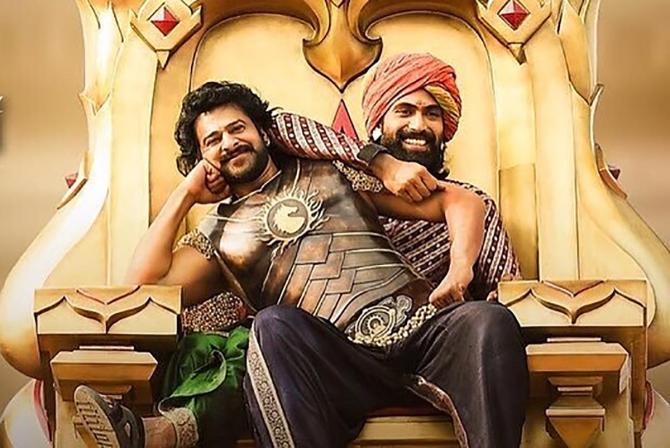 On Baahubali's massive scale and his co-star Prabhas
See that's the fun thing about that film, right?
Every time you stepped into it knowing you're doing something really big and massive.
But you kind of just get inspired everyday when you go to set because you're seeing something that's so magnanimously big and then you're doing those epic scale drama kind of scenes and then it comes back with visual effects and then you see it even more bigger than what you've done, right!
Ya, you continuously see that process happening. See, because they are inventing things.
Nobody ever shot a war, nobody shot a film at that scale, right, so, things they, kind of happened, back and forth, but, you must give it to Prabhas.
He's like a positive pillar that's just standing for everybody, that's him.
On getting antsy during the long shooting periods of Baahubali
I think it's not because the film was taking long, I guess, I'd be antsy in the gaps, so it's like here you go, your next shot will be... I mean, I was, like big, giant, like, who'd cast me, right?
So I remember, in the middle of part one is when I did Baby, Neeraj Pandey had called me.
I said, okay, how many days do I take?
I was like okay there is 30 days of work, let me call Rajamouli. Sir, this is what it is, can I go? He's like okay.
Ya, I mean, that was the thing I was getting antsy about.
I just had to be at work, everyday.
On not liking it when Prabhas used his throne or sword on the Baahubali sets
There's some part of every character that becomes you or you become that in some way and if you're doing the same thing for five years, you just become that guy in some form or the other.
Obviously, I never used to like Prabhas sitting on my throne or using my sword or any of those things.
Ya, ya, it used to annoy me a little bit.
I used to take it back.
He used to just sit around to irritate me and stuff, but, no, there's some possessiveness that you start feeling towards your stuff.
And you're driving to a set that has a 110 foot statue of you, every day you go.
It's pretty amazing.
You're doing this for five years so you're whole mindset kind of changes, too.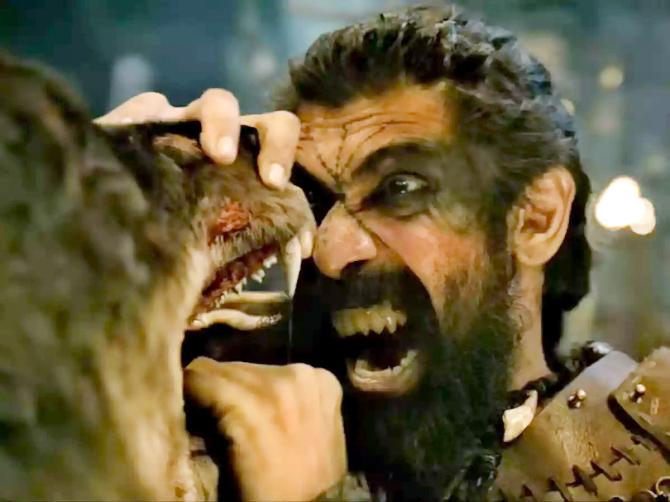 On choosing Housefull 4
So Fahad (Samji, director) and the writer came to Hyderabad to tell me what Housefull was.
I didn't watch the Housefulls before, like, nothing. So, there's no connection.
I was like wow, this is so ridiculous, I think, it's just mad. Just to, actually be able to do this from all the other serious shit that I do anyways, so I said this just works.
And trust me, it is pretty much the most fun I have had on a film set.
So usually you have fun with Baahubali. you can talk about big things that are being built or with Dum Maaro Dum. you can say you shot in Goa for three months and all that said, inside a floor in Andheri, you had like the most fun.
I think one is sometimes when something is thrown at you, it is the world which is mad but I still understood that world.
I mean I saw films like Hot Shots- Vot Shots, now you are trying to take a take on what you are Bhallaldeva or Karl Drogo was somewhere halfway through.
I was like okay I can do that role, first.
I said, you just give me a character like that I can play it anyways, I said let me just put it in this setting and see how it works.
But I had a blast.
I had a great time.
I told somebody that I think either people will like it a lot or they'll throw stones at me, one of the two things going to happen.
On his upcoming films Haathi Mere Saathi and Virata Parvam
Sometimes you just have to wait and watch in terms of where things have to be and I think we are in that time. Just hold when you can and find other things to do.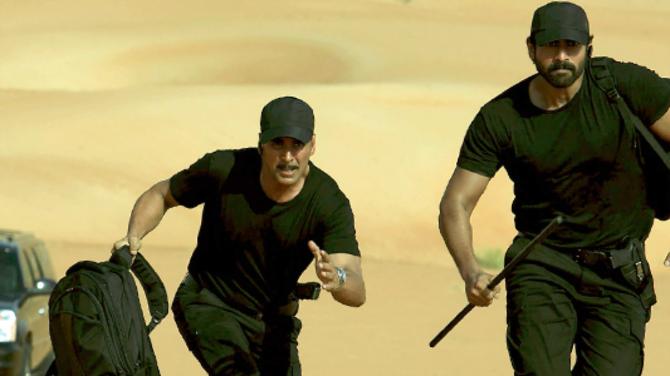 The Game Round
Which set is the nosiest?
I have to say Bombay
Which is the most punctual?
Like Telugu, in one sense, but then you come to Bombay and work with Akshay Kumar and you have a whole different perspective on what Bombay does, right?
Half my life in Bombay, I was with Akshay Kumar.
Like Baby, Housefull so you're single to his timing, right?
Which is pretty awesome.
He took me at 5:45 for a radio show, beat that.
The most laidback?
Also, Telugu.
I'll tell you, in a sense because they don't work that late, right.
See, you work very early, it's like 7-6, they wrap at 6.
So, after that you're just chilling.
Hyderabad, things are very close by, that's the fun part.
But it's a good function how they figure, like, the people with less make-up, start work first in the morning, then there's a breakfast break.
It's a little different ecosystem, that way.
But then you chill a lot more here than in Bombay. Bombay is like, come on, you got to work 24 hours a day, just got to keep moving.
The best food on which set?
I'd have to say Bombay.
They pamper you a lot... 'Can we get you this, can we get you that?'
And you know you won't have any of that.
Here it's like here you go, eat this, your shot's at three.
Has the best wrap-up parties?
Bombay, no doubt.
Always going over time?
Bombay, I mean, I don't even have to say it.
Which one is the strictest?
Telugu, for sure. And, I also think because my dad is around somewhere, figuring out what's going on and you're just like top discipline, right?
You have an uncle who's on time with everything so you got to like just, just be there, there's no option.
On the pressure of having a filmi background
Ya, ya, I mean pressure will be there.
I'm saying it's not pressure, really.
It's another job, it's a different function. You got to think of it very differently.
Which one treats you like a king?
I think Bombay.
<p\>Alternate Professions for these actors:
Abhishek Bachchan: I think AB can do anything pretty much, right? He already does so much in like sport. Sports mogul, I like that sound to AB.
Akshay Kumar: When does he not, I mean there is no time to do another job. You can't pick anymore. It's full. You got to change your question. His calendar is full.
Riteish Deshmukh: A stand-up? He'll make an awesome stand-up.
Taapsee Pannu: I think she'll be an awesome producer. She'd really be an awesome producer.
Dulquer Salman: Bernie Ecclestone types, somebody who owns Formula1 or something like that.
Vijay Deverakonda: Anything to do with attitude. I mean his attitude is like so strong and he's like, he could create a cult, I think.
Tamannah Bhatia: Anything to do with beauty. Like running a beauty products or company or something in that direction.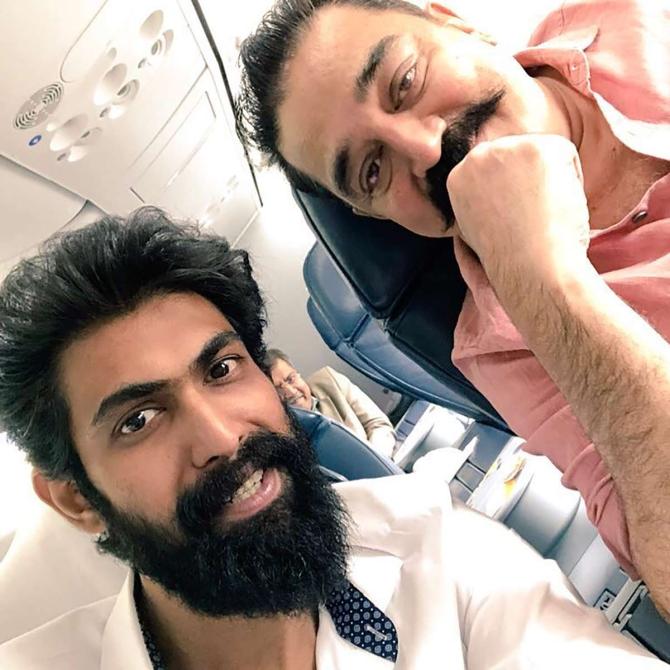 Which actor you'd steal this particular thing from?
Whose hairstyle would you steal?
Just the fact that Anil Kapoor has so much hair. I think that's him, his hairstyle.
Whose wardrobe would you steal?
Just start at Bandra and just go to different, like four jackets from Ranveer, three jackets from Karan, like just keep going to all of these guys... ya like that kind of stuff, belts from Allu Arjun.
Whose bank balance would you steal?
I'm good with mine. You work hard, you just keep your money. Don't ask from other people.
Whose Instagram game would you steal?
Dwayne Johnson, I think.
Whose brand endorsement deals would you steal?
I like mine.
Whose movies would you steal?
Wow, Mr Kamal Haasan. That's something I want to steal.
Whose PR team would you steal?
I think my PR team is the best, I think they are on the call, too. Imagine what's going to happen tomorrow if I say somebody else's.