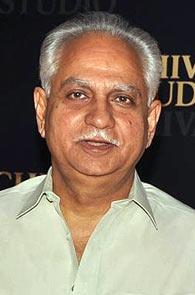 Having spent over 40 years in the film industry, producer-director Ramesh Sippy has seen Bollywood evolve.

He feels Hindi cinema has come a long way and is hopeful it will achieve greater heights. As the co-chair for FICCI Frames, Sippy feels a lot is to be done to help Bollywood and Indian cinema get there.

He talks to Urvi Malvania about what he feels is holding the industry back.

Edited excerpts:

What are the issues that need to be addressed regarding the film industry?

The industry is plagued by some pressing issues like funding and copyright.

Even after 14 years of being given industry status, it is still difficult to get institutional funding for films.

People have tried, but the trend has never really set in.

Part of the issue is taxation. Producers are burdened with all kinds of taxes -- service tax, entertainment tax, etc. Why should that be the case?

It took six to seven years of battle to get VAT (value-added tax) removed. There is no tax holiday to encourage the industry either.

That we grew at 12 per cent in 2013 and 20 per cent in 2012 means that the industry is doing well, even in times of an economic slowdown. But issues like heavy taxation keep investors at bay sometimes.

Is it also because the industry is still not organised?

I would not say it is not organised.

We have come a long way. Now we have contracts and everything is more professional. We have MBAs taking the helm of affairs. Yes, it may be work in progress on the whole, but you cannot say we are not organised.
You also have to realise that some practices are regimes of a bygone time. Payment in cash, for example, was a result of the heavy taxes levied on the film industry. At times, the producers ended up paying up to 90 per cent in taxes (before and after production).

With corporatisation and rationalising of taxes, things will get only better. That is why I emphasise the taxation needs to be further reduced.

What about the copyright issue? The industry has been grappling with it for long...

The Copyright Act is in a state of evolution. As time goes on, people will understand it better; it will be amended and some years down the line, things will be better. There will be court cases, different interpretations will come out and finally, we will understand it better.

Right now, it is not fully evolved.

Another aspect is that the consumer needs to be sensitised. For all purposes, he feels he is paying for the content. Free digital consumption of content is also a habit and will take time to go.

There has to be consciousness that there is a value behind the idea and the person behind it has the right to that value.

In fact, technology can be used in this case to the industry's benefit. We can use it to monitor and detect the use of copyright content and to mark the content in the first place.

This is where platforms like FICCI Frames can help. It provides a platform for discussions where different professionals from aspects of the industry can meet and debate and, maybe, reach a solution or at least work towards one.

Also, with FICCI having chapters in cities like Mumbai, Chennai, Kolkata, etc, it is now possible to address issues at a local or regional level.

Technology has also helped digitising movie screens in India...

Yes. It has helped. It has made delivering the film much easier and has given thrust to the multiplex industry. Today, screens in one territory can get the movies from one master file and soon, the whole country can.

The quality of the print has also improved.

But there is a flip side -- monopoly. With just one major player, the cost of service is high and needs to be rationalised. So, more players are needed.

But the industry is still very under-screened...

Yes. When compared to markets like the US, we are terribly under-screened. Multiplexes did help increase the number of screens, but with the slump in the economy, that progress has got stalled.

It is not as if malls are not coming up. It is just that progress has slowed down. Once the cycle turns around, development will be back and cinema will benefit from it.

And then there is the censor board...

The industry has been at odds with the board in the past. Now, it is much more liberalised. The fact that it is now called the certification board, is a sign of evolution. Very soon, we will have certificates for 12 years and above viewing, 15 years and above etc.

Slowly, I feel that even television will follow suit and we will have an adult time slot on TV. Like I said, it is work in progress.

Also, it's a two-way street. When a movie gets an A certificate, it is not meant to be viewed by certain demographics. The onus is up to the guardians to ensure that. Ultimately, movie viewing is a choice and there is enough feedback available after the movie is released for people to get an idea about the film in question and make a choice to watch it or not.

The same was the case with Grand Masti. People knew it had innuendo. People know there was indication of sex. Still, people have enjoyed it; they have gone with friends in groups and watched the movie.

It was their choice. The movie had an 'A' certificate and people still chose to watch it.

Why do we not see collaborations between Bollywood and Hollywood?
The main reason, according to me, is the vast different in culture. Themes, storylines and actors that people identify with here, may not work there and vice-versa. In fact, today, it is difficult to make a movie that will have appeal across the country.

And at the end of the day, no one would want to lose out on the core audience. We will have to wait till someone comes up with an idea that appeals universally and we will have collaborations.
In 2013, the gap between the small and big movies increased. Your thoughts on that?
It is the way you look at it. If you measure the movies in terms of return on investment, then there is not much difference.

The small movies have done very well. Whether it is The Lunchbox or Aashiqui 2, these are movies that were made on modest budgets and made good money. On the other hand, you have a movie like Dhoom 3 that was made on a huge budget, and grossed huge amounts at the box office.

I am optimistic because it means that different kinds of movies can exist in the industry today and there is market for different types of content.