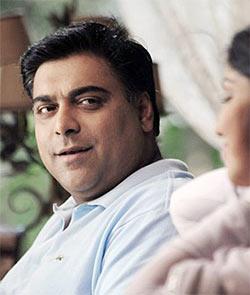 'It took me 10 years to make it to the top on television and I'm willing to put in the same kind of time for Bollywood too.'
Ram Kapoor gets ready for the movies.
Television show Bade Achche Lagte Hain has come to an end, and it's lead star Ram Kapoor is already looking ahead.
The actor hopes to start a promising acting career in the movies, and has no qualms about taking up new challenges, including movies like Humshakals.
He gets candid with Subhash K Jha.
Your hit serial Bade Achche Lagte Hain has come to an end. Your thoughts on the termination of this long association with this soap?
It's been a fabulous three-year ride.
I will never forget this experience, this show has given me much more then I ever expected and because of that it will always hold a special place in my heart.
Many viewers thought that the show started to drag towards the end. Do you agree?
Yes, I do. The first two years of the show were magical but the third year, it began to drag.
Will you miss shooting for this serial?

I'm glad that the show is now over because it has run its course. But I will definitely miss shooting with the cast of the show because we became very close during these three years. I have formed some lifelong friendships. I will miss shooting with Sakshi Tanwar. She is truly amazing.
Are you going to take time off from television to focus on your film career?
I will never turn my back on television because it has given me too much. But yes, for the time being, I have to concentrate on my film career.
Humshakals got a lot of flak from critics. Looking back at the experience, are you still sure it was the right thing to do?
Oh yes! For me, it was the best thing to do because I was dying to do a commercial film and I got the chance to do so with Humshakals. In fact, now because of Humshakals, I'm getting more commercial film scripts, and that's what I wanted.
Among the many things we saw you do in Humshakals, you also dressed in drag for the first time. Was that as scary as it looked?
Yes, it was definitely scary.
But then I'm always looking to take on a challenge so I jumped into it completely. I'm happy I did it because now people in the industry know that I'm willing to do anything.
What are your other movie assignments?

My next project is called Patel Rap, with Sunny Leone. We start shooting in September in Malaysia.
Do you feel Bollywood has made suitable space for your talent?
I think my start has been good. But I still have a lot more to do in order to fully cement my position in Bollywood. I'm in no hurry. It took me 10 years to make it to the top on television and I'm willing to put in the same kind of time for Bollywood too.
Do you feel the need to experiment with roles in movies that would perhaps take you higher than where television has taken you?
Yes, I want to experiment throughout my career because that's what will make you grow as an actor. And I what to keep growing throughout my career.
You are among the highest paid actors on television. Any regrets about leaving that affluence behind for the uncertainties of the movie business?
No, regrets at all. In fact, I feel only the excitement of stepping into a new phase in my career. Money isn't everything in life. I love taking up new challenges.