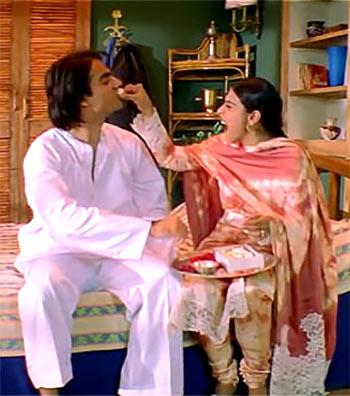 We bring you glimpses of the Raksha Bandhan moments in Bollywood.
T
he bond between a brother and sister is precious. And Bollywood has explored both its emotional depth and fun factor in numerous movies.
In Zoya Akhtar's Dil Dhadakne Do, Priyanka Chopra and Ranveer Singh play a pair of devoted siblings comfortably discussing any problem under the sun with each another.
Whereas in the Ajay Devgn starrer Son of Sardaar, Sanjay Dutt plays the wrathful older brother quashing Sonakshi Sinha's choice of husband since he belongs to the enemy clan.
The contrast couldn't be any more emphatic.
But the bhai-bahen ties remain strong.
There's a day dedicated to just that -- Raksha Bandhan wherein the sister ties a rakhi on her brother's wrist to protect him from harm while he vows to do the same for her.
Back in the time when soppy was trendy, Raksha Bandhan scenes made for the most melodramatic brand of entertainment.
With the popular Indian festival just around the corner, we look at the 10 of Bollywood's SUPER FILMI Rakhi moments.
Saajan Ka Ghar
Image: Deepak Tijori and Juhi Chawla in Saajan Ka Ghar
In this 1994 weepie, Juhi Chawla's character is perceived as a jinx. But her sensible stepbrother, played by Deepak Tijori, isn't buying the bogus and treats her fairly.
On Raksha Bandhan, Juhi ties him a rakhi notwithstanding a rude interruption from stepmom Bindu. The latter jumps at the chance to lambast Juhi when Tijori loses a limb in a road accident immediately after.
Like a true filmi brother, Tijori flashes the arm still bearing Juhi's shiny rakhi and laments, 'Kaash dono haathon mein rakhi bandh ne ka rivaaz hota, Ma. Haath toh woh kaata jis pe meri Didi ne rakhi nahin bandhi thi.'


Dharmatma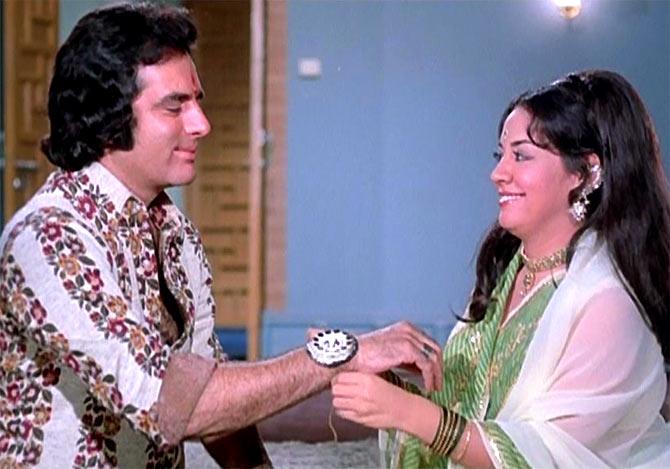 Image: Feroz Khan and Farida Jalal in Dharmatma
Heavily inspired by Francis Ford Coppola's The Godfather, Feroz Khan's Dharmatma tells the story of a man (FK) caught in a dilemma after he learns his father's killer is none other than his sister's husband.
And because this is a Bollywood potboiler, the realisation happens on Raksha Bandhan when the sister (Farida Jalal) is tying him rakhi and requesting to forgive her not so better half.
As it turns out, the spiteful latter bumps off the sister too leaving a seething, rakhi-bound Feroz Khan with nothing but double revenge on his mind.


Sanam Bewafa
Image: A still from Sanam Bewafa
Be it Amar Akbar Anthony or Bajrangi Bhaijaan, Bollywood loves Hindu-Muslim bonhomie.
In Saawan Kumar Tak's melodrama, the Muslim heroine is not just best friends with a Hindu girl but also ties rakhi to all her five Rajput brothers with more earnestness than their own.
In a typically over-the-top climax from the 1990s, the turban-sporting brotherhood proves its worth by coming to her rescue following a bitter fall-out between her sparring family and in-laws.


Pyar Kiya Toh Darna Kya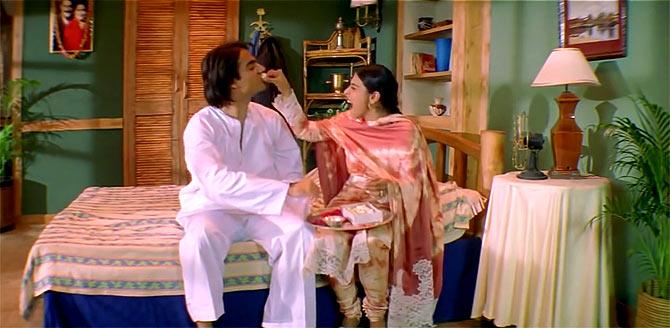 Image: Arbaaz Khan and Kajol in Pyar Kiya Toh Darna Kya
Call it an on-screen festival perk but wishes unfailingly come true on Raksha Bandhan day.
Kajol quickly makes avail of the offer by tying a thread around overprotective bade bhaiya, Arbaaz Khan's wrist and expressing her desire to join a Mumbai college.
Mushy music in the background, sighing faces to the fore, mission accomplished.


Chhoti Bahen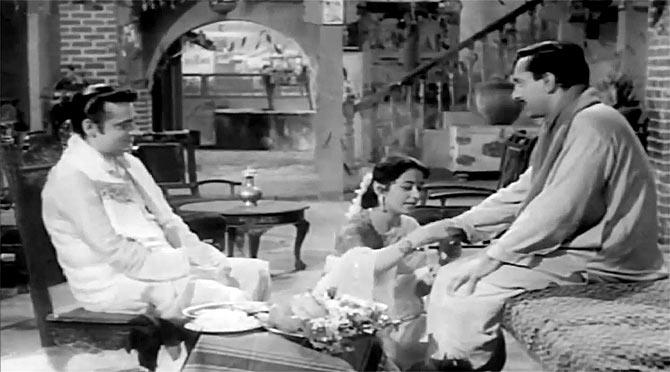 Image: A still from Chhoti Bahen
With great power comes great responsibility is Nanda's melodious but meaningful reminder to her burly brothers Rahman and Balraj Sahni in and as Chhoti Bahen.
Given the series of personal crisis the three go through to assert their indestructible brother-sister bond, it's clear our movies don't dare take the 'rakhi ka bandhan' lightly.


Marte Dam Tak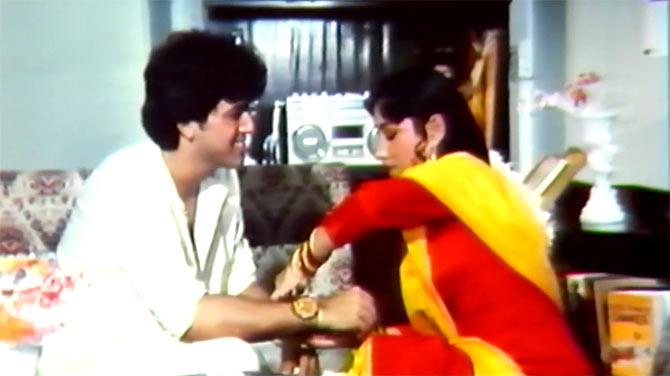 Image: A still from Marte Dam Tak
Govinda and his nondescript reel sister exchange typically Bollywood bhai-bahen vibes for Marte Dam Tak's amusing Raksha Bandhan scene.
The actor mutters something about her becoming 'paraya' soon and how it will be inappropriate to for him to feed her any mithai after that.
Nondescript sister keeps preening all through what has to be most sickeningly sweet depiction of sibling love.

Ever.


Beimaan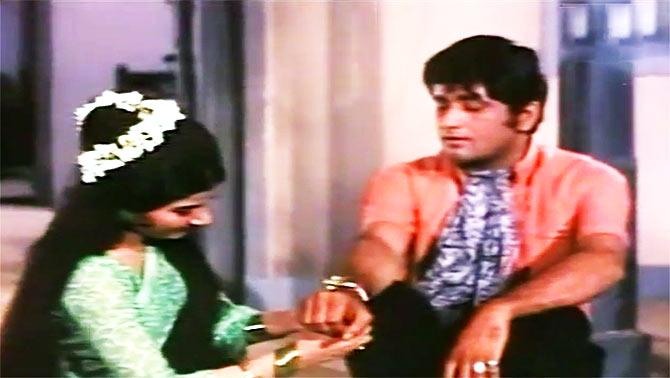 Image: Nazima and Manoj Kumar in Beimaan
Manoj Kumar's Beimaan won him several Filmfare trophies, including the Best Actor.
In the film, he plays a disgruntled youngster pulled into the world of crime.
In one of its scenes, Pran prompts a resisting Manoj Kumar to allow his daughter Nazima, whom he saved from a bunch of hooligans not too long ago, tie him a rakhi, leading up to the hit melody, Yeh rakhi bandhan hai aisa.
Between Nazima's funnily worn gajra, Manoj Kumar's fluffy scarf and sulking expressions and a mawkish Shankar-Jaikishen composition, there's a lot to take in.


Resham Ki Dori
Image: A still from Resham Ki Dori
Brothers and sisters normally meet at each other's house or even a restaurant to tie a rakhi. But in movies, even the venue is almost always dramatic.
Dharmendra is arrested by the cops and held on trial for killing a man who tried to molest his sister.
Found guilty, he's taken away to be put behind bars when his sister rushes and ties the revered rakhi on his handcuffed wrist.
Cue for its famous Rakhi number, Behna Ne Bhai Ki Kalai Se Pyar Bandha Hai.


Hum Saath Saath Hain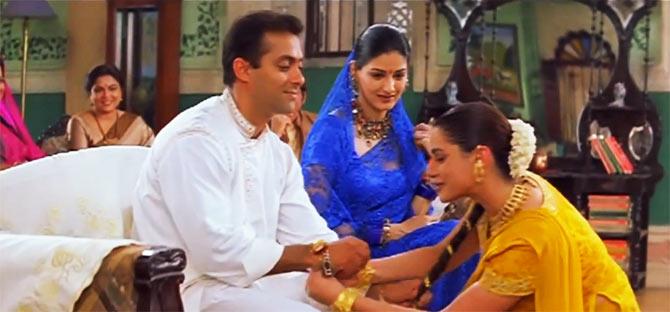 Image: Salman Khan, Sonali Bendre and Neelam in Hum Saath Saath Hain
Salman Khan hoodwinked Neelam's character into believing she's his wife and mom of three in rom-com, Ek Ladka Ek Ladki.
Saif Ali Khan pranced around her in flower fields and college campus in Parampara.
Cut to Hum Saath Saath Hain where Neelam turns "Jeeji" of these two Khans and Mohinish Bahl tying rakhis on their wrists unwittingly explaining why many eligible bachelors dread this day.


Andha Kanoon
Image: Hema Malini and Rajinikanth in Andha Kanoon
Mixing business with pleasure to her advantage, Hema Malini's super severe cop uses Raksha Bandhan as a perfect occasion to nab her roguish brother Rajnikant in the 1983 drama, Andha Kanoon.
Initially, the cat-and-mouse duo banters but makes up over a mandatory sibling love tune -- the 'Meri Behna' song.
Except Rajni, it would seem oblivious to his sister's schemes and secret microphones, blissfully celebrates the festival. He knows her better than the audience.