Everyone has his/her own views on TV actor Prayusha's suicide but none as ridiculous as Rakhi Sawant.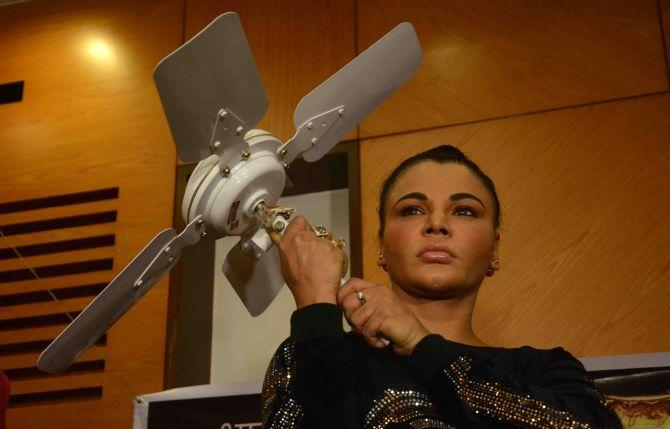 IMAGE: Rakhi Sawant poses with a small ceiling fan. Photograph: Sahil Salvi
Balika Vadhu actress Pratyusha Banerjee's suicide has got all kinds of reactions from the world of showbiz.
While actors like Vahbbiz Dorabajee said suicide is not an option, stars like Hema Malini have called it 'senseless.'
But the most startling reaction comes from Rakhi Sawant, who held a press conference in Mumbai to state just how *she* felt about the tragic incident.
Rakhi claimed she would disclose 'secret and important information' that would 'expose the reality behind Pratyusha's death' and brought along a ceiling fan with her!
"Issi ceiling fan se latke hamari bahu beti mar jaati hai. Mein Modiji se request karna chahti hu ki celing fan hata do. AC aur table fan use karo (this ceiling fan hangs our daughters and daughters-in-law and kills them. I will request Prime Minister Narendra Modi to remove ceiling fans. Use air-conditioners and table fans instead). We are planning to distribute 5,000 table fans to the people," Rakhi Sawant announced grandly.
Yes, she was as absurd as that.
A journalist couldn't help but ask her: "(Actress) Divya Bharti fell from a high-rise building. Are you saying that people should stop constructing tall buildings?"
Rakhi was not amused, and asked him to be 'serious'.
"If Smriti Irani asked you to remove fans, you would listen to her. You are making fun now because I'm saying so," she said.
She went on to add mysteriously that she had a 'video' that she would hand over to the Crime Branch (never mind that they aren't investigating the case; the Bangur Nagar police station is) which would reveal 'everything.'
"Woh video hi saboot hai isse hi sab kuch saamne aayega (the video has evidence that will reveal everything)," she said.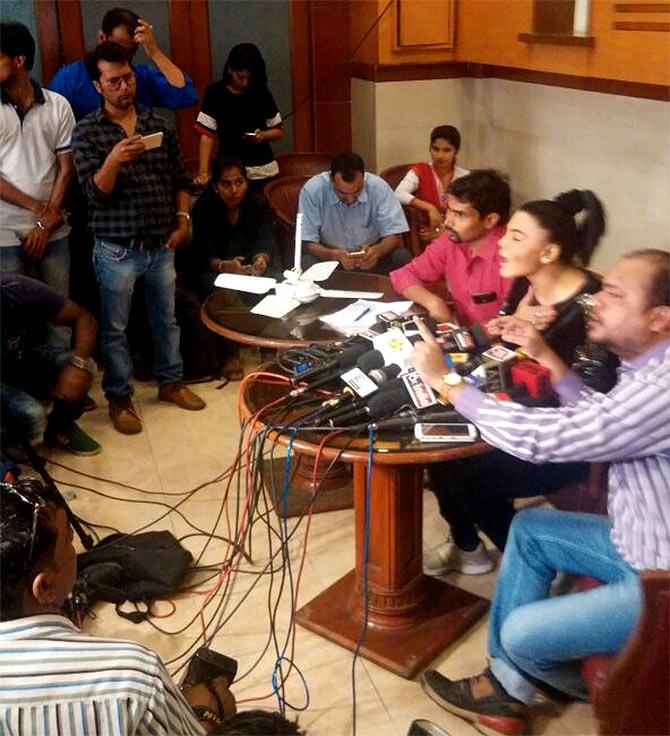 Image: Rakhi Sawant addresses the media, as the ceiling fan takes centrestage. Photograph: Rajul Hegde
The video, according to Rakhi, was sent to Pratyusha by her boyfriend Rahul Raj Singh's ex-girlfriend Saloni Sharma just before Pratyusha committed suicide.
So where is the video now?
"The Crime Branch was supposed to come today (for the press conference) with a girl, who has the video, but they backed out at the last moment," Rakhi claimed.
"Agar sacha pyaar karta tha toh mobile lekar kyu bhaag gaya aur abhi media ke saamne ro raha hai (if he truly loved her, why did Rahul Raj Singh run away with Pratyusha's mobile phone, and now he is crying in front of the media)," Rakhi fumed.
"There were some marks on Pratyusha's neck but the police says there was nothing. Where did these marks come from?" Rakhi asked, playing investigator.
"I want justice for my sister Pratyusha. We want Rahul to be arrested," the starlet announced.
She also said that she would ask the government to give Pratyusha's parents Rs 5 crore as compensation, since she was the only earning member of the family.