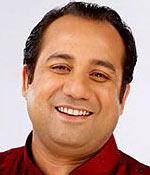 Sonil Dedhia reports on the mysterious Rahat Fateh Ali Khan case.
The mystery over the source of Rahat Fateh Ali Khan's funds continues after a Rajkot, Gujarat, police officer denied that the local police had tipped off the Directorate of Revenue Intelligence about the Pakistan singer's cache of cash, as reported by a Mumbai newspaper.
Deputy Inspector General (Rajkot rural range) Manoj Shashidharan told Rediff.com, "I would like to clarify that no agencies sent us a request for investigation in the case. We have done our routine enquiry. If an (Rajkot police) official has to tip off (the DRI), we would come to know about it because all officials have to go through the higher authority. My colleagues or I did not come across any such information."
Khan, who won several awards for his songs this year, was detained at Delhi airport on Sunday night after he was discovered to be carrying over $100,000 (about Rs 5 million/Rs 50 lakhs).
Indians and foreign visitors are only permitted to take $10,000 out of the country. Any sum over that amount has to be declared to the Customs.
After he was quizzed by DRI agents, Khan was released on Monday evening.
Khan and his 15-member troupe were returning to Lahore, Pakistan, when he was detained.
According
to the Mumbai newspaper, Rajkot police officers tipped off the DRI after their suspicions were aroused following a chat with members of Khan's troupe.
"Rahat," DIG Shashidharan said, "came to Rajkot and went to the Hotel Imperial and checked in exactly at 3.28 pm on February 8. He rested for some time and later that evening traveled to Torania village with his troupe to perform at the Torania Dham ashram."
"The ashram," the DIG added, "is headed by a gentleman called Rajendra Bapu. The ashram had a function where a lot of people got married on the same day. They have a lot of Hindu-Muslim marriages."
The ashram apparently invited Rahat Fateh Ali Khan to perform at the event as they wanted to send out a message of communal harmony.
The DIG confirmed this, adding, "We enquired with the ashram authorities and Rajendra Bapu. Their record shows that they paid him (Khan) Rs 351,000 by cheque. All the necessary permissions required are in place. From the ashram's side there is nothing illegal that they have done."
The singer left for Ajmer on February 9 and later traveled to Mumbai from where he flew to Delhi.
"We have checked the records at the Foreigners Registration Office," Shashidharan added. "The visa for India for Pakistani citizens is restricted to the cities mentioned in the visa form. Rahat and his troupe had the necessary visas to perform in Rajkot. We checked the records and the visas were issued in January."
"Any person coming from Pakistan has to report to the police station in the city for verification within 24 hours," he added, "but under the guidelines mentioned by SAARC there is an exemption given to certain criteria of people so the singer didn't have to register with the police."