'It's an experience of a lifetime. It's the first time I acted in a South Indian film where I was treated as an equal by an actor.'
Radhika Apte gets candid.
For an indie film actress, Radhika Apte seems to be everywhere these days.
Just recently, she appeared in two trailers for the soon-to-be-released films: Phobia, and the Rajnikanth starrer Kabali.
Last year her feature, Parched, opened at the Toronto International Film festival and since then the film has won a number of awards.
Last month, she and her co-star Tannishtha Chatterjee won the combined best actress award at the Indian Film Festival of Los Angeles.
Apte also won the best actress award in the International Narrative Feature section at the Tribeca Film Festival. She acted in Clean Shaven, the Anurag Kashyap directed segment in the anthology film Madly.
Clean Shaven is the story of the sexual awakening of the middle-class Indian woman and the consequences she has to face.
Parched and one of Apte's recent shorts The Kill were featured at the New York Indian Film Festival this past weekend.
Aseem Chhabra recently spoke to Apte at the Tribeca festival in New York.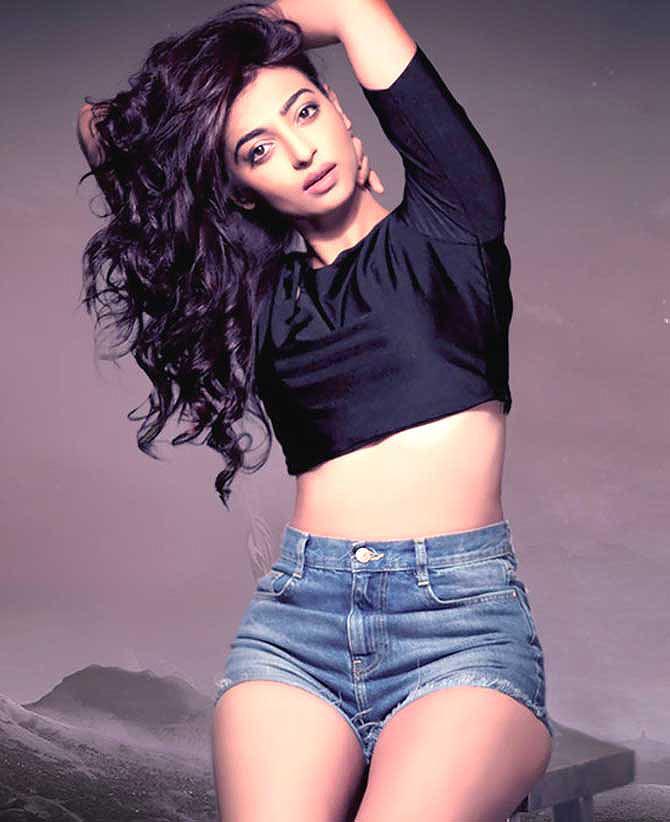 IMAGE: 'I have become a person who doesn't want to be exploited now,' says Radhika Apte.
Radhika, I am amazed at how many short films you have done. We will talk about your career choices, but what do you get from acting in short films?
It could be a practical reason that you are not getting a lot of feature films or do you actually enjoy working on shorts?
I never think about it. I am getting enough work. I don't think about the medium. I like something, I do it.
I know other actors are also doing short films. Nimrat Kaur has done a couple.
There is no planning for me. But after Ahilya...
...That was seen by many people.
Yes, and I was literally getting two to three short film phone calls every day. 'Madam hamare pass paisa nahin, so we want to make a short film,' they would say.
And I would think, 'Kya maine charity ki dukhan kholi hai that everyone wants me to act in shorts with no money?'
But they could tell that you are committed to that form, you are a terrific actress and also you have worked with new filmmakers.
Actually, I am laughing at it, but I am also very grateful that they ask me.
But I have become a person who doesn't want to be exploited now.
How many shorts have you done?
I have done four -- That Day Everyday, Ahilya, Clean Shaven and The Kill.
Now, I am working on a short project for Film London, called Oysters. That's going to be very exciting. It's about two British Asians, a boy and a girl.
Will your character have a British accent?
Yes. It's not an issue-based film. It's just about these two characters.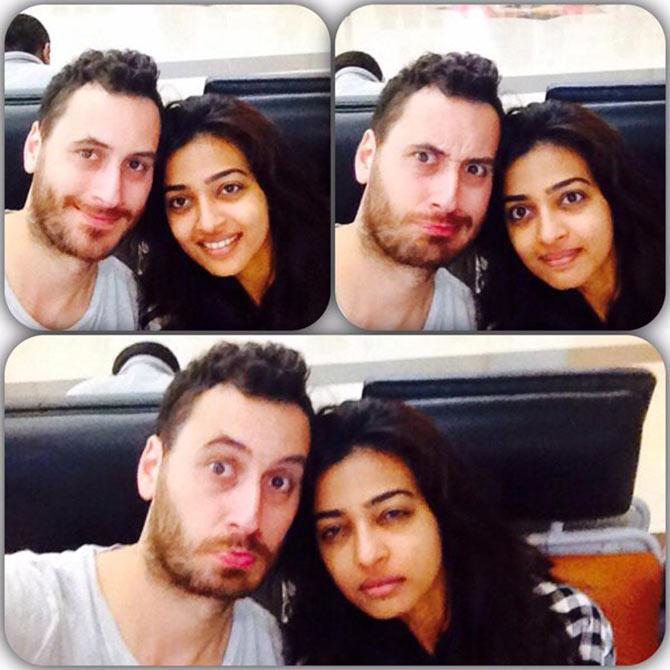 IMAGE: Radhika Apte with her husband Benedict Taylor. Photograph: Kind courtesy Radhika Apte/Twitter
I loved the scene in Shor In The City with you and Tushar Kapoor, where he expresses his surprise that you can read.
Yes, I remember that balcony scene. It has also to do with (directors) Raj (Nidimoru) and (Krishna) DK. They wanted it to be very subtle. I was studying in London when it was released.
So you made a few films and then left for London.
I made Shor and Rakhta Charitra.
You studied dance in London.
I used to be a Kathak dancer and then I did contemporary dance in Pune. It was a workshop with a woman who has now moved to Toronto. I loved that experience, so I decided to go to London.
I had shot a few days of Shor. Then they called me in London because they needed to shoot a song with me. I flew in during my winter holidays for a week.
How did your move to London impact your work?
It changed everything. I met my husband Benedict Taylor there.
What does he do?
He is a musician. Going to and living in London changed so much in me. You know, sometimes you believe in something and then you get carried away.
While I am exposed to the Bombay film industry, because of Benedict I stay grounded constantly. He does a lot of contemporary and niche work.
It's so inspiring and makes me want to keep doing what I want to do, but be also aware of everything.
I live in Bombay and London.
You work in films in Bombay.
Yes, I want to work in Bombay, but I want to work in films that I like. It's very hard to do that in India. A lot is governed by things that I do not agree with.
It's just the beginning, but I have an agent in London now. I meet people in London and Los Angeles. Things abroad are based on talent.
There is a system. You go to the casting director and audition for the parts. In India, most of the time it depends on whose family you are born in.
Isn't that changing?
Now there are so many people coming in and are being welcomed. But still, to get those big films -- and there is a debate whether you want to do them or not -- it is not easy.
I saw Fan recently and Sayani Gupta is in it. It's a small role, but she has quite a few scenes with Shah Rukh Khan. It's a big break for her from Margarita, With A Straw..
But again, she is not the lead actress. If that was the role, it wouldn't go to people like us.
But look at actors. Suddenly, everyone in Bollywood knows Nawazuddin Siddique. He has done two films with Salman Khan. Until four, five years ago, his films were not even opening in India.
But there is only one or two Nawazes. We were having a discussion recently. The older actresses say, please don't complain, in our times it was worse. But to that, I say I agree, but we are born in today's time, and today, it is still bad.
You are a very recognisable face in the kind of work you are getting. Or maybe I see too many indie films.
Yes, probably (laughs).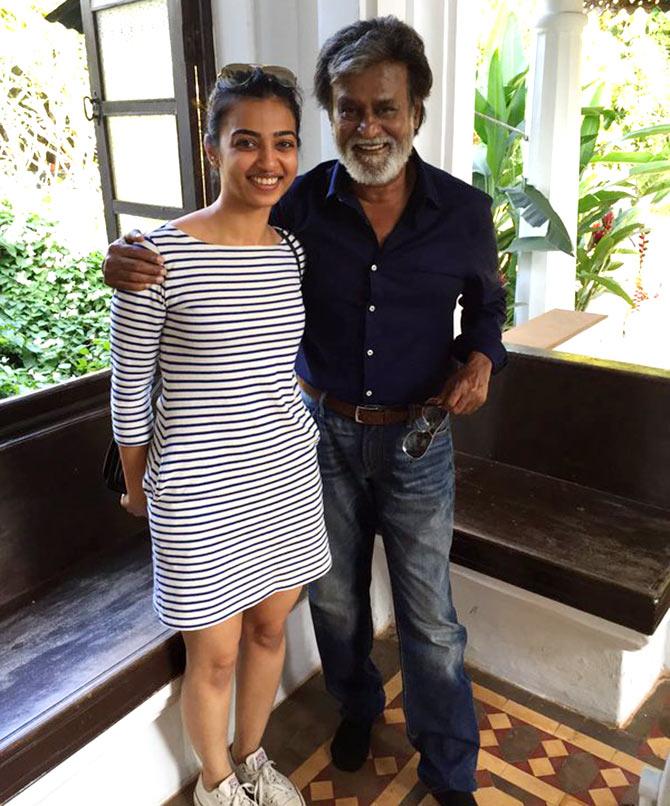 IMAGE: Radhika Apte and Rajnikanth. Photograph: Kind courtesy Radhika Apte/Twitter
I have seen Parched twice already, and I know people in India still haven't seen it. I have seen so many films of Tannishtha Chatterjee and a few of them haven't even opened in India.
Tannishtha is a fantastic actress, but in India, to get bigger recognition is so difficult.
Of course, whether she wants to do that work or not is different. But that doesn't mean she shouldn't get the chance.
Now the commercial and indie worlds are joining hands in content and money. That's a great space to be.
It's not just the industry's fault. Society also has to accept different actors and faces.
It's how they promote actresses. The system will change if actresses are promoted in a better way. But the A-listers are still from the industry. There are others like Richa Chadda.
Richa is getting a lot of work. She was in a big Bollywood film, Goliyon Ki Raasleela Ram Leela.
Yes, so am I. But we are still not A-listers
Richa was not the lead in Ram Leela. For character roles, they always want actors.
Don't get me wrong. I love Deepika (Padukone). She is amazing.
So that is why you are looking at options outside India. You did a lot of regional cinema.
Yes.
You should see the new Rajinikanth film I just did, Kabali. I think it is coming out in June.
I play his love interest and his wife.
Is it a big role?
It's not a song and dance film.
What was it like acting with Rajinikanth? How does he work with co-stars?
He's amazing. He gives you your space. He has no insecurity. Of course, he cares for his image, but so do most other actors. He is so down-to-earth and hardworking.
There is something very humble about him.
Oh yes.
You are acting as his wife. I don't have to ask how old you are, but I can guess it. And Rajnikanth is 65. I understand that is how the industry works. He does look younger with his wigs.
I mean any 16 year old would jump at the opportunity to act opposite Shah Rukh Khan! It's the same thing. It's how we function in India. It's your choice, whether you want to be a part of it or not.
I tried to do a few films in the South for whatever reason, and then I decided I won't do them anymore. Then I got a Rajnikanth film.
It's an experience of a lifetime. It's the first time I acted in a South Indian film where I was treated as an equal by an actor.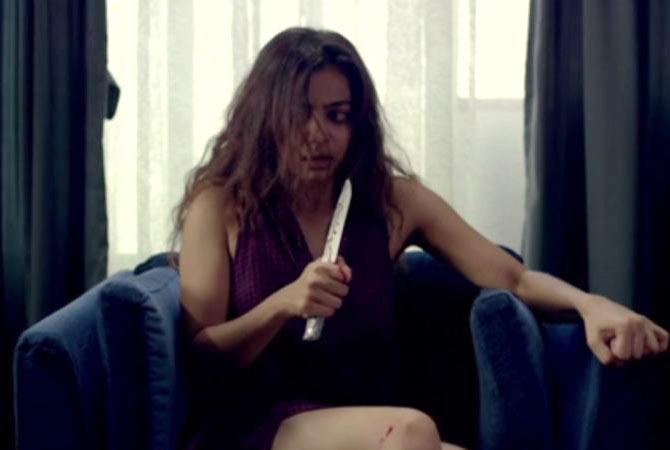 IMAGE: Radhika Apte in Phobia.
What other films are you are doing?
The Ashram is directed by Ben Rekhi, who is from LA.
The cast includes Mellisa Leo, Kal Penn, Hera Hilmar and Sam Keeley.
Are you satisfied how things are going?
I don't think anyone of us is satisfied with all that we get, but we are happy about certain projects. So I think right now, I am in a very happy place because Phobia is releasing.
Tell me about Phobia.
It's an Eros film, directed by Pawan Kripalani. It's about a girl who develops agoraphobia. She can't get out of the house. It's just her and her trauma.
It's a thriller with a twist to it where she discovers that there is something in the house that is very unsettling.
What was it like working with Anurag Kashyap?
Clean Shaven is a very tightly made film, and one of the best of the six films in Madly. One of the question I wanted to ask was about the sensational news about the film.
The clip (showing Apte partially nude) leaking?
Yes. How did you react to it?
I didn't react.
Anurag reacted.
Yes, he did. And that worked in my favour.
Did people call you?
Oh my phone didn't stop ringing for the next five days. They pounced on it. It was so shameless. But I didn't answer my phone.
It's good Anurag spoke about it because people didn't have a context. They didn't even know it was a film clip. They got it through MMS.
How did it happen?
I don't know and decided not to get into it. I know I am not going to find out.
Was it difficult for you though?
Not really. The film was going to come out and people were going to watch it anyway.
You think it will be released in India?
Once it is released anywhere, people can access it in India through the Internet.
It is my work. And secondly, I watch films like that every day. So it didn't matter to me.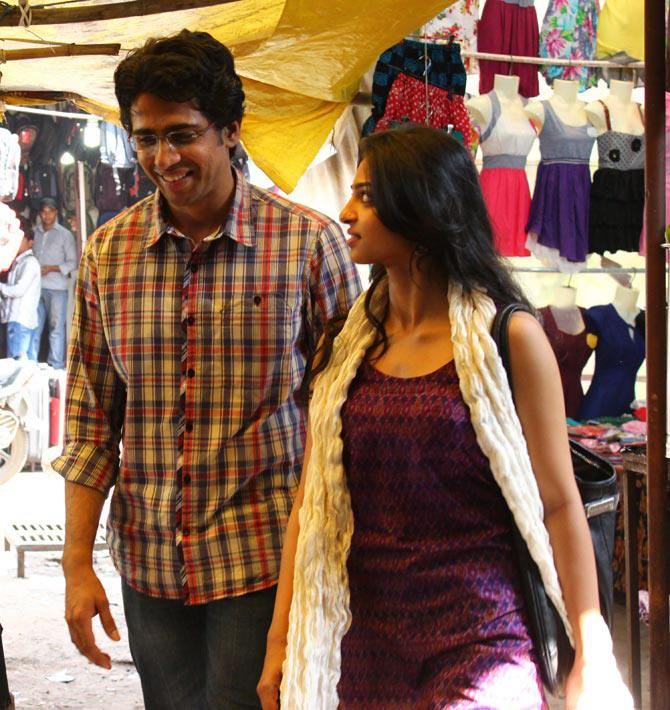 IMAGE: Gulshan Devaiah and Radhika Apte in Hunterrr.
A story like this has not been made anywhere in the world, and not just about women but even men.
It is never talked about in cinema in an intelligent manner.
I think it is a really good film. It's a brave subject, quite complex. It makes you think and it stays with you.
As an actress how do carry yourself in the roles? You act a lot with your eyes, but you are also very vulnerable. I saw that in Clean Shaven and The Kill.
The crucial scene in Clean Shaven, when you are awkward and shy. And because the guy starts to laugh, it puts you in a...
...horrible situation.
What do you do to yourself as an actress to produce that kind of an emotion because you didn't go to any acting school.
You have to believe in the moment, be open to react to what's happening. You have to be 100 percent present there, and be very honest with your reaction.
It is very difficult and seriously I have so much more to learn. The moment you are honest, unpredictable reactions come out of you.
What was the experience like at Tribeca?
I just saw the first screening. I can't watch a film more than once. The audience's reaction to Clean Shaven was really interesting. They were laughing initially. I think it was great, because much of it was so innocent, until it gets very ugly.
I loved the last five minutes of the film. It was very well edited and so intense.
There was no dialogue. There was a script with dialogue, but we changed it on the set. Anurag was great about how he made the decision to shoot the scene with and without dialogues.
In Parched, there are so many scenes -- when you are beaten up by your husband after you tell him you are pregnant, the erotic scene between you and Tannishtha -- your eyes and your whole body can carry so much sadness.
So then you should watch me in Hunterr because it is the exact opposite.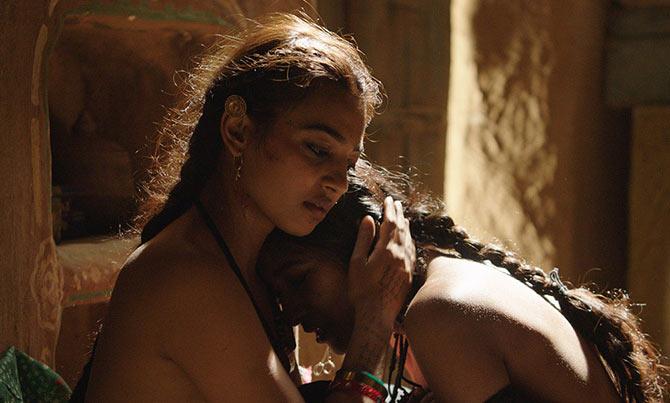 IMAGE: Radhika Apte and Tannishtha Chatterjee in Parched.
Tell me about the experience of working on Parched.
We shot it in February and March in Jaisalmer. It was hot, although when we started the shoot, the nights were cool. We had a great time. It was like a holiday.
They created the whole village there.
And then you acted with Nawaz in Mountain Man.
It is great to be acting opposite good actors. It brings out a better performance out of you. Nawaz is a lot of fun. He's always improvising.
We would do it all the time, improving series of dialogues. It would go on and finally Ketan (Mehta, the director) Sir would start to laugh.
What were your early days likes as an actress?
When I came to Bombay about seven, eight years ago, it was to act in two plays: Kanyadaan with Lillete Dubey and Bombay Black with Anahita Oberoi.
I was in Bombay for three months. I didn't have any money. I lived off my parents. The plays would pay about Rs 7,000 or Rs 8,000 per month, so I was sharing a bedroom with another girl in Lokhandwala (Complex, north-west Mumbai). And that is a part of town that is not me. The girls were from the film industry, but we couldn't get along.
The glam expectations -- 'you have to this' and 'you have to do that' depresses the hell out of me.
I wanted to be an actress, but I didn't know where to start from. It depressed me to another level.
Rahul Bose saw you in a play that led to you getting cast in Antaheen.
Yes, in Bombay Black.
After the plays I went back to Pune and said I will never move to Bombay. Then Antaheen happened and still, I didn't go to Bombay. I didn't move even after Shorand Rakhta Charitra. I was essentially doing everything from Pune.
Then after London, Benedict moved to Pune for me. We lived there for a year. Benedict would go to Bombay every month, but I refused to move because I was traumatised by my first experience.
After a year of living in Pune, we finally decided to try Bombay. By then, Benedict was getting work in Bombay and was starting to get busy with films.
When you came back from London, did you get work easily?
There was a gap and people forget. So I had to nearly start from scratch. That's when I started doing South Indian films.
I sometimes think that it would have made more sense not to do anything than to work in films that are not great. Because you learn to do bad work, you learn to do it easy.
In the few films I did, and I would be told 'Maa, sad feeling' and I would look sad. Then they would say 'Maa, shock.' And they would put the camera on your face only to capture your reactions.
There would be nothing happening in front of me. I began to realise that it was a piece of cake. They were calling me a one-take actress.
It doesn't challenge you and you get bored. You learn the easy way out and get used to it.
How did you break the cycle?
That is when I got Hunterrr, Mountain Man and Badlapur. And I started working on the shorts.