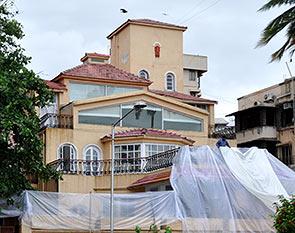 Rajesh Khanna's bungalow, which was sold to an unknown businessman, will not be the museum the late star had hoped it would be.
So, Aashirwad has been sold.
Rajesh Khanna's legendary sea- facing Carter Road bungalow in Mumbai, a repository of glamour, heartbreak and nostalgia, which had in the past few years become the subject of an ugly battle between his family and his alleged mistress, has been sold to a Mumbai businessman for Rs 90 crore.
Of course, it had seen better days.
As Bollywood's first superstar, Khanna had evoked unprecedented fan worship after he had given a run of 15 box office hits between 1969 and 1971.
Young girls had etched his name in blood; mob hysteria followed him wherever he went; and, of course, Bollywood beat a path to his door with its accompanying chamchas, cliques and coteries.
My school was a stone's throw from Aashirwad and the school bus took the long winding road past his home each day. To say that the bus tilted dangerously to one side as we schoolgirls jostled to get a peek behind those high walls and imposing gates would not be an exaggeration.
We lived on the fringes of Bollywood. The all-girls convent school we attended had been a favourite parking space for the daughters of legendary personalities like Johnny Walker, Majrooh Sultanpuri and Naushad.
What was real and what was reel life often got blurred.
For instance, the fact that one of our beautiful classmates had been picked by Raj Kapoor to act in his newest film and had subsequently left school was a matter of equal thrill and insouciance for us.
That she grew up to be Dimple Kapadia and ultimately resided in Aashirwad for a brief and tumultuous part of her life was just par for the course if you grew up in Bandra and Juhu in those days.
Many stories emanated from the Aashirwad of Khanna's superstardom days. One of the reigning columnists of the era, Star and Style's Devyani Chaubal, a friend of my parents, used to regale us with anecdotes, most of them unprintable.
Equally riveting were the stories of Khanna's fall from grace when his movies began to flop and the hangers on and chamchas began to fade away. One of those stories had him sitting on the terrace, dressed in silk robes, drinking alone, talking to the moon.
His era passed when Amitabh Bachchan came on the scene and usurped his status as Bollywood's Numero Uno. That Bachchan chose to live in Mumbai's newly-developed JVPD Scheme was only one part of the shift. His stellar work ethic of punctuality, politeness and punctiliousness put paid to Khanna's grand chaos and maudlin mayhem.
Today's stars have more or less opted for the Bachchan approach to work. They live in well ordered bungalows, with freshly cut flowers in the vases and uniformed staff that take messages politely -- so different from the homes of our school friends, the daughters of Bollywood legends whose enormous bungalows were untended and shambolic.
It is said that when Shah Rukh Khan attained superstardom, the top entry on his wish list was a bungalow on Carter Road, in the footsteps of the ultimate Bollywood superstar, Rajesh Khanna.
Known as 'Mannat', it lies on the opposite side of the Bandra divide and also overlooks the sea, through high walls and an imposing gate. But that's where the similarity ends. Mannat and its star occupant conduct a very different life from Khanna's in Aashirwad. One that is in keeping with the times -- ordered, responsible and driven.
So Aashirwad has been sold and will now be occupied by an unknown businessman. It will not be the museum of his stardom that Rajesh Khanna had hoped it would be.