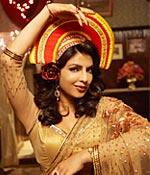 Raja Sen reviews 7 Khoon Maaf. Post YOUR reviews here!

'Once that you've decided on a killing,' sang Sting back in 1983, 'first you make a stone of your heart. And if you find that your hands are still willing, then you can turn a murder into art.'

Tragically, Priyanka Chopra is the kind of actress that painstakingly -- and painfully -- tries to spell out just how stony her heart is, something far better conveyed through deed rather than affected mannerism.

Eyes well up with hurt, thick lips quiver in pouty indignation, and subtlety is thrown to the hounds as the actress flounders, trapped inside a bewildering character significantly out of her league.

And while The Police song might have gone on about a slaughtering spree as easy as ABC, Vishal Bhardwaj takes it far too literally and gives us a film so linear, so simplistic in narrative, that it never quite manages to arouse interest. 7 Khoon Maaf may well be about a demented deity with a fetish for husband-killing, but -- incredible as it may seem -- it is a strikingly boring film.

More than that, in fact, this is a cute film. A very adult story told puzzlingly like a children's fable, this Ruskin Bond adaptation never quite shakes off the artificial affectedness and comes across only as a silly film masquerading as a smarter, cooler, deeper one. Its lines mostly overwritten with both cloying mawkishness as well as childish over-exposition, 7 Khoon Maaf is often just being precious -- while not really worth all that much.

It starts off promisingly enough, an investigation tray being wheeled into a government forensics lab -- the kind of place Bollywood never shows us. An expert opens up the box, looks at pictures of a presumably dead Priyanka, and a tear rolls down his cheek. Most of the rest of the film is photo-album driven flashback, involving him telling her story to his shrill, curious wife.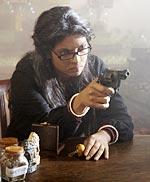 We see a young Priyanka Chopra at her father's funeral, and then are exposed, one-by-one, to a procession of her many fatally flawed grooms. A two-timing Trotskyite, a poetic pervert, an antiquated apothecary, a foolish officer, and a couple of men who can't act. The wedding-fetishist disposes of them all with consummate ease, while the master filmmaker loyally -- and unimaginatively -- serialises her process.

Bhardwaj's cinema has always been one of quirk and energy, the director whimsically bending the narrative and soaking it in such style that it's impossible to look away. This time, however, he seems content to let the film do the talking while he merely watches... there is no panache, no audacity, no trademark flourish. There is just an immaculate song set in Kashmir, and a fabulous one with Russian roots that deserved a better film around it.

There are inevitably a few very clever moments in the film -- a scene involving a white cat in the snow, for example, or that marvelous last line about broken spectacles -- but the characters populating the proceedings are much too exaggerated.

A muted dwarf as if from a Sherlock Holmes adventure; a tender writer with a violent sexual fetish; a Russian man of mystery who quotes Amitabh Bachchan... Bhardwaj's traditionally wonderful dialogue is more basic and less smart this time around, and resultantly the characters emerge considerably contrived and theatrically overdone.

It may be argued, of course, that the maker's intent was to create a macabre opera. Yet this is a highly irregular product, often flip-flopping the line between melodrama and dark comedy, not quite achieving either. And what opera could work if you cared not for its players?

Priyanka tries her best, but is simply not a good enough actress to justify being in a role this nuanced and demanding. It is a fantastic character, one deserving of a Sofia Loren or a Penelope Cruz or a Waheeda Rahman, and try as Ms Chopra might, she never comes close to being convincing. She turns hints into signals, happiness into hysterics, her every movement an act. She looks her best when sternly strutting into a hospital, occasionally gets a line right, and her acting highlight comes with her resigned yet in-control body language as she sees off Annu Kapoor to his car. Yet these are but a few swallows, and she's an actress unworthy of this season.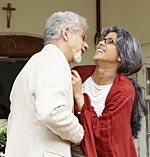 The strongest acting comes from Vivaan Shah, who plays the film's lovelorn narrator, and Harish Khanna, as a loyal butler who knows it all. Both men have interesting screen presence and relatively solid characters, but are one-note, and frequently drowned out by the buffoons around them.

As for the husbands, only two are any good: Aleksandr Dyachenko charms both heroine and audience, as does Irrfan Khan when reading poetry or drowning breathlessly into Priyanka's eyes. Annu Kapoor is let down by a character written into caricature, while Naseeruddin Shah behaves differently every time we see him. John Abraham, his biceps the size of Bandra, tries hard to be a rocker and fares only marginally better than Neil Nitin Mukesh, playing a furious armyman seemingly focussing on his moustache not falling off.
Yet the heartbreak is in watching Bhardwaj, that fantastic master director, make a bloated film that plods sluggishly along, a film that doesn't connect either emotionally or sensually.

I exit the theatre tiptoeing gingerly through treacley blood, past the fallen corpse of my expectations. That, ladies and gents, is Susanna's seventh casualty. And it's the only one that hurts.
Rediff Rating: