'KKK was easier than Bigg Boss.'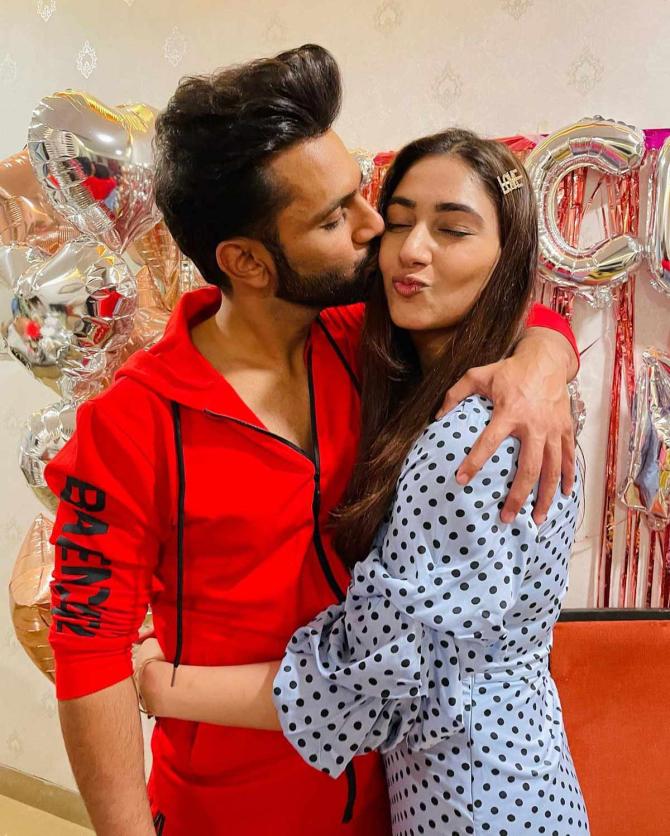 After Bigg Boss 14, Rahul Vaidya tested his fear factor by flying down to Cape Town and shooting for the 11th season of the reality show Khatron Ke Khiladi.
He's back, and he says he has made friends with his biggest fear (scroll down to see what it is!)
The singer is also getting ready for the next phase of his life: He will marry girlfriend Disha Parmar on July 16.
Rahul looks back at his KKK experience and tells Rediff.com Senior Contributor Rajul Hegde, "I am not an adventurous person, but I am gutsy."
You are getting married on July 16. Nervous?
No, I am very excited.
But I am having a tough time making a guest list because we have decided to invite limited people, keeping the pandemic situation in mind.
Have you finalised your wedding outfit?
Not yet. I am looking at Abu Jani-Sandeep Khosla and my designer Umang Mehta.
I was quarantined for a week after we returned from South Africa, so I didn't have the time to finalise things.
But I am trying to do my best in the time that I have.
What are your honeymoon plans?
In the present situation, it will be our home in Lokhandwala in Mumbai (laughs).
Maybe when things get better, we will go to Goa, Kashmir or Europe.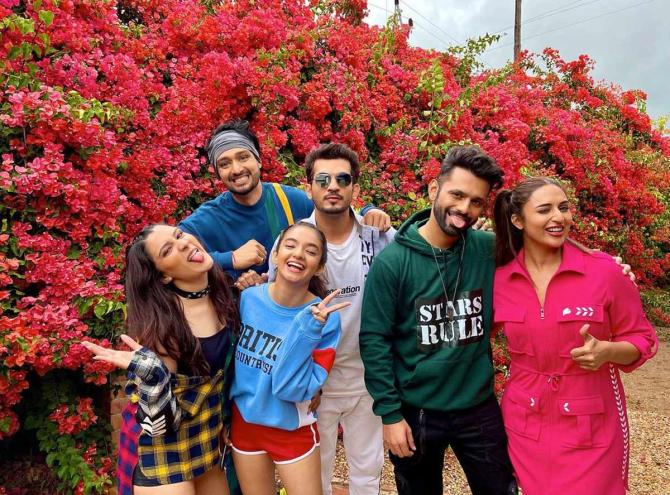 You will be seen in Khatron Ke Khiladi. How adventurous are you?
I am not an adventurous person but I am gutsy.
I don't mind trying something new. That's why I said yes for this show.
But it's more hectic and tougher than what I thought it would be.
You have to perform stunts in adverse and extreme conditions.
Khatron Ke Khiladi lets you do the best adventure games in the world with the best safety possible. It's severe but a once-in-a-lifetime experience.
How did Disha react to your stunts? Were you worried about getting cuts and bruises since you were getting married within a few days of shooting KKK?
Everybody gets cuts and bruises, it's a part and parcel of KKK.
But I was taking precautions because I didn't want to get hurt 20 days before my wedding.
My wife-to-be will not spare me for the rest of my life then (laughs).
Disha has been very supportive. She had asked me for only one thing: 'Ek piece mein wapas aana.'
And I was able to do that, so I am very happy.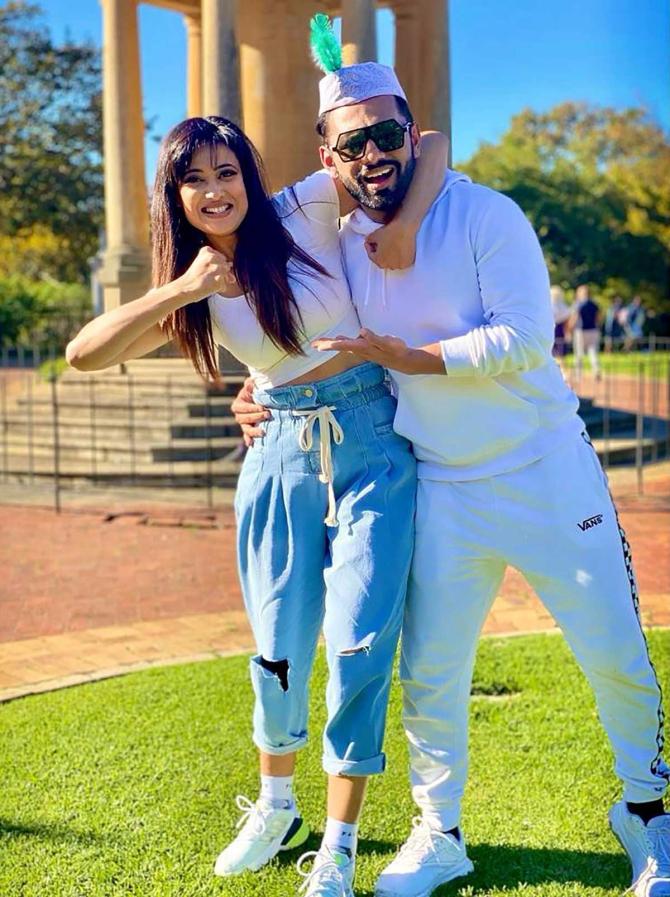 The biggest fear you had to confront while doing the show?
My biggest fear was snakes.
We have spent so much time with snakes that they have become our friends now (laughs).
I talk and sing to them, and they listen to my songs, it's fantastic!
I had hydrophobia too, and I still have it because I can't swim. But the fear has reduced.
How competitive are you?
My strength or competitiveness is only until my mind allows me to be.
If I know I will get hurt or two days later, I will not do it.
I would not do anything that would harm my body.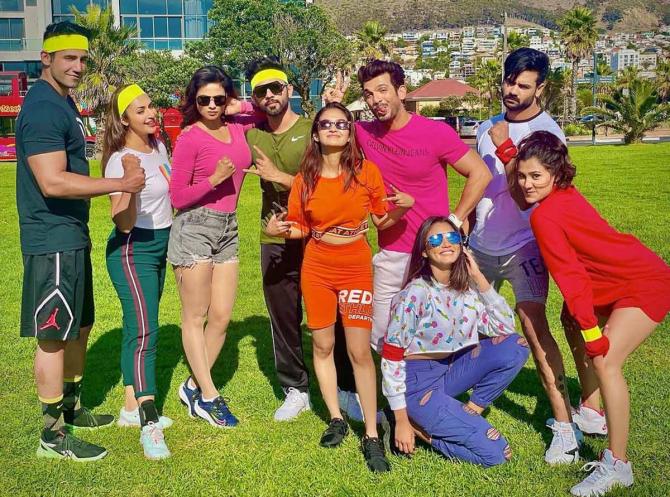 Which contestant surprised you the most?
Divyanka Tripathi has an image of an adorable bahu on television, but the way she performed her stunts was fantastic.
I think Vishal Singh did the stunts best.
It was a kind of a reunion with your Bigg Boss housemates Nikki Tamboli and Abhinav Shukla even though you didn't get along well with the latter.
I bonded with everyone in KKK.
We used to eat together, do stunts together, go on the bus together and come back tired.
We would sing and dance on the bus.
The nature of KKK is that we do not blame anyone.
You have to do your best; there was no bad blood between us, unlike Bigg Boss.
This show is about supporting each other.
Abhinav and I have laughed and shared jokes. I am glad that we progressed from zero to a decent friendship.
The equation with Nikki has also changed for the better. She couldn't do a few stunts well because of the state of mind she was in (after her brother succumbed to COVID-19).
We supported each other during the show.
Which reality show was more challenging?
Both are extreme -- one is about mental strength and the other is about physical strength.
But I would rather go for physical strength because the mental can really get to you.
I would say KKK was easier than Bigg Boss.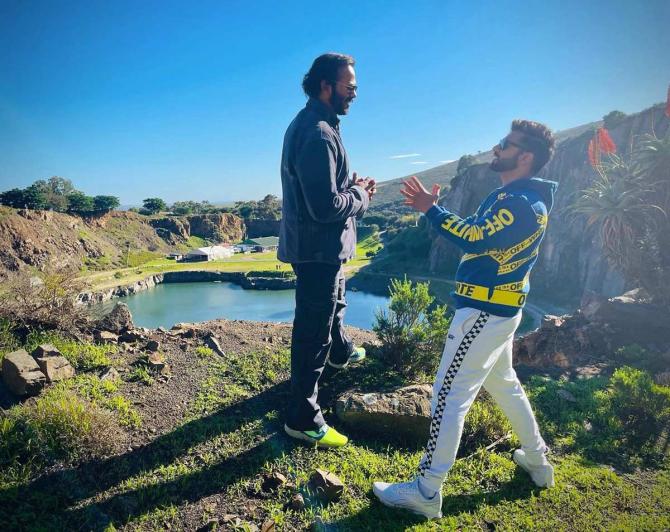 Did you explore Cape Town, where KKK was shot?
No, we were kept in a bubble due to the pandemic.
South Africa remains one of my favourite destinations to travel to in the future.
How was Rohit Shetty as a host?
He is a mentor and guide.
There is a point where you feel it's all over and you are going to die. Then, comes Rohit Shetty's voice! He is a ray of hope.
He is the sweetest host and I had a great time and have a lot of respect for him.
What's next?
I want to concentrate on my music which has been taking a backseat because of back-to-back reality shows.
I have three songs in the pipeline which I need to record.