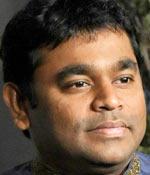 Oscar and Grammy winning musician A R Rahman is part of the remake of 'We are the World' charity anthem recorded in Los Angeles, which reportedly included over 75 world-class stars.
It was recorded in the same Henson Recording studio where the original was done about 25 years back.
Besides Rahman, musical luminaries like Celine Dion, Kanye West, Natalie Cole, Tony Bennett, Jonas Brothers, Pink, Barbra Streisand, Miley Cyrus, Justin Bieber, Jamie Foxx, Lil Wayne, Wyclef Jean, Josh Groban, Snoop Dogg, Carlos Santana, Gladys Knight, etc., sang to help earthquake affected Haiti. Quincy Jones and Lionel Richie oversaw the production.
It will make its world premiere during Vancouver Winter Olympics on February 12. Its accompanying video has been shot by Oscar winning Paul Haggis (Crash).
Lionel Richie and Michael Jackson recorded the original, which featured 45 American music megastars and it reportedly raised over $30 million for African hunger relief. It was the first ever single to be certified multi-platinum.