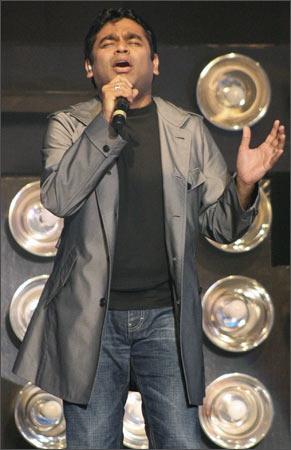 Oscar winner musician AR Rahman will be the headline act at the world famous "Sydney Festival 2010" in Australia, performing on January 16 next.
Rahman's two-and-a-half hour free and exclusive music-dance performance will include over 40 Bollywood dancers, singers, and musicians at outdoor Parramatta Park near Sydney, starting 7-30 pm.
Festival website says about Rahman: "Sydney Festival is proud to celebrate this inspiring and multidimensional artist". New South Wales Premier and Festival President Nathan Rees reportedly described Rahman as "without doubt one of the world's great talents".
This Festival, from January 9-30 next, will showcase exceptional dance, theater, film, and music programs by renowned artists from all over the world.
Forty-three Rajasthani musicians from India will also stage during this Festival "The Manganiyar Seduction" concert in a whimsical custom-built 'magic box'. Directed by Roysten Abel, the repertoire ranges from ballads about kings to mystics written Sufi songs and songs marking marriage-birth-feasts-rains; and the ensemble spans three generations.
Showing multi-cultural Australia, Festival First Night will include music-dance performances by "Bobby Singh & Friends", including Australia's leading table player Bobby Singh, Sarangan Sriranganathan, The Bollywood Sensations, Rasa Duende, etc.
Other headliners at this Festival include soul legend Al Green, Hamlet (Germany), Giselle (Ireland), Oedipus Rex (USA), Grizzly Bear (USA), Rogue's Gallery, Marcin Wasilewski Trio (Poland), Toumani Diabate (Mali), Dark Matters (Canada). Festival Director Lindy Hume has described its 2010 programs as "wonderfully wild ride" and "joyous celebration of life".
Launched in 1977, internationally acclaimed Sydney Festival is Australia's largest and most attended annual cultural event involving about 500 artists from world over showcasing about 80 events and attracts about one million people. Clover Moore is Festival Chair.
Photograph: Dipak/Reuters