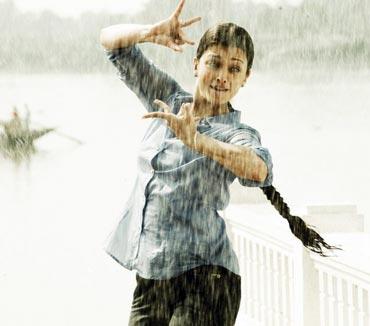 The world wide release of Raavan directed by Mani Ratnam will go as planned on Friday, even in Bangalore.
The film will however be released only in 24 theatres across the state as per the guidelines of the Karnataka Film Chamber of Commerce as of June 18.    
In Bangalore, while multiplexes have opted to screen the Hindi version, the Tamil version will be shown on single screens.
The Chamber had earlier planned to hit back at Reliance Big Pictures, the distributor of the film, for having gone to court contending the rule. In this regard, it had sought the support of exhibitors to delay the screening by a week.
Six multiplex owners and nine single screen owners are said to have even pledged their support, according to sources. However in a meeting that took place on Thursday evening it was decided to release the film this week itself. Shows will be stalled if it is found that the film is being screened in theatres beyond the stipulated number.
While the distributor argued that Ravaan and Raavanan are different films and Tamil, Hindi and Telugu versions should be allotted 24 screens each, the Chamber considers them one and the same as the story line and the director are the same, say sources.
The rule is however applicable only to the Old Mysore region covering Mysore, Bangalore, Mangalore, Shimoga and Tumkur, among other places. While the exact number of Hindi, Tamil and Telugu prints that will be released is not known, it is likely that Hindi and Tamil prints will be released in Mangalore, Bangalore and Mysore while in regions like Kolar and in North Karnataka, Hindi and Telugu versions will be released. 
Allotting more screens to non-Kannada films would hamper the prospects of Kannada films that are scheduled to release in the same week, is what the Chamber believes. This week alone two Kannada films, Krishnan Love Story and Punda are releasing. 
"This decision to limit the number of screens doesn't intend to curb the business prospects of other language cinema, it's a move to enhance the potentials of Kannada cinema. We request that the regulations be followed," says a member.
"While another member agrees, he notes that some members in the Chamber are becoming intolerant. People also use these rules to fulfill their vested interests. For instance, a particular person, whose film would have incurred losses due to the simultaneous release of a Reliance supported film in the past, tends to support such moves as delaying the film release. However it must not be forgotten that such delays will contribute to buying of pirated CDs. Also considering a ban on the film just because someone went to court is undemocratic," he continues.
A Kannada film producer however has a different take. "Hindi, Tamil and Telugu films are meant to be screened in their respective states. Our state is like a bonus to them. I do agree to the pirated CDs argument though. But at the same time we need to encourage the local industry. When it was suggested that the release of non-Kannada films be delayed by two weeks in our state, that also encountered stiff opposition. At least by releasing less prints, we can adapt the 'live and let live' policy. Also Kannada films help protect the language and thus should be encouraged," he adds.
Another producer recalls how in the previous years only a few theatres were kept aside for screening of other language films unlike now.
"In a year there are over 30 big budget other language films releasing. That means many theatres are utilised for the screening of these films alone almost through the year. With tax exemptions and subsidies given by government not being much of a help, this limited screening rule helps," he says.
It may be recalled that Reliance had to face the restriction rule during the release of Kites as well. At that point only 21 screens were allotted for non-Kannada films, but Reliance had sought three extra theatres. They were permitted but were allowed to show the film only in one screen in one multiplex, but as the film was being shown in more than one screen trouble started. The Chamber had thus stopped the screening.
Read our Raavan reviews: Raja Sen gives it 2 stars.
New Yorker Aseem Chhabra gives it 4!