'When the Shakti team had their meals, Dilipsaab would squat with us and say, "Bhai mujhe bhi khilao".'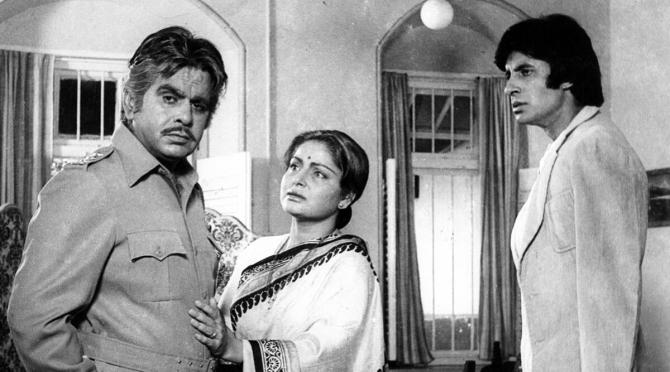 As Dilip Kumar passed into the ages, a flood of memories open up for Raakhee.
"When I heard he had passed away, I knew he was finally at peace," she tells Subhash K Jha.
"When I came to this film industry, there were two artistes I hero-worshiped: Lata Mangeshkar and Dilip Kumar. By the grace of God, I got to sing many beautiful melodies of Lataji on screen. With Dilipsaab, I had the opportunity to work only once in Ramesh Sippy's Shakti, and I cherish every single moment of the experience."
Raakheeji ranks Dilipsaab among the greatest actors in the world.
"There are actors I watched to learn my craft. Dilip Kumar was one of them. Sidney Poitier, Spencer Tracy, Katherine Hepburn and Audrey Hepburn are my other screen idols. Dilipsaab is the ultimate actor. I've lost count of the number of times I've seen Ganga Jumna and Mughal-e-Azam.
"I've shown my grandson Samay, Dilipsaab's dancing in songs like Nain Lad Jaihiyen (Ganga Jumna) and Mere Pairon Mein Ghungroo& (Sungharsh). He tries to copy the steps. Luckily, all the old classics of Dilipsaab are shown on satellite television, so new generations can see his magic on screen."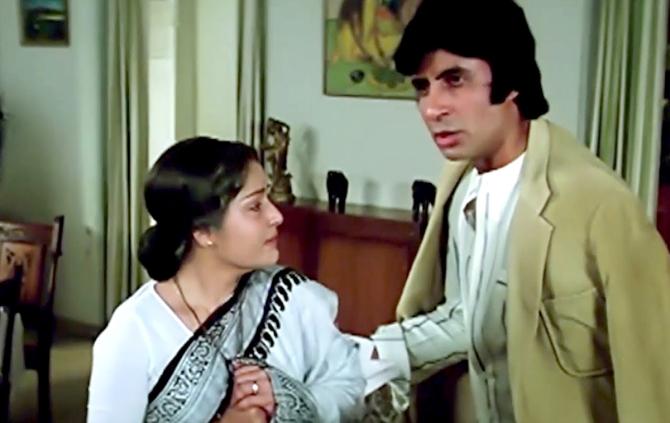 She remembers how she was discouraged from doing a mother's role so early in her career.
"I was shooting simultaneously for Shakti and Bemisal. In one, I was playing Amitabh's mother and in the other, I was his leading lady. I was told my career as a heroine was over, that I'd get only mother's roles after Shakti.
"Even if it was true -- and it wasn't -- I didn't care. To me, working with the God of acting was all that mattered. Dilipsaab turned out to be everything I imagined him to be as a co-star: Kind, considerate, generous, thoughtful, extremely intelligent and knowledgable.
"We spent many hours on the sets together. Maze ki baat yeh hai ki jab shooting nahin ho rahi hoti to Dilipsaab filmon ki baat nahin karte. He could speak on every subject. Being with him was like being in a learning institution. I came away a much better actor and a far wiser human being after Shakti because of Dilipsaab."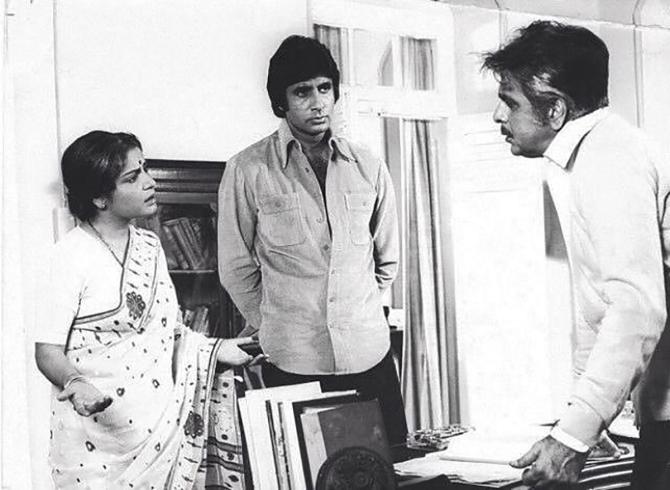 Raakheeji remembers Dilip Saab as a massive foodie.
"He enjoyed good food. He loved my cooking, though he wasn't allowed much of it by his wife Sairaji who monitored his diet closely. But still, he would partake of the studio food and my cooking."
"When the Shakti team had their meals, Dilipsaab would join us. He would squat with us and say, 'Bhai mujhe bhi khilao.' And Sairaji's carefully prepared dabba would return home untouched."
To give an example of what a big foodie he was, Raakheeji shares an incident: "It was the first sequence that I shot with Dilipsaab. It was that shot where I fry aloo tikkis for him in the kitchen while he eats them. In the quest for the perfect take, he polished off 10-15 aloo tikkis."
"But the takes continued. The masala for the tikkis was finished. So I just fried them without masala. He complained, 'Kya kar rahi ho? Why are you spoiling the tikkis?'
Raakhee remembers being whisked away by him in his car to a nearby dhaba during the shooting.
"When they told him the dhaba was closed, he asked for eggs which he boiled himself. To him, the perfect shot and the perfect boiled egg were of equal importance. Not that he took himself seriously all the time."
"There was a mischievous fun side of him which very few saw. When his close associates and friends like composer Naushadsaab, lyricist Shakeel Badayuni and actor Johnny Walker passed away, he became lonely. His prolonged illness further isolated him."
Raakheeji's heart reaches out to Sairaji.
"I will visit her soon. This is the time when she needs people around her. Sadly, it is also an opportunity for the wrong kind of people to ingratiate themselves to her. Sairaji must guard against opportunists. She must use the free time she now has to give herself the attention she never did."