'It's sad that in spite of knowing the truth... studios and stars continue to turn a blind eye to the perpetrators.'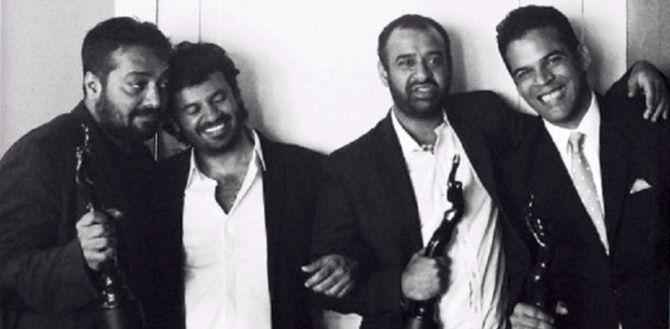 Following the debate on the sexual harassment in Bollywood brought on by allegations made by actress Tanushree Dutta against Nana Patekar, a woman, previously working at Phantom Films -- the edgy Bollywood production house set up by directors Vikas Bahl, Anurag Kashyap, Vikramaditya Motwane and producer Madhu Mantena -- has levelled allegations of molestation against Bahl.
In an article on HuffPost India, the woman reiterated the allegations (external link).
According to the HuffPost report, Bahl -- best known for directing the Kangana Ranaut starrer Queen -- insisted on dropping her to her hotel room in the early hours of May 5, 2015 and pretended to pass out drunk on her bed, only to awaken soon after and masturbate on her.
The woman said she reached out to Kashyap and detailed her experience, but no action was taken while Bahl continued to harass her until she finally quit the company.
In the article, which has since gone viral on social media, Kashyap admitted he had failed the woman, three years after he first learnt of the allegations.
'Whatever happened was wrong. We didn't handle it well, we failed. I cannot blame anyone but myself,' Kashyap said.
'But now we are determined to do better. We believe her completely. She has our undying support. What Bahl has done is horrifying. We are already on our path of course correction and will do everything in our capacity to fix it,' Kashyap added.
Before the article was published, Phantom Films's four partners -- Kashyap, Motwane, Mantena and Bahl -- on Saturday, October 6, announced they had decided to dissolve Phantom Films without citing the reason for this decision.
Film-maker Hansal Mehta and screen writer Apurva Asrani were among the first voices from the Hindi film industry to condemn Bahl.
Sharing the article on Twitter, Mehta wrote, 'Will anybody do anything about this bloody creep or will the industry protect him like it always does?'
Such incidents made him feel 'sick', Asrani said.
'Why was no action taken against Vikas Bahl in over three years? To think that the victim had to continue to work in the same office and even be assigned to report to him is awful,' Asrani tweeted.
Film-maker Onir said it was sad that some of the biggest stars in the Hindi film industry were still working with Bahl.
'It's sad that in spite of knowing the truth... studios and stars continue to turn a blind eye to the perpetrators,' Onir said.
Quoting the story, Sacred Games actress Kubbra Sait tweeted, 'The details in here are gory. But necessary to read. May the girl continue to fight knowing that her story isn't wasted. Thank You for the courage. #MeToo #TimesUp.'
'This is so very shocking,' said Shubh Mangal Saavdhan Director R S Prasanna. '#MeToo seems to have become the forest fire that it deserves to be.'
'Serious action, serious introspection and serious correction is required from an industry that has forever been plagued with ill repute,' Producer-Director Nikkhil Advani said.
'This is not the story of one girl or one incident, but symptomatic of a work ethic at large'.
With inputs from PTI