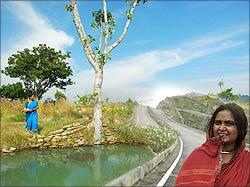 B Suresh and Prakash Raj are renowned for their films. After producing
Naanu Nanna Kanasu
, the duo is back with
Puttakana Highway
. The film is loosely based on Nagathihalli Chandrashekar's book
Puttakana Medical College
.
The film depicts the story of farmers who will have to give up their fertile land for the construction of a highway. Puttaka, the main protagonist, is also about to lose her land. But not the one to give up easily, she puts up a fight. Will she match up to the corrupt system?
Given the script, all fingers point towards Bangalore's NICE Road and the politics around it. Producer Shailaja Nag said, "The film tries to capture the effect displacement and development have on people."
"The film is out to sensitise people about who the true beneficiaries of development are," says Suresh, who has written the screenplay and dialogues apart from directing the film.
Actress Shruti, who plays Puttaka, is back on the big screen after a long time. Looking back at the experience of shooting for the film, she says, "More than anything, I cherish the fact that I got to work with a team that respects cinema. I share the same kind of passion for films as the team and this film came as an opportunity that I could not say no to."
Mandya Ramesh, who is taking a detour from his slapstick comic acts through this film, shares a similar thought. "The kind of preparation that the team went through before it's making is not something that you see every day. I am a fan of director Balachandar's films and this team; I feel is on a similar search for subjects.
Puttakana Highway
comes with a new grammar too.  It is what I would call a bridge cinema."
Prakash
Raj, Ninasam Satish, Ashwath, Veena Sundar and Achyutha are also part of the cast.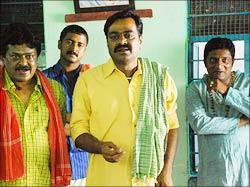 While Satish says he couldn't have asked for a better film to be a part of alongside his favourites like Raj and Shruti, Achyutha says that it felt good to be a part of a film that gives scope for discussion. "This is my third film with this production house and I'm waiting for them to start their next."
Raj has the last word on the purpose of the film. "Our production house has been working towards making responsible and meaningful films.
Putakkana Highway
is a film through which Suresh expresses his concerns over a particular issue that has been plaguing us for a while. Films are made either for entertainment or for money, but this film is a medium we used to convey our concern over a burning issue."
He also adds that while the production house has emerged as a platform to showcase their talent and also encourage new talents, this time around the focus will be on an issue more than the performances. "This film is a genuine effort to take cinema one step ahead," he says.
Prakasraj essays the role of Kirshna, a
harikatha
exponent. He is a very diplomatic person who gets his way around with both commoners and influential. As the film progresses, he is shown guarding the very highway that he along with other villagers was opposed to.
Hamsalekha is the music director. He along with Yograj Bhat have penned the songs. H M Ramachandra is the cinematographer.
After the release of this film, there are plans of producing two more of Suresh's scripts. The team is further considering buying the rights of a Kannada literary work and that of a Marathi film made on the education system.