'... and committed.'
'Priyanka had so much happening in her personal life...'
'Once we started, Priyanka rose to it.'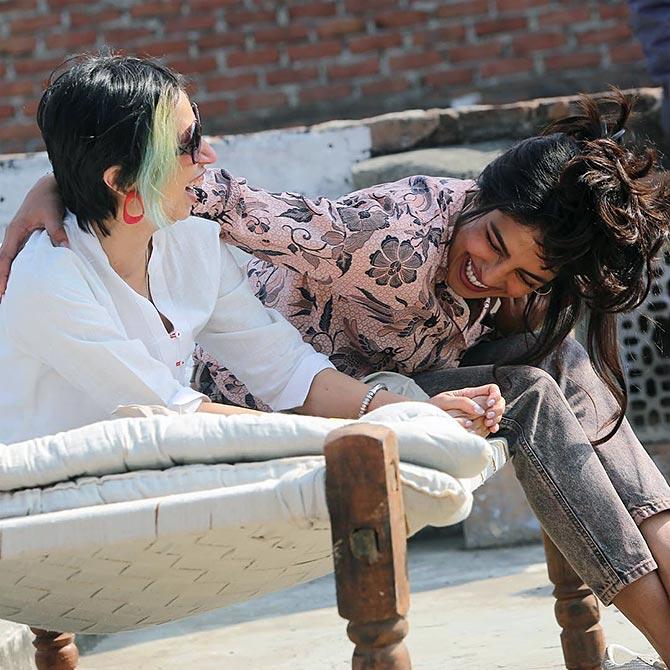 Columbia University-educated film-maker Shonali Bose made news with her first project, 2005's Amu, that told the story of a young Sikh girl who was adopted by a Bengali family after the anti-Sikh riots of 1984.
The film earned her a National Award for Best Feature Film in English.
Later, she co-wrote Chittagong -- a page from India's freedom struggle -- with her Los Angeles-based ex-husband Bedabrata Pain.
During this time, Bose and Pain suffered a personal tragedy when their son Ishan died in a freak accident.
Bose's life and work has since been impacted by the tragedy.
In 2015, Bose directed Margarita With A Straw, the story of a young woman suffering from cerebral palsy. Margarita... won recognition at several festivals, including the prestigious NETPAC Award at the Toronto International Film Festival.
Her new film The Sky is Pink is the true story of an Indian couple, Aditi and Niren Chaudhary, whose daughter Aisha was born with a serious immunity deficiency and given only a few years to live. The parents put together their resources, and with support from friends and strangers, they took Aisha to London for treatment.
Aisha lived till the age of 17, and became an author and a motivational speaker.
The Sky is Pink stars Priyanka Chopra -- in her comeback role after a three-and-a-half year hiatus from the Hindi film industry -- Farhan Akhtar and Zaira Wasim. The film is produced by Roy Kapur Films, headed by Siddharth Roy Kapur, and Chopra's Purple Pebble Picture. It opens in theatres in India on October 11.
After its premiere at the Toronto International Film Festival on Friday, September 13, the film got a standing ovation.
"Death days are like birthdays and they have to be celebrated as well," Shonali tells Rediff.com Contributor Aseem Chhabra in Toronto.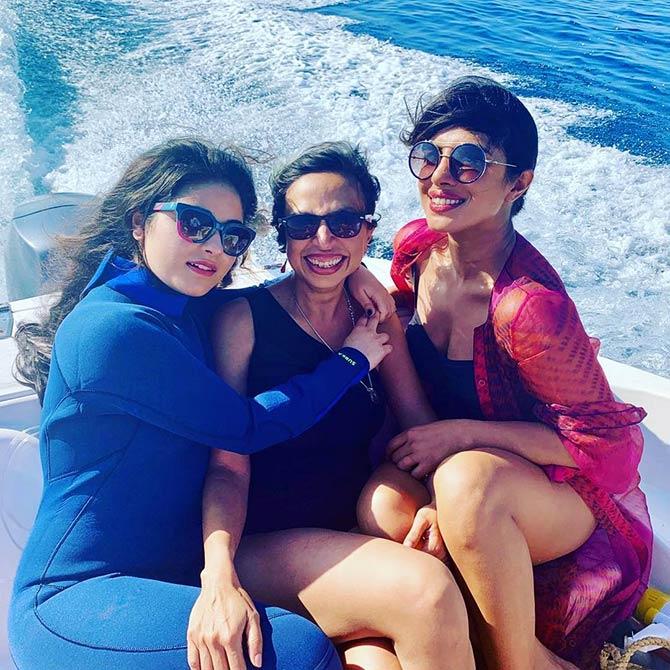 Shonali, we know you went through a personal tragedy -- you have talked about it -- and this film deals with a family that experiences the same sort of personal tragedy. Was making this film a cathartic exercise for you?
Not at all. A cathartic act happens if you are not dealing with something in your real life.
I have been dealing with it, as you know from my Facebook posts. And I actually did a lot of grief work around Ishan.
When Aditi approached me to make this film, I was excited... but not for personal needs.
I did take the project because it was related to my own loss, but I wanted to explore it and bring the personal work I had done to the world through cinema.
Often artists are not able to deal with something traumatic in their life and so, they grieve through their art.
But I was laughing throughout the shoot while my actors would be crying.
Priyanka said many times, 'Ma'am, I keep thinking of Ishan. I am so sorry.'
I am at a very happy place around Ishan's death. I didn't feel like crying since he was so euphorically connected with me.
When the audience knows the outcome of the story, what is the challenge in writing a script to keep them engaged for two hours?
Obviously I have not made a suspense thriller.
I realised from early on that it should not be about when will Aisha die.
This came up even in deciding the intermission.
There's a scene towards the middle when Aisha faints and I didn't want the intermission at that point.
I didn't want to create the suspense and have the audience debate whether she had died or was about to die.
But I wanted to engage you in thinking if this couple would stay together or not.
I also wanted to deal with the subject of what's left of a marriage after the loss of a child.
What will happen to them?
That was the quest of the film.
Would their marriage make it?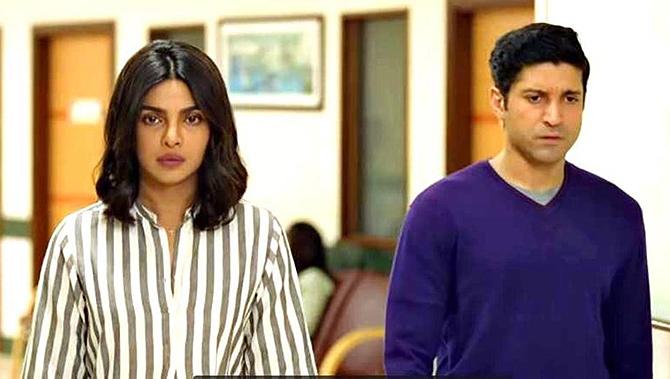 Why were you interested in the marriage making it?
Mine did not.
The minute Ishan died, I broke up my marriage.
You were working with Bedabrata Pain on Chittagong then.
Well, we didn't work together in the post-production.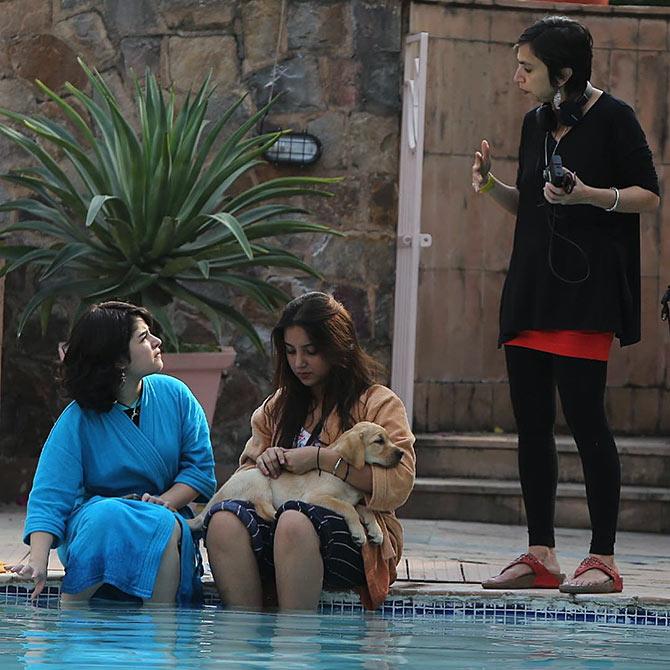 Don't many marriages end organically?
When you are making a film as husband and wife, it will be difficult in many ways, and it will impact your relationship.
It was not easy making Chittagong, but we had been married 19 years and would have gone past that.
When you have kids, the marriage goes on.
There wasn't anything terribly wrong. Meetu is a wonderful person, a wonderful husband and father.
But the moment I lost Ishan, it was a clarion call to me that I had to be on my own.
I wanted to deal with the loss on my own terms, with my remaining child, and that's that.
I read a book that interviewed 50 couples in America.
Forty-seven got divorced after the loss of a child, and many of them were not even having difficult times in their marriages.
So I found it fascinating that Aditi and Niren survived the loss of their child.
I found that amazing since that was not the norm.
That's what interested me.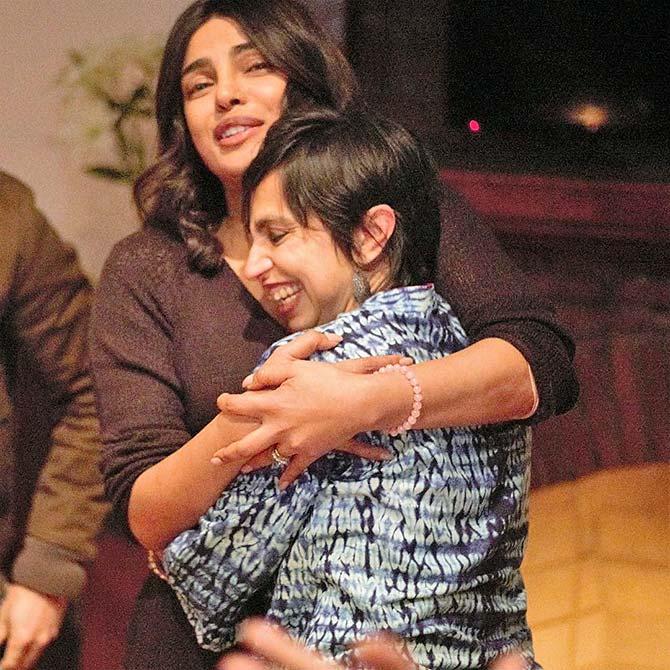 Tell me about the casting. You brought Priyanka back into Hindi cinema after a gap of over three years. Priyanka and her mother Madhu Chopra are also producers of the film.
She was my first choice.
Aditi had wanted it to be a big Hindi film, so it was clear to me that I would cast Priyanka.
I felt she could portray a bold character who also displayed vulnerability.
As an actor, she has not been tapped to this extent.
The real actor in her was explored around the time of Dil Dhadakne Do.
Yes, because Zoya (Akhtar) is a terrific director and I loved Dil Dhadakne Do.
It took me six-seven months to reach her; her manager never gave her the script.
It was around that time Sid (Roy Kapur) reached out and said he would make the film if a star came on board.
Otherwise, he suggested I should make it like an indie film.
So Priyanka was cast first.
We wanted a male star, but getting Priyanka on board meant the film would be made.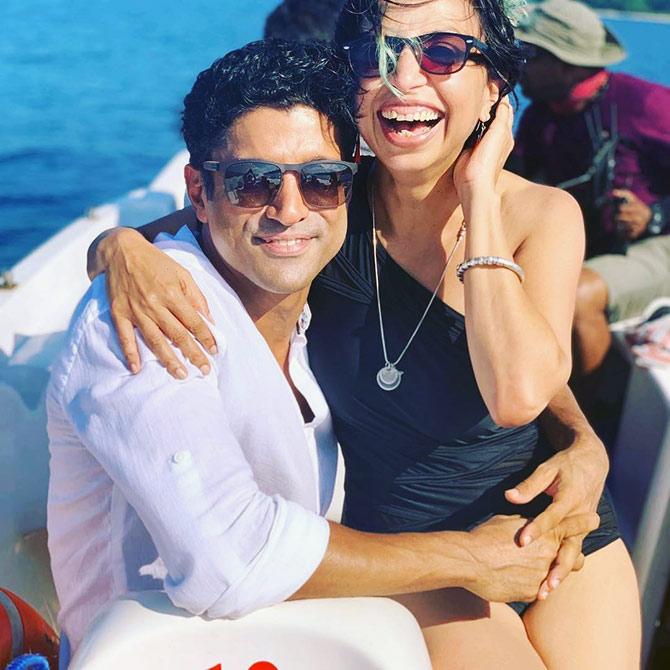 What was it like working with Farhan Akhtar?
I was intimidated since he is a director as well.
I love his work, and he has directed Priyanka as well (in Don).
He loved the script, and he had seen Margarita With A Straw.
Priyanka had not seen it, so I was like, you will not watch my work?
Farhan also told me he was terrified of this film, but that he was willing to place himself in my hands.
Bollywood usually does not give stars the opportunity to display that sort of vulnerability.
I made them go deep in exploring their vulnerability and they trusted me.
I was nervous and scared, but once the trust was established, I shepherded them the way I wanted them to perform.
I also said the rehearsal process was important for me.
Reshma Shetty (a manager to many stars in Bollywood) suggested I should break it up in days, since Priyanka was not used to the rehearsal commitment that I could get from Kalki (Koechlin).
But once we started, Priyanka rose to it.
She loved it.
The day would end and she would see several missed calls on her phone.
She was intense and committed.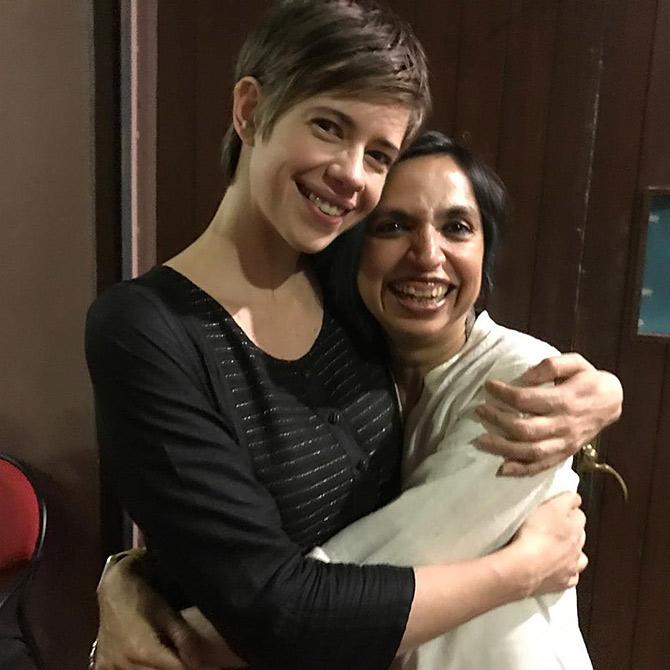 You had worked with Konkona Sen Sharma and Kalki when they were not stars. But this is a bigger film for you.
It was a huge learning for me as a director.
First of all, I had less time, since Farhan and Priyanka could not give me a lot of time.
Kalki gave me six months (for Margarita With a Straw) and Koko (Konkona) worked with me for three months before the film (Amu) shoot started.
Here, I had to connect with them in a short time.
A lot of the work was done with the script itself, so we had a strong umbilical cord on set.
But Priyanka had so much happening in her personal life.
I shot the film over 10 months with many breaks.
Yet, it was amazing that they were able to get back in the skin of the character each time. It didn't feel like there were jumps.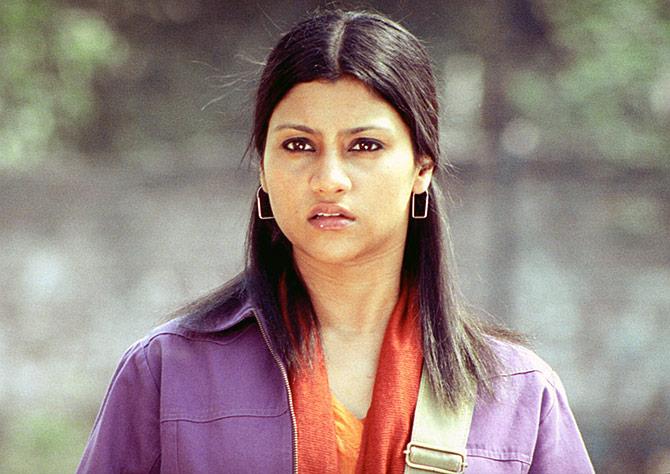 What do you expect the audience to take away from the film?
Firstly, men are so afraid of crying.
People generally like to avoid crying, and they love laughter and comedy.
But I feel it is important for people to open up, have a release and cry.
I know it will be cathartic for many people, no matter what tragedy they have experienced in their lives.
I hope my film can be a conduit that helps people to be in touch with their emotions.
Also, maybe the little philosophy that I have that death days are like birthdays and they have to be celebrated as well.
How did you work with Aditi and Niren?
I made strict rules.
I heard their story; it was a non-stop narration for 14 days.
I could see that Aditi is very intense, controlling and she could be obtrusive.
I feel no other director could have done this. To write about someone else's loss of a kid, you tiptoe around it, but I didn't have to do that.
They are my contemporaries; we were in Delhi University around the same time.
Both of us lost our kids.
We were on equal footing and that was very important.
I didn't have to be touchy-feely and act sensitive.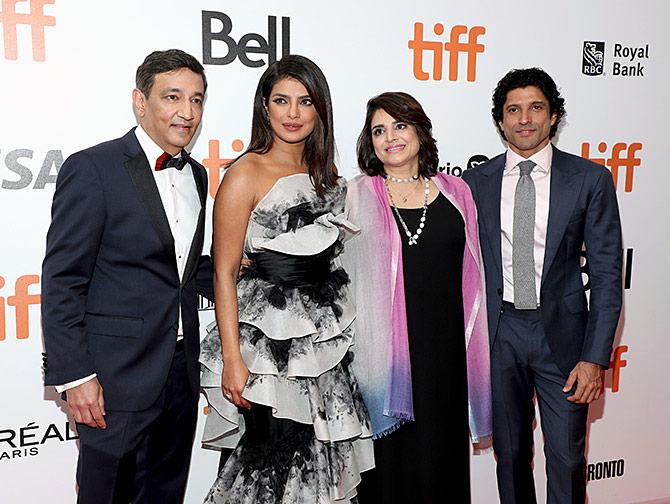 Did they come on set?
I let them come on the first day, and when we were shooting in London.
By then I had sensed they would observe and not interfere.
But we are close and they are excited about the film.
The actors didn't want to meet them?
They did. Priyanka was very keen to meet.
She met them once, but realised that it wasn't very useful.
She actually channeled Ishan and me in the film versus Aditi and Aisha.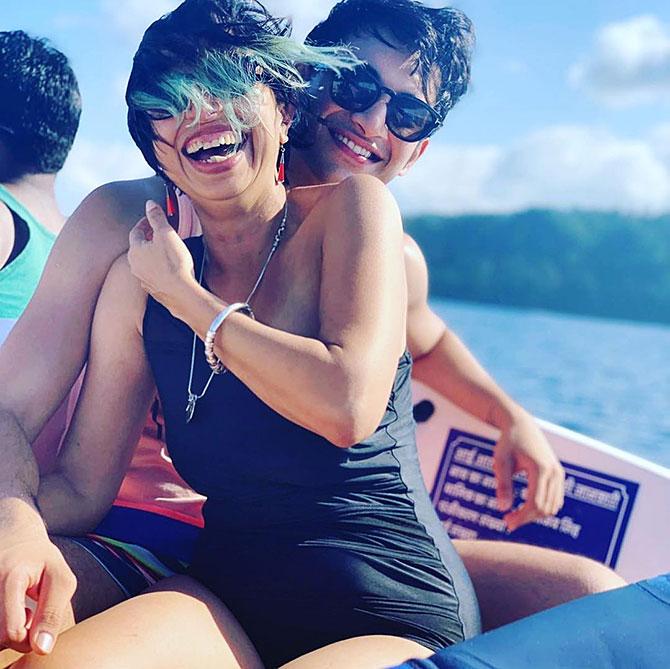 Was their son involved?
Aditi said her son -- his name is also Ishaan -- did not want the film to be made.
He perhaps thought it would be a regular Bollywood film.
I was lucky there was a screening of Margarita at the Museum of Moving Image in New York and I invited him for the screening.
He loved Margarita, and he just wept in my arms about his sister.
He said, 'I trust you.'
Did you have to take liberties with the story?
None at all, except the video we show at the end of the film.
There was no such video of Aisha.