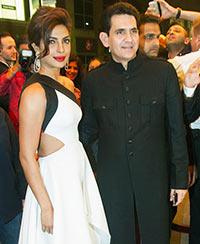 By taking Mary Kom's life to millions of young people across India, Priyanka Chopra hopes the film can make a difference to future generation of Indians. Arthur J Pais/Rediff.com reports from Toronto.
Mary Kom set a record of sorts at the Toronto International Film Festival. The film's press conference started 35 minutes late, a rarity at TIFF.
As a breathless Priyanka Chopra, who headlines the film as the Indian boxing star, took the stage, the moderator explained that her flight had arrived late and then she was caught in a traffic jam.
It didn't really matter.
The over-the-top film might succeed in India and could also be a hit with desis here and in other countries, but the mainstream interest in it, if this film festival is any indication, is almost zilch.
The producers of such films come to Toronto in the hope of finding a decent American distributor like Fox Searchlight or Sony Classics who will take their films to the mainstream.
Just about 10 per cent of the more than 200 films in search of an American distributor get lucky. Mary Kom may end up among the 90 per cent.
But the film was lucky in that it got a press conference. Just about five per cent of the films shown at TIFF get a press conference.
In the first week of the two-week long festival, reporters and critics from more than 50 countries gather here.
The hall where the press conference was held can hold at least 100 people, but there were just about 40 journalists. The mainstream press was not visible at all.
This did not deter Priyanka, perhaps because she knew it was being televised to a small but fervent group of movie fans.
She was asked what led her to do the film.
She replied that she found a compelling narrative in the life of Mary Kom who won against many odds.
She said there was a lot of prejudice across India against people from the North-Eastern states and it was admirable that Mary did not allow that to prevent her from reaching her aspirations and goals.
"She had to fight a lot of racism," Priyanka said.
The film was more than a sports or feminist film, she added. No boy or girl should feel his or her dream is small. No one should be made to think that, she continued. As long as you are ziddi (stubborn) to see yourself through the dream, dream on, she insisted.
By taking Mary Kom's life to millions of young people across India, Priyanka hoped that it "could make a difference to future generation of Indians."
She began acting in films at age 18 and admitted to making many mistakes. Over the years, she said she has learnt what roles were right for her.
"I have a small attention span and my patience wears out quickly," she grinned.
She will not commit herself to a film unless she is stimulated by the script. When she gets a script or a movie proposal, the first question she asks herself is: Would she like to watch the film?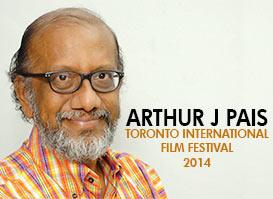 She said following a gruelling shooting stint, she often wondered as she soaked herself in the bathtub with the healing salts her mother had poured in, if she should continue doing the film.
The boxing scenes required many hours of intense training. She was also working on Krrish 3 and Gunday. And she was emotionally shaken by her father's fast eroding health.
"But come the morning, I would look at the film again and tell myself, if anyone can do it, it is you."
Omung Kumar has made his directing debut with Mary Kom. He has been a production designer for over a decade and was associated with filmmaker Sanjay Leela Bhansali, who is the producer of Mary Kom.
Kumar narrated how that came about. The film has been in the making for three-and-a-half years, when a year ago, Bhansali and Kumar bumped into each other in the elevator.
Bhansali had heard that Kumar was directing a film and also that he had no producer. He asked for details of the film and Kumar told him it was nothing like the films he (Bhansali) makes.
Bhansali persisted, so Kumar reluctantly told him about his project.
"He committed himself to the film in the elevator," Kumar added.
Kumar said he found the narrative of Mary's life so compelling that he knew at once there was a strong movie in it.
"The story holds your interest. You don't think of it as a Hollywood or Bollywood movie when you watch it unfold... It is so compelling."

Image: Priyanka Chopra and Omung Kumar in Toronto. Photograph: Fred Thornhill/Reuters