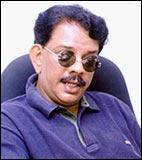 At the press meet for Chup Chup Ke, a love triangle starring Shahid Kapur, Kareena Kapoor and Neha Dhupia, all the actors are busy giving interviews.
The director, Priyadarshan, is holed up in a corner by the bar, all by himself.
As I approach the remake king of Bollywood for an interview, he is suspicious: "Only if you write exactly what I tell."
Well, here is what he said, to the word.
How did the idea of this film come about?
I never come up with an idea. Sometimes it is inspired from other films that I have seen and enjoyed watching, sometimes from the films that I have made. I take some situations that I have not used in Hindi films from the 64 films that I have made to date.
For example Chup Chup Ke is inspired by a movie called Punjabi House. It's written by Ravi Makade. I sought his permission before using the plot. And then there are some inspirations from my earlier movies too.
Shahid Kapur and Kareena Kapoor cribbed about having to shoot in Chennai. Were they difficult to work with?
When I did a film with Salman Khan, he used to get up at 5 in the morning for shoots. If I can handle Salman then I think nobody in the industry is a problem.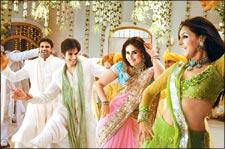 How do you rate Kareena as an actor?
Kareena has done a good job. I told her not to watch Black or copy Rani Mukerji or anyone else. I told her to imagine if she was really deaf and mute, how she would do it. She has played her role well. After Tabu, she is one of most obedient actresses I have worked with. She listens to what she is told and does not play around with the script.
That she hails from the Kapoor family is an added advantage. She has grown up in that environment and acting comes naturally to her. She has never got an opportunity to do something good. Otherwise she can be rated amongst the best actresses in our country.
And what about Shahid?
He needs to be polished little more. He has made an attempt to learn and understand techniques but he will get polished only with experience.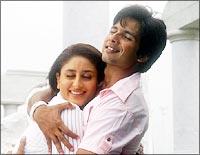 Do you think their off-screen chemistry helps on screen?
Romance on the screen happens even with people who do not have off-screen chemistry. To bring that out from them is my job. If it is not happening, then I tell them so. I am least bothered whether they are really in love or not as long as they give a good performance. They did give that.
Does the final product excite you?
I am a filmmaker who makes films for children. I don't make movies for pseudo-intellectuals. I don't want them to watch my films. My intention when I make a film is very clear. I make it for a certain kind of people who have average intelligence -- because I am also like that. I have an average sense of humour and an average brain. So far, people have accepted my films. I have used the same formula that I used in my earlier films, so I think common people will accept it.
Is there a different technique you have used in this film?
I have shot the entire film in white colour. From the beginning to end I have shot the whole film in a white set -- from a white backdrop to using white light for the shots. That is the only experiment I have done in this film to bring out the innocence of the romance in the film.
Malamaal Weekly has done very well
Malamaal is a superhit. There have been only two superhits this year -- Rang De Basanti and Malamaal.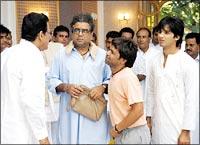 So are you now going to make only comedies or do we get to see films like Virasat that you did earlier?
I love cartoons and documentaries. I am making Bhagam Bhaag, which is a thriller. I don't want to stick to one kind of films. I make films for the audience, for the producers who want to make money with me. My attitude is clear.
When I want to make a film for self satisfaction, I will produce it myself and I won't need to think about the returns because I won't be answerable to anybody.
When I make a commercial film, I have the audience in mind and how they will accept the film. I am least bothered about how critics look at it. I only want to be accepted as a successful commercial filmmaker.
You said you get inspired from a lot of movies. Is it because of a lack of novel ideas?
There are only seven plots in the world. For example, take the Mahabharata. There is no story in the world that was not told in that great epic -- simply because its canvas is huge.
One cannot possibly make a movie outside the basic seven plots of relationships. The only thing that varies in the film is how you treat the screenplay. Everyone today is inspired from something or the other. Even a child who plays cricket is inspired by, say, Sachin's shot and he tries to copy it. So I think inspiration is not a bad thing. It helps one come up in life.
What keeps you going in the film industry?
Glamour and the kind of money I enjoy in filmmaking!
I ventured into making Hindi films only to make better money than Malayalam movies. That was my sole aim. I want to be successful and make enough money to make my family secure. After that I can make films for my own satisfaction.
Your future projects?
I am making a Tamil film called Kanjivaram. We start shooting in the last week of September. Then there is a film based on the subject of AIDS in English which will start early next year. These are the two small films I will be working on next. Both of them are for my own satisfaction and they may not run even for one day in the theatres.
Why did you not direct Phir Hera Pheri?
When I made Hera Pheri, I knew this is the best I can do. I don't believe that any sequel will work in this country. Worldwide most sequels are based on action-oriented films.
Hera Pheri, for me, had a perfect ending. It was a comedy of poverty where they become rich at the end of the film. I cannot take off from that ending. In the sequel, if they lose their money now, people will not be interested. With those thoughts in mind, I could not have done justice to the sequel. So I refused.
Will you watch the film?
I will watch the film because the writer Neeraj Vora is a sensible guy. I wish that the film works.