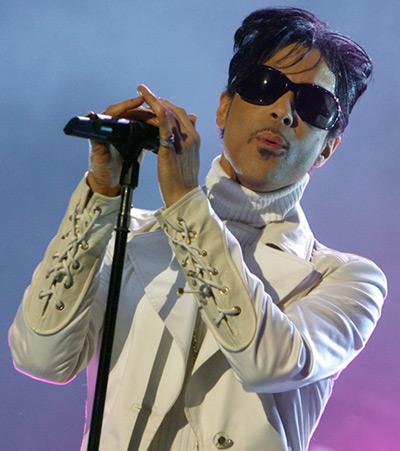 Fans and fellow musicians have paid glowing tributes to legendary musician Prince, who passed away on Thursday in his Paisley Park Studios in Minneapolis.
Actress Whoopi Goldberg tweeted: 'This is what it sounds like when doves cry.. Prince R.I.P. Condolences to his family & 2 us all'
'I'm Crushed!! UK news reporting Prince Is Dead?! For Real?! Massive Loss for us all! What a Genius! Speechless.' read Actor Samuel L Jackson's tweet.
'And just like that...the world lost a lot of magic. Rest in peace Prince! Thanks for giving us so much...' singer Katy Perry wrote on her twitter wall.
'Prince? Say it isn't so...' wrote Oscar winner Russell Crowe.
Apple CEO Tim Cook tweeted: 'Prince was a true innovator and a singular artist. His music and influence will live on for generations. Rest in peace.'
Politician and music aficionado Milind Deora tweeted, 'You introduced me to James Brown, @michaeljackson, @JimiHendrix & effortlessly made them a part of your music & artistry. RIPPrince.'
Civil rights activist Jesse Jackson Jr wrote on his twitter wall: 'Shocked & heartbroken to hear news of death of dear friend, #Prince.Pray for his family&thank God for his legacy.'
'Today is the worst day ever. Prince R.I.P I am crying!' Singer Boy George said.
'Oh my god I can't believe that Prince has diedhe was a great great talentRIP' Billy Idol wrote.
'PRINCE, sad to say, has passed on!!! He was a Giant. My deep condolences go out to his family, friends and fans,' KISS singer Gene Simmons said on the microblogging website.
Composer Quincy Jones wrote: 'RIP to @prince…a true artist in every sense of the word. Gone way too soon.'
Goodfellas actor Ray Liotta said on Twitter: 'Truly saddens me about the passing of Prince. He was inspiring to me. God Bless.'
'R.I.P. Prince ... One of Miles Davis' last collaborators. You will be woefully missed ...' tweeted Iron Man actor Don Cheadle.
Ellen De Generes wrote: 'Prince was brilliant and larger than life. What a sad day.'
'Unbelievable just heard about PRINCE. Strength and light to his family/loved ones. One of my favs and a true pioneering artist. RIP brotha.' wrote Dwayne 'The Rock' Johnson.
IMAGE: Singer Prince performs in a surprise appearance on the "American Idol" television show finale at the Kodak Theater in Hollywood, California. Photograph: Reuters/Chris Pizzello