'Our biggest critic is our father. Our mom says 'very good' for every work but it's difficult to make dad say that. After he saw the teaser of Haseena Parker, he said 'hit hai'.'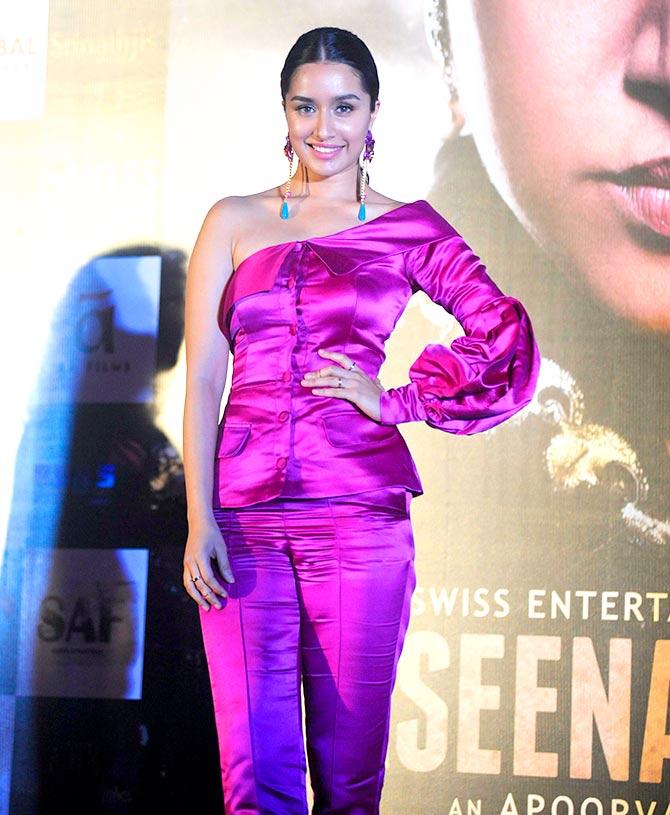 IMAGE: Shraddha Kapoor. Photograph: Pradeep Bandekar
She's mostly played girl-next-door characters in the movies but Shraddha Kapoor says she will never get tired of doing romantic films.
Known for her roles in films like Aashiqui 2, OK Jaanu and Half Girlfriend, the 30-year-old actress will be seen in a dark avatar in her upcoming movie Haseena Parkar. The film is a biopic on underworld don Dawood Ibrahim's sister Haseena, and Shraddha plays the titular role.
"I don't think I can ever get bored of romantic films and being a part of them. I've had the opportunity to be a part of a few romantic films, where there was a strong love angle," Shraddha says.
"I would always take up an interesting romantic script. Being an actor, you can't be bored because you get to play so many characters. I cannot remember one instance when I was bored," she adds.
Shraddha claims getting her make-up done is the most uninteresting part of her job.
She said she was a bit apprehensive about playing Haseena when the script was offered to her by director Apoorva Lakhia.
"She was such a strong woman and I was really fascinated by her story. I was a little nervous because it is a challenging role, but since day one Apoorva sir was like, 'you can do it'. I loved the story, the script. Looking at his confidence, even I thought I can do it," she says.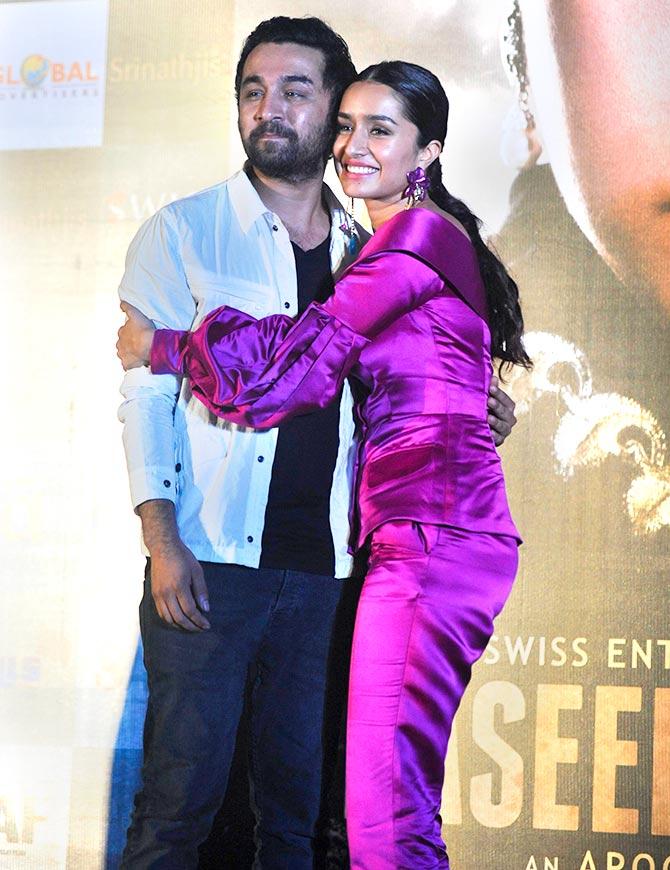 IMAGE: Shraddha Kapoor with brother Siddhanth. Photograph: Pradeep Bandekar
Shraddha's brother Siddhanth Kapoor plays her on-screen brother Dawood Ibrahim in the film.
The actor said he is elated their father Shakti Kapoor had only good things to say about the film, after he watched the teaser.
"Our biggest critic is our father. Our mom (Shivangi Kolhapure) says 'very good' for every work but it's difficult to make dad say that. After he saw the teaser, he said 'hit hai'," Siddhanth said.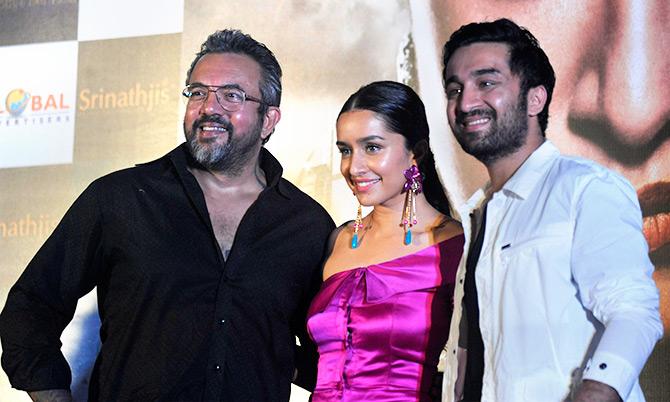 IMAGE: Director Apoorva Lakhia joins Shraddha and Siddhanth Kapoor. Photographs: Pradeep Bandekar
Shraddha says it would be unfair to call out the film industry alone for being obsessed with fair skin as such a mindset is prevalent everywhere in the country.
Her comment came in the backdrop of a cryptic tweet from Nawazuddin Siddiqui where he hinted at being discriminated on the basis of his skin colour.
Siddiqui, 43, purportedly responded to an interview by casting director Sanjay Chouhan, in which he said that he could not cast "fair and handsome" people opposite the actor in Babumoshai Bandookbaaz.
'Thank you for making me realise that I cannot be paired along with the fair and handsome because I'm dark and not good looking, but I never focus on that,' Nawaz posted on Twitter.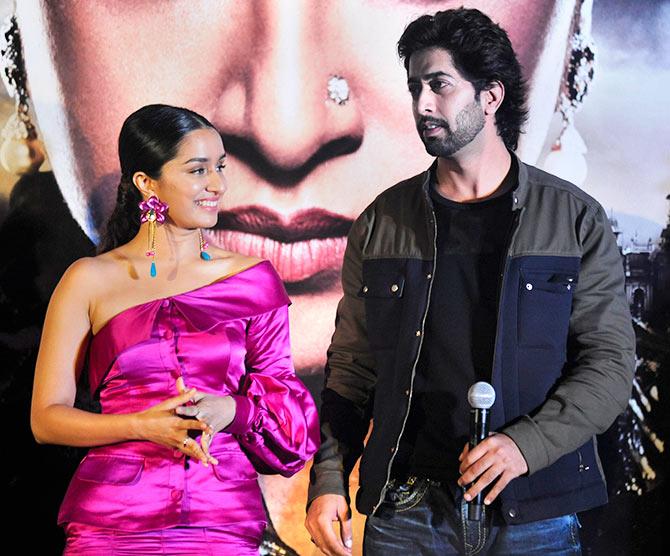 IMAGE: Ankur Bhatia plays Shraddha's husband in Haseena Parkar. Photograph: Pradeep Bandekar
When the actress was asked if there was racism in the industry, she, however, avoided to comment directly on Nawaz's tweet but said the pressure of looking good did not confine to the industry only.
"My definition of beauty is very different. You can come from any background, you can have any skin colour but true beauty radiates from within. Of course, in our society, there are pressures and I don't feel it's only prevalent in the film industry. It's just that our industry is in the limelight, so things tend to get highlighted," she says.
"There are pressures in different ways but what's really important is how to deal with that kind of pressure -- by understanding, knowing and underlining the things that truly matters," she adds.
Haseena Parker will hit the screens on August 18.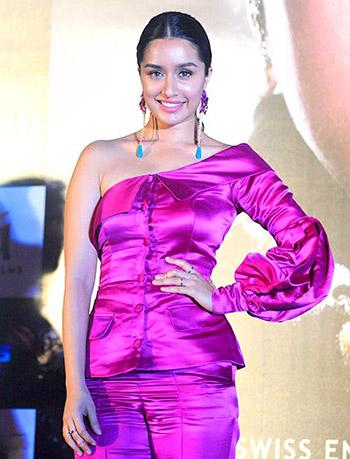 © Copyright 2022 PTI. All rights reserved. Republication or redistribution of PTI content, including by framing or similar means, is expressly prohibited without the prior written consent.