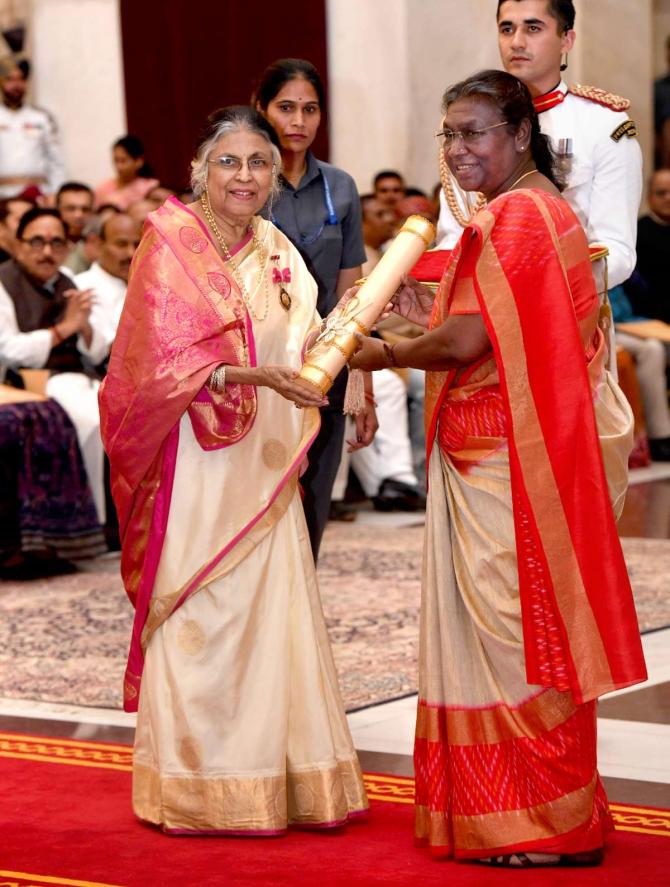 Suman Kalyanpur was awarded India's third highest civilian award, the Padma Bhushan, by President Droupadi Murmu at a ceremony at Rashtrapati Bhavan on Wednesday.
President Murmu had to move forward to give the award to the 86-year-old singer who has difficulty walking.
Kalyanpur lent her vocals to timeless classics like Aaj Kal Tere Mere Pyaar Ke Charche and Naa Naa Karte Pyar Tumhin Se Kar Baithe.
Her voice was often mistaken with that of Lata Mangeshkar's.
Kalyanpur's career started in 1954 and peaked in the 1960s and 1970s.
She recorded songs for movies in several languages besides Hindi, Marathi, Assamese, Gujarati, Kannada, Maithili, Bhojpuri, Rajasthani, Bengali, Odia and Punjabi, in a career spanning four decades.
With inputs from PTI and ANI.