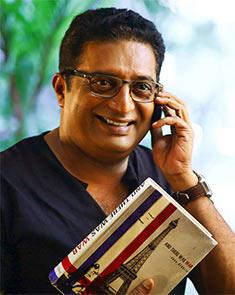 Oggarane, the Kannada version of the recently released trilingual made by actor Prakash Raj, has surpassed expectations in all multiplexes. But, collections of the Tamil and Telugu versions of the film are weaker than the Kannada version.
"We are going to assess why the Tamil and Telugu versions are weak and we are going to see how it can be revived," said Prakash Raj at a media interaction meet.
"I am overwhelmed by the response that Oggarane has been getting especially from families, who are flocking to see it. It is phenomenal that families are going in droves to watch the movie in multiplexes," Raj said.
The national-award winning actor said he was surprised by the kind of positive media reviews that his film got, especially in terms of the detailing of the nuances of the film. "There was no hyped opening for the film but I am happy with the way audiences have responded," he said.
Prakash Raj did not forget to laud Preetha's cinematography and the feeling of intimacy it created.
The Bangalore-based cinematographer and niece of ace cameraman P C Sreeram said it was a challenge to shoot a major portion of the film indoors. "I picked locations where I could light up the interiors by using beauty lights," Preetha said.
Dinakar Toogudeepa, brother of actor Darshan, who distributed the film, said the response to the movie was on expected lines.
"We concentrated on the multiplexes in urban centres and depended less on single-screen theatres given the nature and tone of the film. The response has been phenomenal," he said.
Prakash Raj also announced that his next directorial venture would not be a remake, but gave no other details although he had earlier mentioned that it would be a four-language film.
On reports that he has been cast in a Steven Spielberg Hollywood film, Prakash said: "I am not supposed to spill the beans about it myself. I will talk about it at an appropriate time."