The latest updates from Bollywood.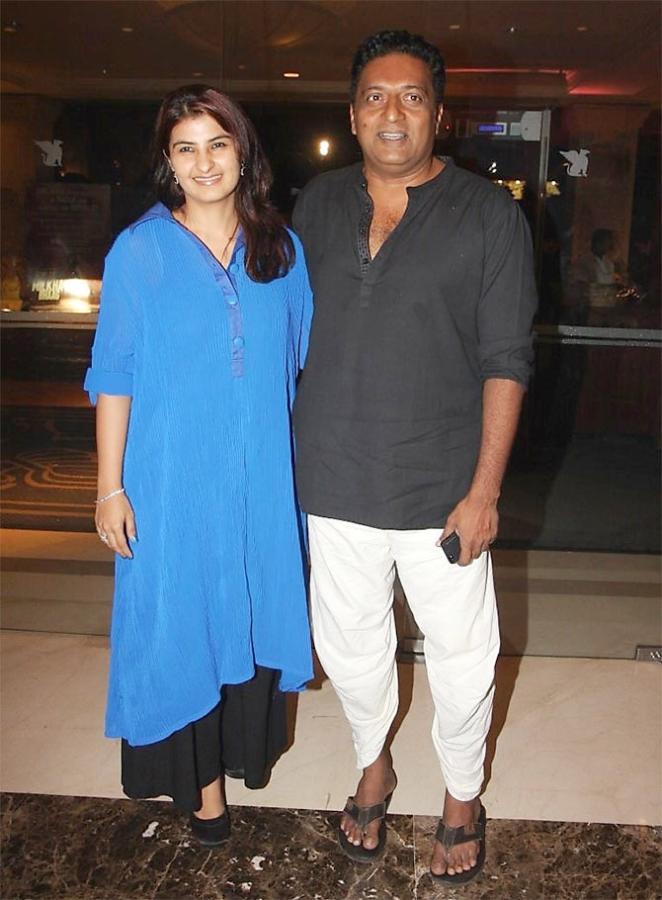 Singham actor Prakash Raj and his choreographer wife Pony Verma have been blessed with a baby boy.
The 50-year-old actor took to Twitter to share the happy news and also sought blessings for his son.
'Hi .. Me and Pony are happy share with you this moment of joy in our life.. We had a lovely baby boy.. Today .. Bless him. Cheers,' Prakash posted.
The actor married Poni in 2010 after his divorce from his first wife Lalitha Kumari in 2009. The former couple have two daughters.
Prakash is an actor, director, producer, distributor and has worked in Tamil, Telugu, Malayalam, Kannada and Hindi films.
***
Amitabh Bachchan gets lifetime achievement award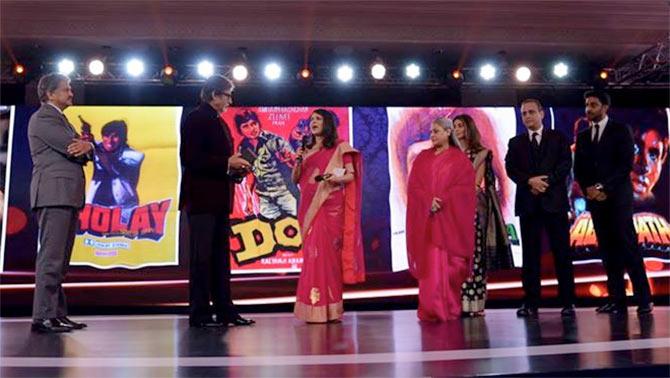 Amitabh Bachchan was presented with the Lifetime Achievement award at the NDTV Indian of the Year awards in Delhi.
The 73-year-old actor said he was happy to get interesting projects even at this age.
"I am grateful that even at this age, I still get to do some wonderful interpretations of different kind of roles that directors write for me. Thank you so much," he said while receiving the honour.
The Piku star was accompanied by his wife Jaya, daughter Shweta and son Abhishek on stage. "I find myself very lucky that I have had the honour of acting with four-five generations of artists in the film industry, which I am extremely proud of. With each generation I learnt something new and that has always been very helpful in the journey forward."
Jaya, who has worked with Amitabh in films like Chupke Chupke, Abhimaan, Mili and Kabhi Khushi Kabhie Gham, said she always knew her husband would make it big one day.
"I don't know whether I thought he will change or redefine the scenario of Hindi film industry but I always knew he had the talent to be one of the best actors of the country," she said.
Abhishek said the Big B is the world's best father and that is what matters to him more than anything else.
"We never looked upon him as a megastar. He has always been Pa for us and I think it's a greater achievement than he has. I think he is the world's best father," Abhishek said.
Amitabh started his career in the 1969 film Saat Hindustani, and followed it up with a brilliant movies. He made his Hollywood debut with a cameo in Baz Luhrmann's The Great Gatsby.
The Wazir star will be next seen in Sujoy Ghosh-produced TE3N opposite Vidya Balan and Nawazuddin Siddiqui.
***
Ranveer Singh makes Farooq Abdullah dance on stage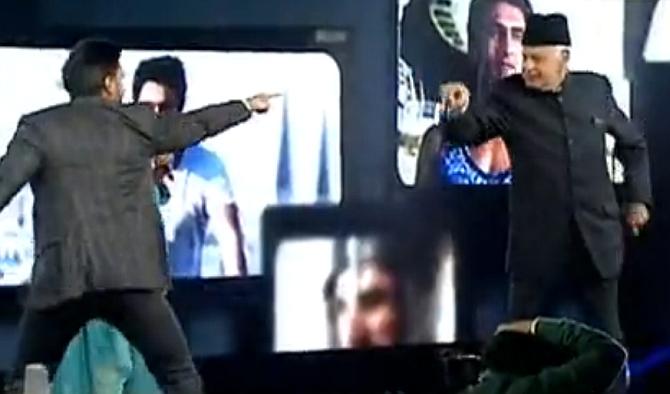 Meanwhile, veteran politician Farooq Abdullah broke into an impromptu gig with Ranveer Singh on stage during the NDTV awards show.
As the song Malhari from the actor's latest film Bajirao Mastani was played, Ranveer, who was onstage to receive the Entertainer of the Year Award, started dancing, with Abdullah matching his steps.
The 78-year-old politician said that he wanted to become an actor.
"If not a politician, I would have become an actor. And I love to do what they do and he (Ranveer) does. You were brilliant in Bajirao Mastani. Congratulations and all the best," said Abdullah while presenting him the honour at the NDTV Indian of the Year award.
The Ram Leela star thanked the politician and jokingly added, "If you took to acting, Mr Bachchan would be in a problem."
To a question, Ranveer said he will never take part in a show like AIB Roast, which landed him in trouble last year.
"When you are so eager to entertain like I am, you get strange requests. So, I met a really wealthy man at a function recently. He said, 'beta, you are great. Next time in Dubai, you come to my house and I will call all my guests. I want you to do 'roast' over there.' I said you give me as many crores as you want, but I will not repeat the mistake," he said.
Asked if he regrets being a part of the infamous show, Ranveer said, "No. Our intentions were good. We did that for charity. We introduced a new form of comedy in the gambit of entertainment and some people didn't like it. So, it's alright."