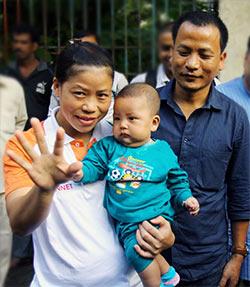 'Those who don't believe in my character are free to come to Manipur and stay with me for a few days to know exactly who I am.'
Onler Karong Kom discusses Mary Kom with Laxmi Negi/Rediff.com
The Priyanka Chopra starrer Mary Kom is a real life story told through reel life.
Some critics have come down on the biopic of a boxer who fights all odds to become a national sensation.
Boxing legend Mary Kom's husband, Onler Karong Kom, seen here, left with his wife and youngest son, questions the critics and asks how a director can squeeze the boxer's life into a two-hour movie!
A former footballer, Onler asserts, "It is not easy to showcase Mary's 12 years in boxing," adding with a chuckle: "If they take everything into account, it would have been a 24 hour movie!"
In a free-flowing chat with Laxmi Negi/Rediff.com, Onler tells us the real from the reel Mary Kom:
Did Mary Kom actually fight the bulky Manipuri rebel and win money?
Mary never fought for money.
But she did pick fights with the boys in the village if they teased her. The fight with the big bulky man is the director's version in a Bollywood movie. I believe there should be entertainment in a movie. The makers are not showing a reality show. It is a movie. I am sure 98 per cent of the audience will like this film.
Did her coach abandon her after she got married?
Mary did not just have one coach.
Her first coach M Narjit Singh, national coach Anup Kumar and other assistant coaches were with her for almost a decade.
Whenever I used to go to the Indira Gandhi Stadium, New Delhi, to watch Mary train, they would dissuade me from meeting her. Some of them even asked me to stay away from her. Even her father did not want us to get married so soon.
They all asked me to let her concentrate on boxing. When we got married, we did rub the coaches on the wrong way.
Tell us about Mary's first pregnancy.
The part where Mary wears all her medals when she is pregnant is exactly what happened.
It was an unplanned pregnancy. I lost my father in December 2006 and we came to know about Mary's pregnancy in January. We were surprised and excited at the same time.
Mary thought her career was over. But after delivery, when she desired to box again, I was with her.
Our relatives and her former coaches tried to put her down, saying she is finished. But Mary told me, 'If you are with me, I can become a champion again.'
That was it.
I believed in her and stood firmly with her.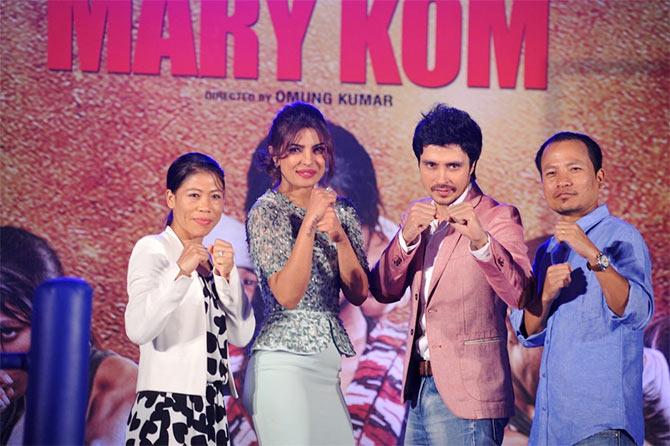 Image: Mary Kom, Priyanka Chopra, Darshan Kumar and Onler at a Mary Kom promotional event.
Did you make that call just before the World Championship final fight? (In the film, Onler calls Mary minutes before her crucial World Championship final bout to inform her that their son is hospitalised, and has a hole in his heart)?
When Mary was in Ningbo, China, I learned that there was a hole in our son's heart. I spoke to then chief coach Anup Kumar and requested him to let Mary come to India straight after the final bout. I was in touch with Mary every half hour.
Unlike what was shown in the movie, the operation happened in Chandigarh and our son was in the ICU when Mary was fighting her final bout. Our son was operated after Mary had sealed the gold medal against her name.
Needless to say, those were testing times. I was travelling with just one friend, along with my son, from Delhi to Chandigarh by road. I was crying and praying throughout the journey.
I'm not sure about the knockout punch that Mary delivered to seal the fate of the final bout. The director might have added it for masala. But please do not call this movie Bollywood masala. Without these additions, I don't think people would have watched the movie.
Did Darshan Kumar do justice to Onler?
A lot of people have criticised the movie for not picking up Manipuri actors. But actors in Manipur do not look like Mary or Onler. There is only one Mary Kom and there is only one Onler. There is no one like us.
We do not have twin brothers and sisters who are actors!
More than looks, acting is important. That is why actors like Priyanka and Darshan work in favour of the movie.
Has your family watched the movie?
Oh yes!
On September 3, 16 members of our family watched the movie in New Delhi. Our sons are seven years old now and they understand that the film is based on their mother's life.
I joked to my sons that the toddlers shown in the movie were actually them. They don't remember because they were very young when the movie was shot. They asked so many questions about the shooting. Finally, I had to give up and tell them the truth.
Also, with Priyanka's striking resemblance to Mary in some parts of the movie, I was able to convince them that she is their second 'mama.' But kids are smart these days and they know she is an actress.
There are no multiplexes in our home state. So it is fulfilling that Mary Kom was our three sons' first movie in a theatre.
You gave up your football career, as well as coaching, to remain in Mary's shadow. Did you really suffer that much?
Those who don't believe in my character are free to come to Manipur and stay with me for a few days to know exactly who I am.
Onler has become famous too!
When I was young, Phantom was a very popular movie. I was so inspired that I named my pet dog Phantom! I am afraid people will name their pets Onler now (laughs).