Here's a peek into another stylish celeb home.

Actress Sana Khan, who rose to fame with her stint in the Bigg Boss house and went on to star in Salman Khan's Jai Ho, lives in a two bedroom-hall-kitchen apartment in Andheri, a western Mumbai suburb.

Covering an area of 1,100 square feet, the apartment is located in Andheri, in suburban Mumbai.

Sana recently gave us the grand tour of her lavish Mumbai abode, in which she lives with her mother Saeeda.

Take a look!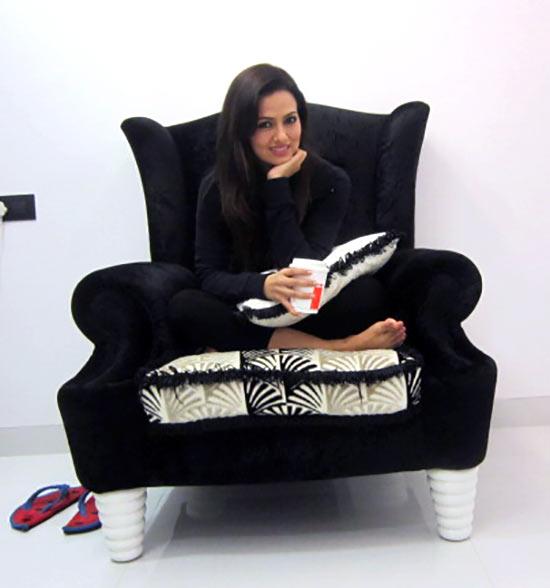 The actress chose her couch (the most expensive thing in her house, she tells us), stationed in the living room, to pose for a picture.

"It was a proud moment for me as well as for my mother when I bought this flat.
"I had finalised the deal much before I entered the Bigg Boss house. The first thing I did after I came out of the house was get the new house registered," she says.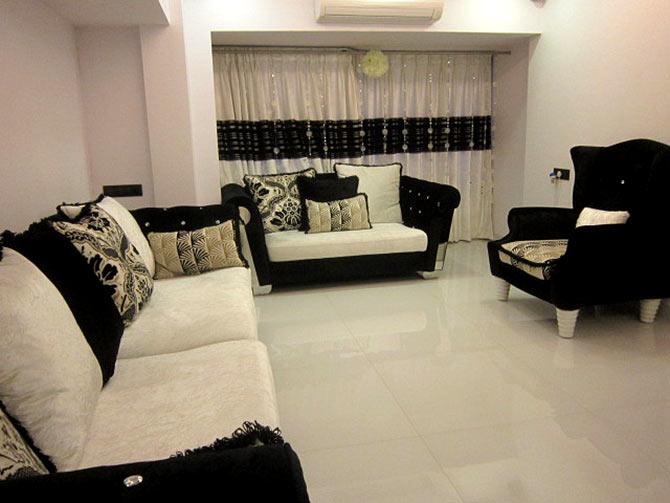 Sana has extended her living room wall to the kitchen because it (kitchen) was much bigger than required.

"We are only two people (my mother and me) living in the house and we didn't require that kind of space in the kitchen," she informs.
Unlike many other stars who prefer to rope in interior decorators to do up their houses, Sana decided to do it all her own way.

"I have done up the whole house. Two and a half inch of plaster of Paris has gone into every inch of the walls. I also got fresh tiling for the place."
"This is my first house and I had made up my mind against going for a European decor like everyone else. All newly decorated flats look the same these days. Interiors are dominated by a lot of beiges and browns and I didn't want to go for that," she says.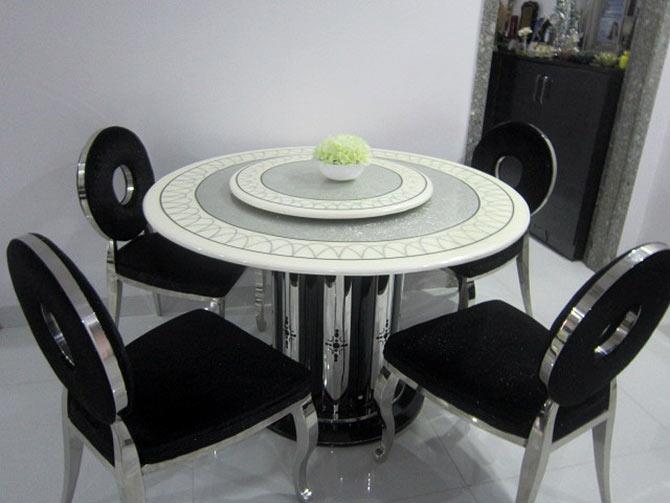 The house has a black and white theme.
"When I watched castles in Alice In Wonderland or Snow White, I would think of owning a house in white and not pink. White makes your house more peaceful and elegant. With white, I opted for black, which is a unique combination," is Sana's reasoning behind her monochrome theme.
Everything in this house -- from the huge sofas, to rotating dining table and curtains -- were handpicked, customised and shipped all the way from Italy.

"Dining chairs had zebra print but I got it changed to match the décor," she adds.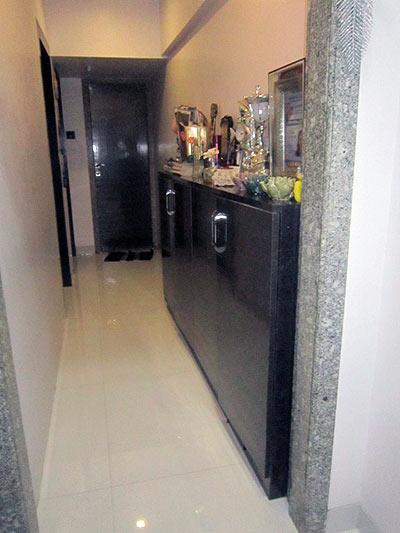 "I am a bling person. I want shiny things everywhere. Since I can't put huge sofas and chandeliers in this house due to space constraints, I opted for their more compact versions.

"If you see my sofas, you'll notice that they have huge hand rests and elaborate cushion work with diamonds on it. They are very comfy and it has a royal feel. But I have done everything within my budget."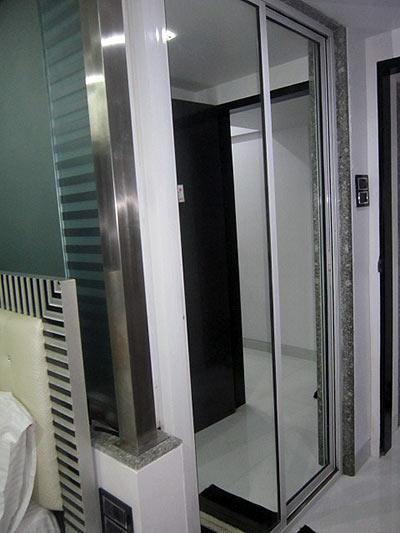 The bathroom in Sana's flat has glass walls, as she "always liked the look of them" and so modified her bathroom to fit glass doors and a steam.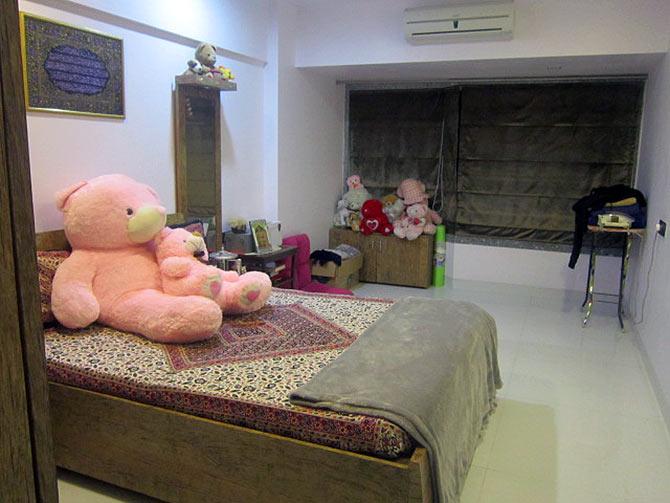 Sana has been collecting teddy bears since 2006, most of which have been gifts from near and dear ones. They're all neatly arranged in her mother's bedroom.
"Every single toy reminds me of happy moments in my life and good times I have spent with people who have gifted them to me," she says.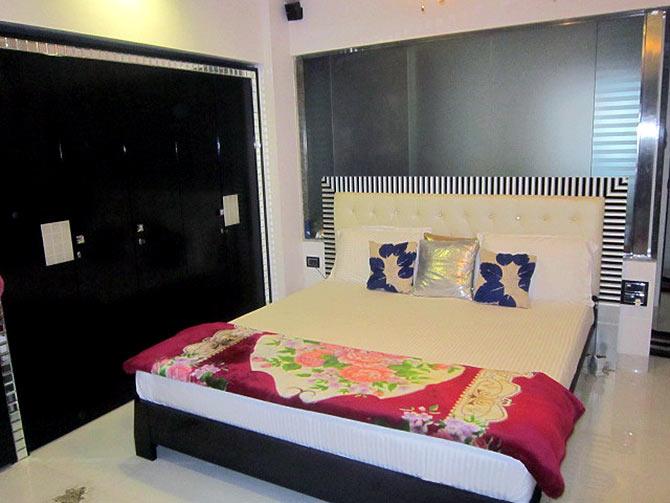 "My bedroom has queen-size bed where I like to spend most of my time. It features a double back rest which is again very comfortable.

"A black wardrobe rounds it off."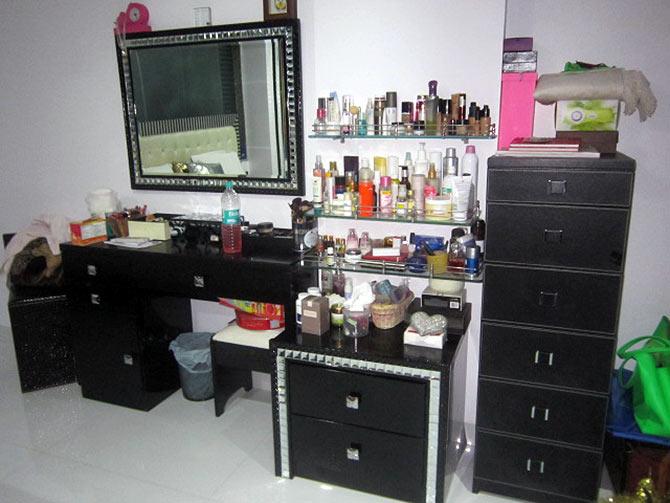 Another interesting sight in Sana's bedroom is a wide variety of perfumes adorning her dresser.

"I love perfumes. So much so, that my friends say that I marinate myself in them!

"I have 60-70 performs of different brands and varieties. Some of them are unheard of. When my friends compliment me that I'm smelling 'so good' and always ask me what I'm wearing. But I say 'Sorry, I can't tell you!'

"I mix many different perfumes so people never find out what I am actually wearing," Sana says with a smile.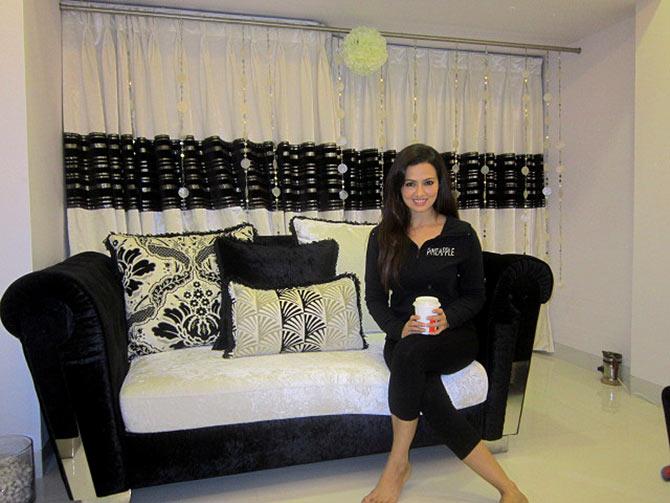 Sana's love for bling is apparent in the way sparkly things find their way in the most unexpected places in her home.

"I have used these shiny flowers at the door. I was planning to make a showcase of Swarovski crystals but I couldn't as there was not enough space," she says.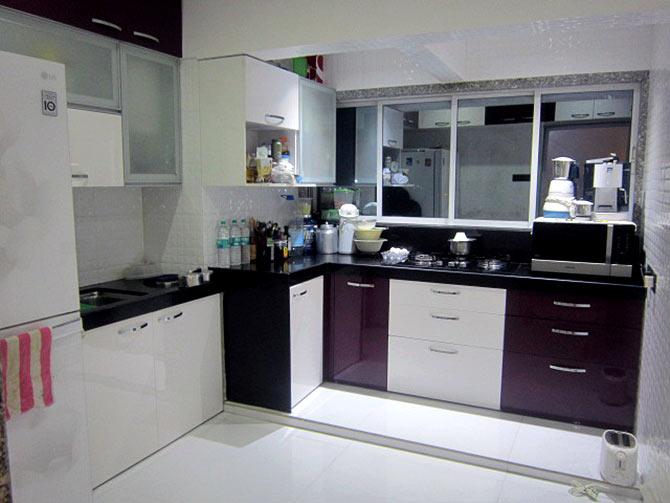 The kitchen is modular as Sana's mom loves cooking. Visitors have been appreciative of this cooking space, Sana tells us.
"This is my dream house and I am happily settled here. After I bought this place, I got to know the history of this building -- it was apparently made only for movie people. It's a 25-year-old building and I see lots of television celebrities around here," Sana says.
Photographs: Rajul Hegde/ Rediff.com