When stars drop by Rediff offices...

Lauren Gottlieb and Jackky Bhagnani, stars of the upcoming comedy Welcome To Karachi, are a hoot!
When the dynamic duo dropped by Rediff offices recently, they were in their element as they cracked jokes, got into animated conversations about Dubsmash and were all-round fun to watch.

Here's what happened: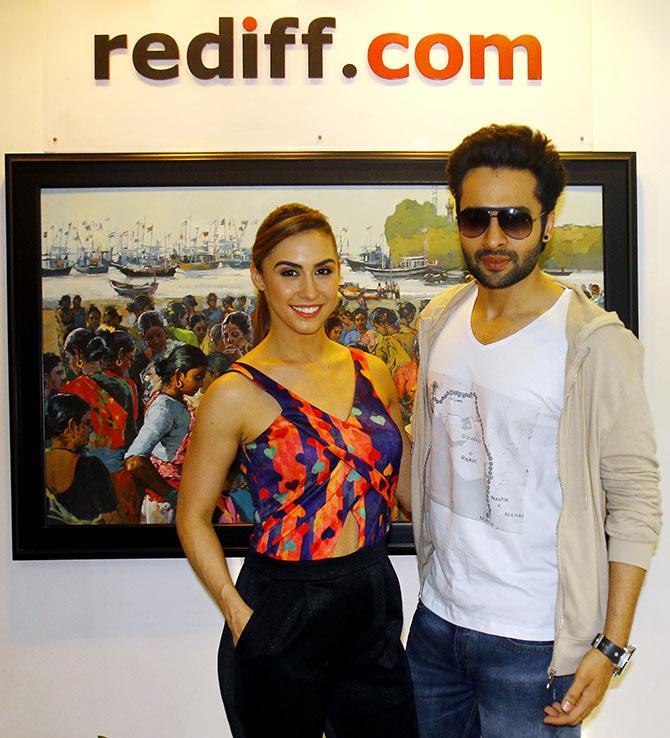 The duo's new film, set for a May 28 release, is the story of a two bumbling travellers who land up in Karachi and, well, a whole lot of trouble.

The film, directed by Ashish R Mohan, also stars Arshad Warsi.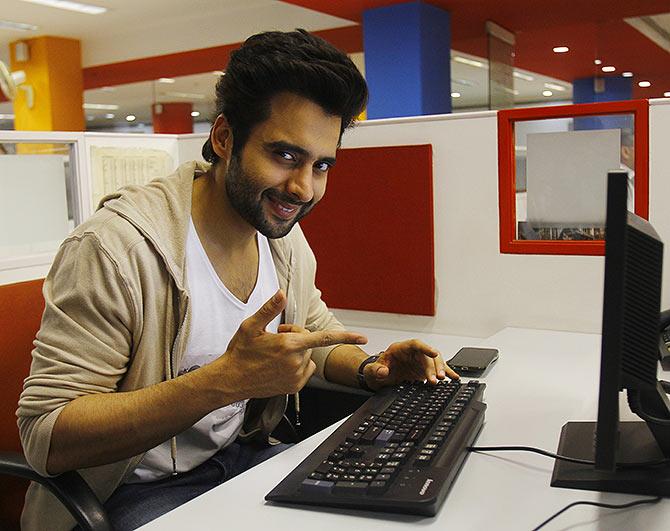 Bhagnani, who was last seen in the somewhat ill-fated Youngistaan last year, had us in splits with his sense of humour.

When asked by a reader during the chat if the makers had taken special care to not let stuff derogatory to Muslims creep in the film, he cleared the air:
'First of all the film or the dialogues are not derogatory to anyone or any caste or any religion. The humour is in good spirit and to make anyone laugh regardless of which country they belong to. If you go and watch the film please carry a lot of tissue papers because you will be laughing your guts out,' he wrote.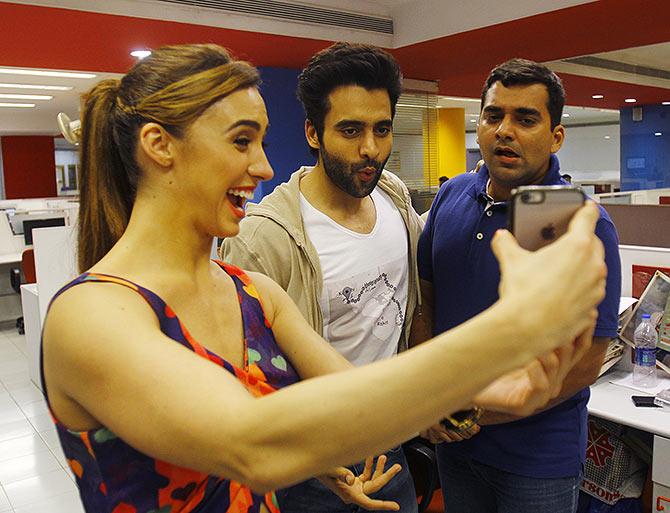 Lauren and Jackky introduce Rediff.com's Abhishek Mande to the revolutionary app Dubsmash that has been quite a smash hit on social media in the recent past.

The trio look understandably amused here.

For the uninitiated, the app helps you create short selfie videos dubbed with famous sounds.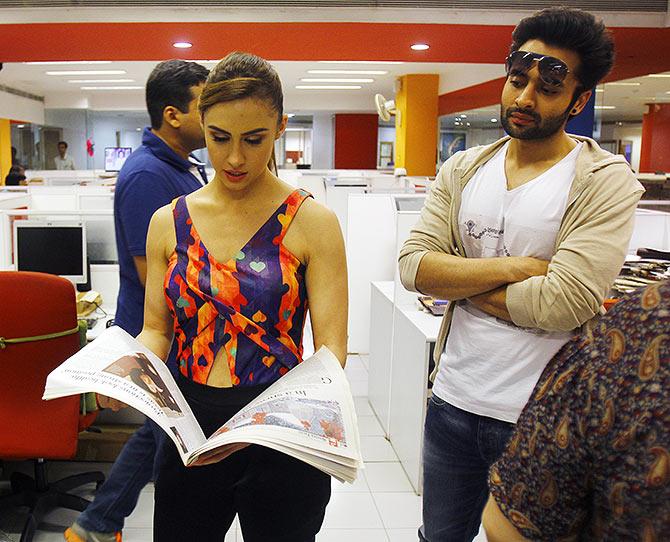 Lauren checks out the India Abroad newspaper.

An American living in India for work, Lauren finds her adoptive country fascinating.

'There is so much culture here in India. I have never seen anything like it before. This experience has changed my life,' she shared with a fan during the chat.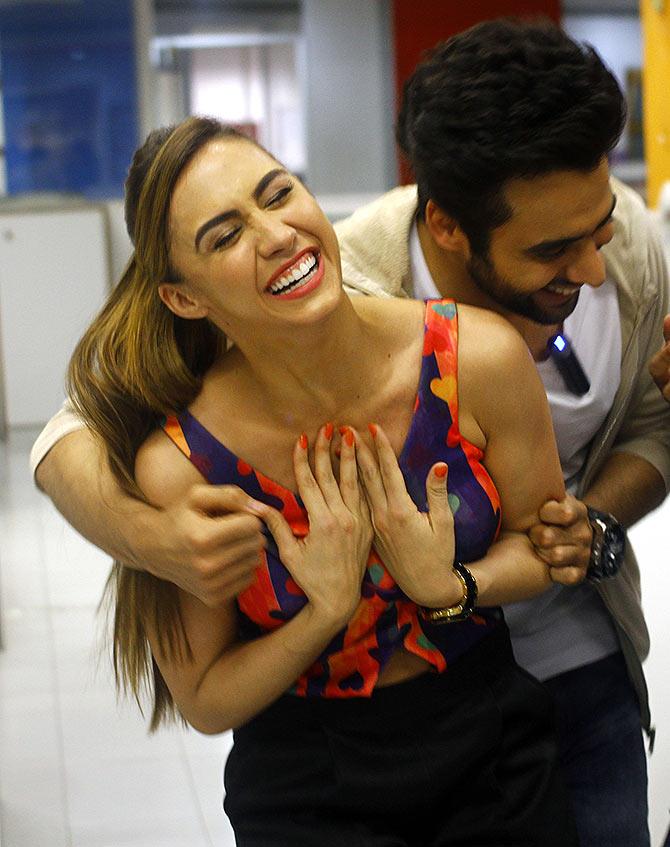 Lauren, who plays a Pakistani intelligence officer in the film, was all praises for the film's producer Vashu Bhagnani.

'Vashuji and his whole team and family have been so wonderful to work with. They are very supportive of me,' she said.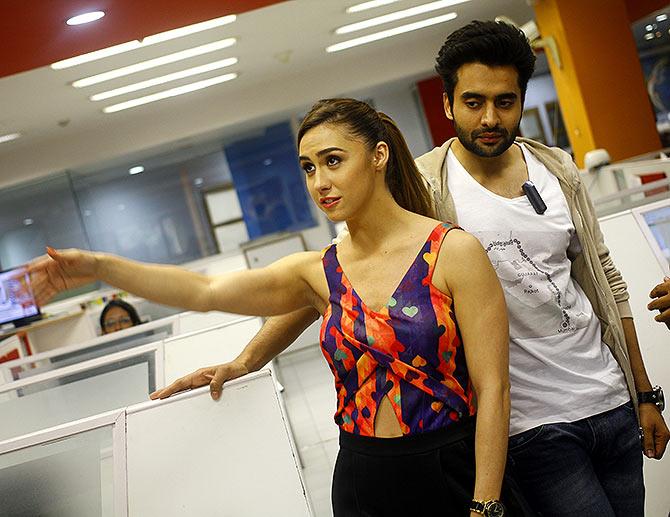 When asked about Irrfan Khan having been approached for his role in the film, Jackky said, 'Yes that is correct but for due to some personal reasons Irrfan sir couldn't do this film and I was offered the role at the very last minute. This is the only information that I have and can share with you.'

Talking about her time in the US as a dance instructor to Hollywood A-listers, Lauren said, 'I used to train both Tom Cruise, Katie Holmes, and Tobey Maguire...

'All 3 are such wonderful people to work with. It was the best learning experience for me actually.

'They are all huge stars yet they treated me with so much love and respect and really took my advice when it came to dancing. It was an experience of a lifetime.'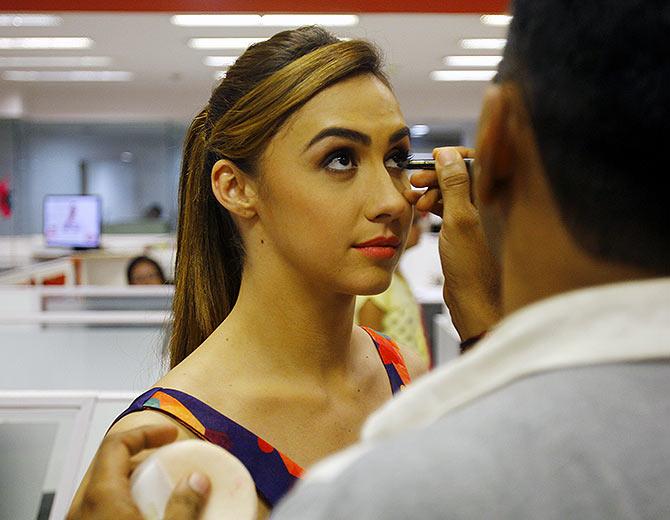 Lauren gets a touch-up before shooting for a video interview.
The actress-dancer will also be seen in ABCD 2 along side Varun Dhawan and Shraddha Kapoor.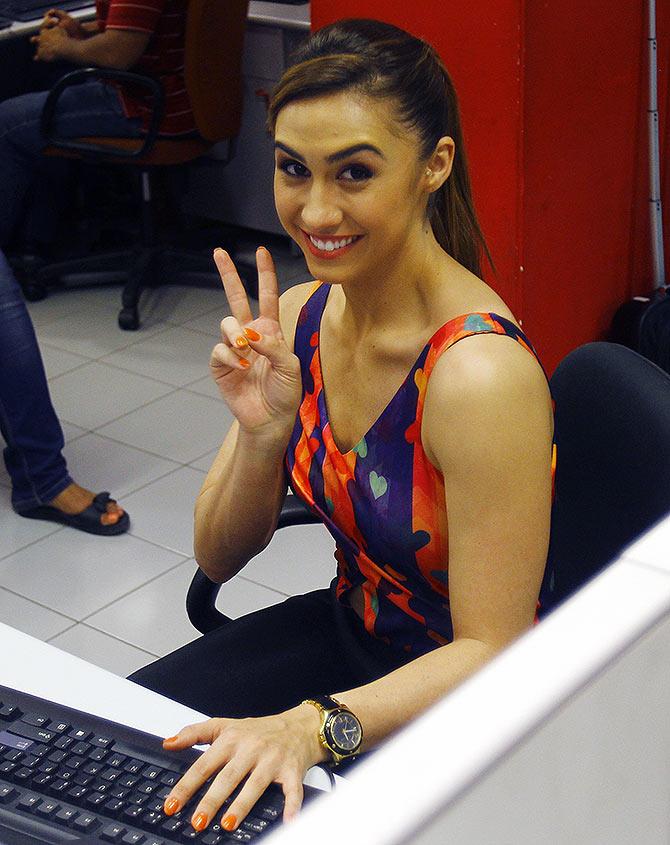 The 26-year-old flashes a victory sign as she chats up fans and Rediff readers.

With two films (Karachi, ABCD 2) coming out back-to-back, Lauren sure has a lot on her plate!


Photographs: Hitesh Harisinghani/Rediff.com