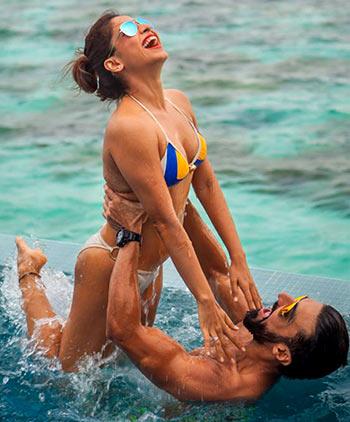 Ashish Chowdhry took off on a holiday after four years! He went to the Maldives along with his actress wife, Samita Bangargi.
Talking about the trip he said, "I was surfing the Net for potential holiday spots and I picked out one nice picture and tweeted it. That particular hotel in the Maldives retweeted, saying we are waiting to welcome you here. When I took them up on the offer, I didn't know I would be in for VVIP treatment. When I reached the Maldives, a sea plane was arranged to pick us up. I had booked a villa for four nights and five days, but they gave me the sunset water suite instead; it is a premium room in the hotel," he recalls.
The actor had been to the Maldives earlier to shoot for Fight Club with Dino Morea and Sohail Khan. This trip, however, was much more memorable.
"The hotel welcomed us with a lot of warmth. The chef made every kind of food possible, including Japanese, Thai, sea food and hand-made chocolates. They also got me to try out every possible sport," says Ashish, who felt the trip was a welcome break from his hectic schedule, that included recovering from an injury and shifting to a new house.
"I always wanted to go to places like London, but the Maldives turned out to be heaven on earth. Sometimes, you feel the need to party or just go and roam around, but to find peace you have to go to a place like the Maldives," he gushes.
Check out the cool pictures!