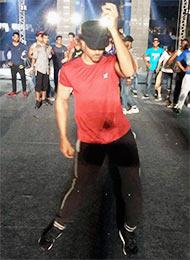 A look at the top tweets from your favourite Bollywood celebrities: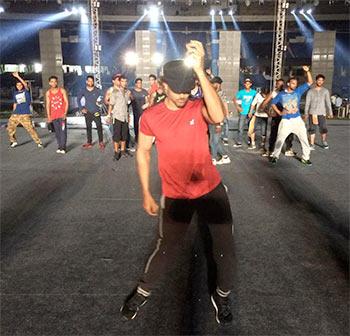 Hrithik Roshan will perform at the opening ceremony of the Indian Premiere League in Kolkata, and he's busy rehearsing his steps.
He posted a picture (left) and tweeted: 'Dancing whr I danced15 yrs ago. N cn c myself dance 15 yrs frm now. Never stop growing never stop learning. Rain threatens 2stop d event tom nite.I told them 2 keep d cameras on,cause come rain or storm, I gonna dance.'
'City of joy , I love you!! So much love here in Kolkata ! My dida would have been so proud.. Thank you all,' he added.
***
Jeetendra turns 73
Jeetendra celebrated his 73rd birthday on April 7, and Rishi Kapoor tweeted his wishes.

'Here's wishing my dear friend/guide/colleague Ravi Kapoor a.k.a. "Jeetendra Many"Happy Returns of the Day.God Bless! Shambhu !!!!!' Kapoor tweeted.

'An institution in himself who believed and taught youngsters that Fitness Is also an important prerequisite for any actor.Thank you Jeetuji!' he added.

***
When Riteish first thought of marrying Genelia
Ritiesh Deshmukh, who made his acting debut in 2003's Tujhe Meri Kasam, recalled his fond memories of the film.

'The first scene of my life was climbing up the stairs of a temple & praying to Lord Ganesha .What a way to start my career,' he wrote.

'Climax of TMK -@geneliad had to slap me-I insisted it 2 b real- 2nd take was OK but i again insisted for 4 more takes. The only time I Was ever hit or slapped in my life. My jaw still hurts. That time I thought I should marry this girl,' Deshmukh added.

***

Bachchan gets ready for Padma Awards

Amitabh Bachchan is busy rehearsing for the Padma awards, to be presented at a Civil Investiture Ceremony at the Rashtrapati Bhavan.

'Rehearsals at Rashtrapati Bhavan for the Investiture Ceremony tomorrow. . PADMA awards ..!!! I just love and admire protocol ..!!! Protocol, discipline, brings a sense of oneness .. and respect ..!! We follow it overseas, why not in our land !!' Bachchan tweeted.

'World Health Day healthy meet with Health Minister to campaign for Hepatitis B awareness. .. hope get approval .. voluntary by me,' he added later.
***

On the sets of Indian Idol Junior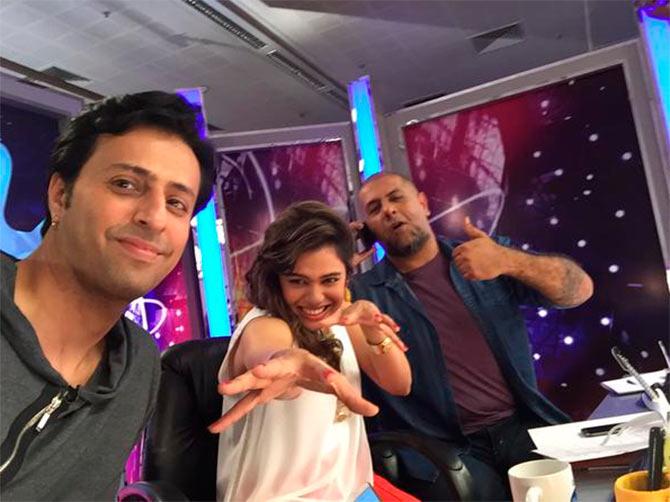 Music composer Salim Merchant (top, left), who is shooting for the music reality show Indian Idol Junior, shared a picture from the auditions (above) and tweeted: 'On the sets of indian idol junior. What incredible talent! Kolkata always has amazing singers . This season is a hit!'

The current season will be judged Salim Merchant, Sonakshi Sinha, Shalmali Kholgade (centre) and Vishal Dadlani (right).