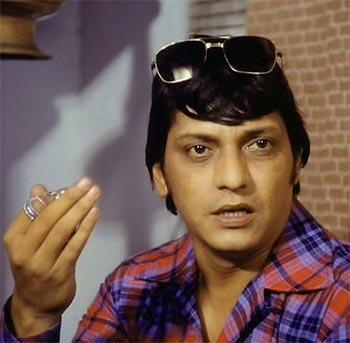 'Everybody is concerned only with 100 crore films... If our starting point is going to be "How much money will it make? Will it go into the 100 crore club?" then I am not interested.'
Amol Palekar in a lively interview with Patcy N/Rediff.com
After charming us for decades on the big screen, Amol Palekar decided to return to his first love: Painting.
On his 70th birthday, the actor held an exhibition in Mumbai, but more on that later.
In the first part of a lively conversation with Patcy N/Rediff.com Amol Palekar discusses his movies and his life.
How did an artist take a banking job?
Because I was an artist, I chose to have a job that would not make me compromise on my art, the kind of paintings that I wanted to do.
I did not want the market pressure. I did not want to think 'If I paint this way, it will be sold.'
I wanted to express myself. I thought it would be nice if I had a job that was not related to my creativity.
You did plays and from there you went into films...
It was the same thought process.
When I chose to do theatre, I did not do mainstream commercial theatre; I did experimental theatre.
I experimented to such an extent that I can say that I was one of the people who brought theatre out of the auditorium. I started exploring open spaces way back in the early 1970s.
It was the same in films. I was part of the parallel cinema movement and I enjoyed it.
It was not mainstream cinema. That it became popular and commercially successful was incidental.
I don't think (director) Basu Chatterjee did those films because they were commercial formula films; they were not, and people liked that very much.
They liked the fact that Amol Palekar wasn't Superman, that he was an ordinary man who travelled by bus or local train, who actually went to office and worked. This was rare in movies then.
Mainstream cinema is larger than life; this cinema and my persona were not larger than life, and that is what people loved.
When I started directing and producing films, I still did only non-mainstream films.
I am very proud that for 45 years now, I could do it without any compromise, without succumbing to commercial and market forces.
How did acting happen?
Acting happened by sheer accident in theatre as well as in films.
I would hang around during the rehearsals of one of the legends of Indian theatre, Satyadev Dubey.
He once asked me, 'Would you like to act in my next play?'
Before I could answer, he said in typical Dubey style, 'Please don't think I have noted some great talent in you and I am seeing a fascinating actor in you. Nothing of that sort. I notice that you have plenty of time to kill, so why don't you come and try this out.'
I had no great dream of being an actor, but having entered, I was fortunate to be trained by Dubey. He taught me the ABCD of theatre, of performing art, and going beyond that, he gave me an insight into creativity. He gave me an insight into life.
So I was fortunate to be trained by absolute thespians and that is how the actor emerged.
In films, it was the same thing.
I can, without hesitation, say that I am among the few actors to have acted with every top director and technician in the country at that period. They all loved me and pampered me and so I grew, I learnt, I imbibed so many things from them.
Can you imagine the kind of training I got? How does Basu Chatterjee, or Shyam Benegal, or Tapan Sinha, or Satyajit Ray conceive a shot? I was able to learn that while working with them and they allowed me to question them.
After my shot was over, I would never go into my make-up room but would sit there and watch and ask them a hundred questions.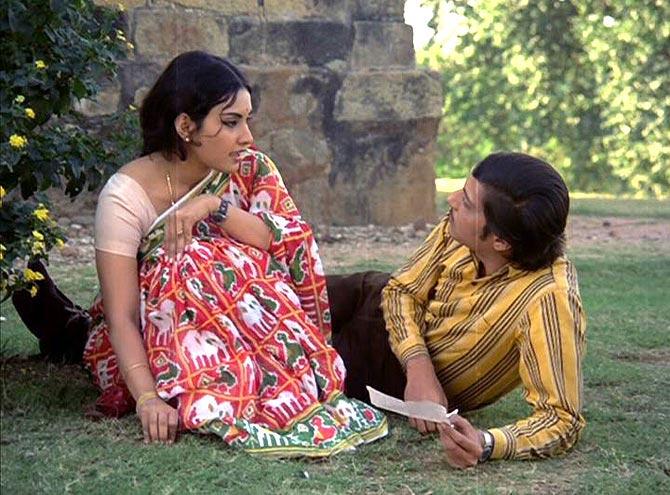 Image: Vidya Sinha and Amol Palekar in Rajnigandha
How did you get your first movie, Basu Chatterjee's Rajnigandha?
People like Basu Chatterjee and Basu Bhattacharya, Shyam Benegal, M S Sathyu, Hrishikesh Mukherjee would watch theatre regularly.
Those were exciting times, where in every field of art there was a lot of experimentation going on and a wonderful give and take between one art form and another.
Musicians and painters would come and see my theatre. I would go and watch brilliant dance performances because we all wanted to learn as much as possible and broaden our knowledge.
Basu Chatterjee had seen me in a play and that's how he approached me to do a film. I turned it down; the film was Piya Ka Ghar.
I never imagined he would come back to me, but he did come back, for Rajnigandha.
I loved the concept; it was a simple, one-and-a-half page story by Manu Bhandari, one of the really wonderful Hindi writers.
Basu gave me the story and told me to read it.
It was nice and fascinating, but I asked him how he could make a film out of it because there is no obvious drama, no action, no villain, no element that we associate with films.
He said, 'That's why I am doing it.'
I immediately said yes.
You went on to do many more movies with him...
After Rajnigandha, I did Choti Si Baat, Chitchor, Baton Baton Mein and quite a few others with him.
Basu was my mentor. Throughout our relationship, I never asked Basu if he was going to pay me or how much he was going to pay me. That question did not arise because of our bond.
It was a wonderful relationship spread over so many years. I wanted him to come for my (70th) birthday, but when I spoke to him, he said he was not keeping well and could not travel.
You have three sisters and you were the only son. Did you have to shoulder the family responsibilities?
My mother at that time, in the late 1950s, worked in an office and supported the family. We came from a lower middle class background. When I chose to take up this (points to his paintings) as my career, my parents never ever objected.
That was one of the greatest gifts that my parents gave me. They never pressurised me.
They only asked me, 'How would you earn your bread from this?'
I said, 'I don't know, I don't even know when I will start earning.'
I am grateful to my parents for putting so much faith in me. It is probably why, whenever I was at the crossroads, I would think what would my parents say if I did this. Then the path would become very clear. That gave me tremendous courage all through my journey.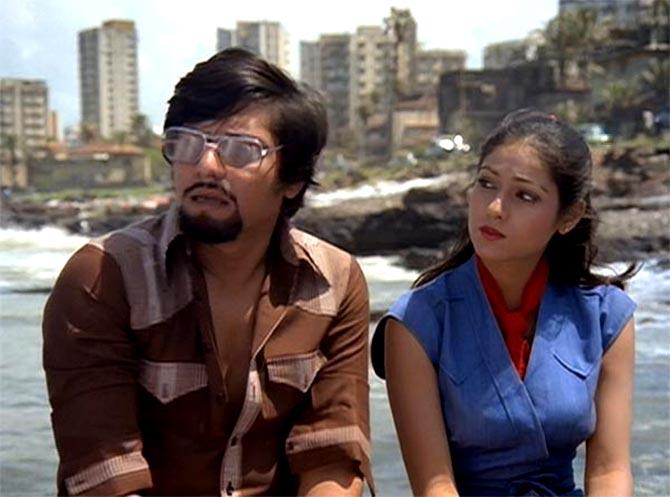 Image: Amol Palekar and Tina Munim in Baton Baton Mein
You gave up your banking job to do theatre...
Yes. All this is not only part of my upbringing, it is part of my constitution. This is how I have grown. People, who loved me and groomed me, have shaped me.
I learnt that when you do something because of your inner urging, success follows.
I never ever thought before doing a film how will it do (at the box office), or whether people will like it or not. And they loved all my creations, and many of them are today considered landmarks in theatre and cinema.
You have played the role of the common man in most of your films, but you have done negative roles too.
Absolutely. Once I knew I could do this and do it successfully, where was the challenge in doing the same thing again and again? I had to look for something different, and that's what I kept on doing.
I am fortunate that I continued to have that hunger in me to do something unknown, something that I did not know would succeed or not, with the possibility that I may fall flat on my face.
I want to take that risk and I want to try out whether I could do it or not.
You did television and gave it up, you started acting and gave it up, you started directing films, but you haven't done films in a while.
I have the courage to say no.
There is nothing in the world that can tempt me to do it. To be able to say no to a role or a career or to a form of expression as a creative artist I think is my strength.
Was the reason for saying no to acting that the good offers had stopped coming?
Even today I am offered at least two to three roles every month. But there is no substance in that, so why should I do it?
I don't think I have to be on the fringe of any film.
Why did you quit television? You did good serials like Kachchi Dhoop...
The television scene back then was different. The scenario today, whether in television or in cinema, has become too commerce-oriented, everything is focused on money. A person like me gets suffocated there.
If everything has to be judged only in monetary terms, I don't enjoy it.
If I love a story but don't know whether the audience will like it or not, and I don't know whether it will be successful or not, but I love it and I want to share it with you and like-minded people, that gives me enough of a kick to share that story.
But if our starting point is going to be 'How much money will it make? Will it go into the 100 crore club?' then I am not interested in it.
Right now, I am in a kind of journey where nobody else matters. In the performing arts, the process is about trying to reach out to somebody.
Painting is exactly the opposite. In this, I am only with myself and my canvas. Standing in front of a blank canvas scares me. It raises so many questions like 'Will I be able to do this?' and 'Will it come out nicely?'
Every morning when I wake up I look forward to doing this. I want to rush to the smell of the turpentine and linseed oil and paint. It gives me immense satisfaction and peace of mind.
What more can I ask for at the age of 70? I still live with my fears and apprehensions and try to conquer them and at the end of it, I don't know whether I will fall flat on my face or not.
But at the end of the day, when I finish a canvas, the joy that I get out of having completed one small little journey is so enriching, I don't want to exchange it for anything else.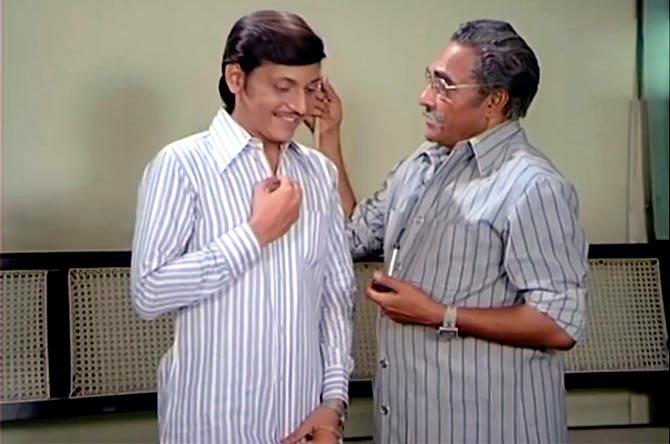 Image: Amol Palekar and Ashok Kumar in Chotti Si Baat
So there is no urge to direct now?
Oh no, not at all.
Your last Hindi film was Paheli...
I have moved on, so let's not get stuck in that.
After Paheli, I made four more films. The last one was called Dhoosar on Alzheimer's, a beautiful lyrical film, which won three state awards for Best Film, Best Direction, and Best Music.
You don't even notice it today; everybody is concerned only with 100 crore films. We have forgotten something sensitive and nice, something off the beaten track.
There was a time when all these things co-existed and the audience was that much richer for it.
Along with Manmohan Desai and Amitabh Bachchan, the successful pair of Hrishikesh Mukherjee and Amol Palekar co-existed, and also the Dara Singh films.
The audience never rejected it. It is filmmakers who are scared to do those kinds of films today, or who are incapable of doing it. They are not giving the audience choices.
Does that upset and frustrate you?
Not at all. I have continued doing what I wanted to do.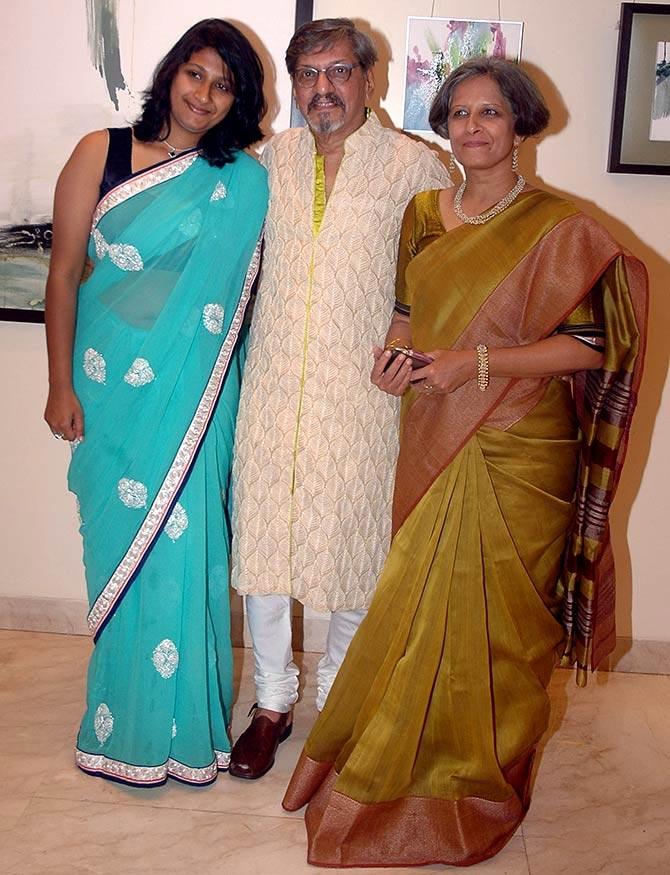 Image: Amol Palekar with daughter Samiha and wife Sandhya Gokhale.
Tell us about your daughters.
I am extremely fortunate to have two wonderful daughters. My elder daughter Shalmalee was in Kachchi Doop. She has settled in Australia and teaches there.
My younger daughter Samiha is in the final year of law. She wants to specialise in sports law because she is a sportsperson herself. She played national level rugby and is interested in football.
Were you shocked when you came to know about Shalmalee's sexual orientation?
No, not at all. I supported her. But I am not the kind of person who goes to town with it. She has chosen her lifestyle. I not only love that, I respect it.
You have worked with your ex-wife Chitra Palekar and your second wife Sandhya Gokhale on many films. What is it like working with a spouse?
I have been most fortunate that my ex-wife and my present wife have been with me in my creative journey.
With Sandhya, I can only say that she has made me complete. I am grateful to her for that.
I joke about this with Sandhya. She is a lawyer and did her Master's from Yale and practised abroad for almost 10 years. So I call her my half-American wife (laughs).
At 70, when you look back on your life, what do you feel?
I feel very satisfied, very happy. People who groomed me and who helped and guided me were absolute masters. I feel good that I have not let them down.
From here on, who knows what the journey will be?
Whatever it will be, I will say with confidence that I will not be ashamed of whatever I do.