'After Quantico, I got some amazing films. I liked Baywatch the most because it was a huge, global movie.'
'I used to be a Baywatch fan when I was growing up.'
'Secondly, I was the villain in it. I liked the fact that I would be doing something different in my first film. After Alex Parrish, I wanted America to get introduced to me as something completely different because Alex is such a positive character.'
Priyanka Chopra gives us Baywatch.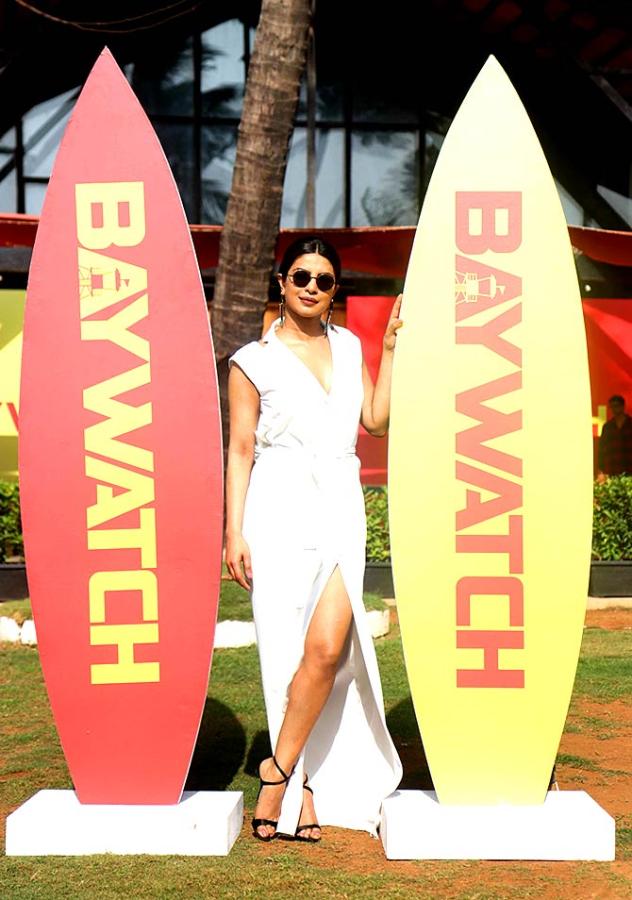 IMAGE: Look at that poise! Photograph: Pradeep Bandekar
"Feels so good to meet you all!" Priyanka Chopra exclaims to the Mumbai media, as she strolls into the Razzberry Rhinoceros restaurant in suburban Mumbai.
The actress, who returns to the city after months, claims she had 'forgotten Mumbai for a while', especially its traffic.
"I was travelling from Bandra-Kurla... you should give an hour and a half to travel from there to Juhu, instead of an hour," she says, giving her reason for coming late.
"I missed Hindi films. I missed Bombay. This is my home, this is my industry, they are my people... In the last couple of days, I have had so much fun meeting everyone. I am here for five days and am meeting people every single day. It's been a wonderful homecoming," she gushes.
Priyanka is quite excited about her first Hollywood film, Baywatch, with co-stars Dwayne Johnson and Zac Efron. She plays Victoria Leeds, a negative character.
"Baywatch is not only Priyanka Chopra. Baywatch is an ensemble of incredible actors -- seven people, who come together. There are six life guards against me," Priyanka explains.
Her co-stars couldn't make it to Mumbai but they did have a little message for us. A message, which made Priyanka blush.
Watch it here:


"He is wonderful," Priyanka gushes, referring to Dwayne Johnson. "Besides being an awesome friend, he is one of the nicest co-actors I have ever worked with. He is extremely professional, very smart."
Baywatch is famous for its slow-motion beach run. Will we see Priyanka doing it too?
"Slow-mo run toh maine hi sikhayi hai unko. Saalon se toh hum hi karte aarahe hai. I said, 'Dekho, teacher main hoon slow-mo ki," Priyanka says with a laugh. "Obviously, Baywatch has a lot of slow motion. They run but I walk. Victoria doesn't run for anyone."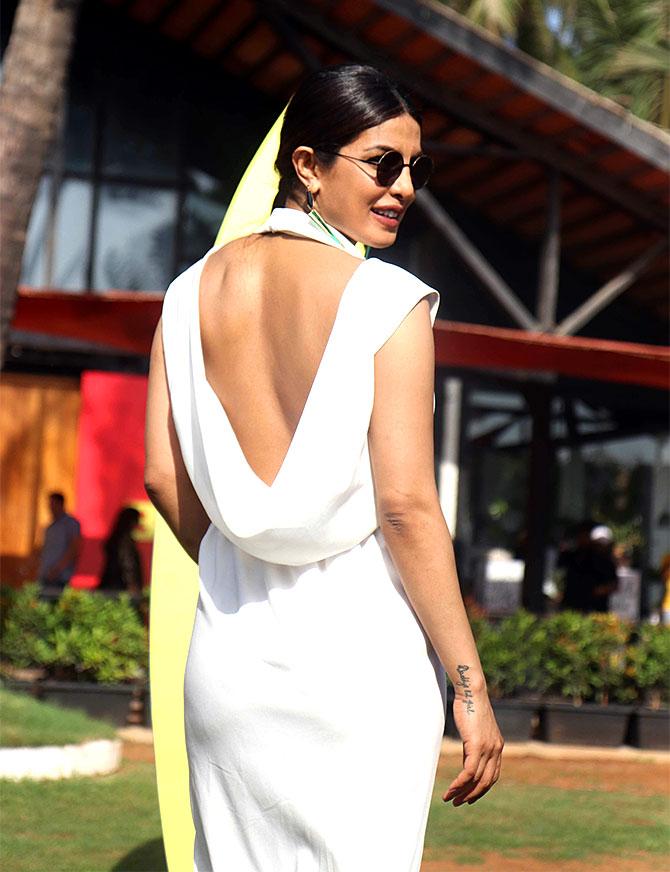 IMAGE: Showing off the sexy back. Photograph: Pradeep Bandekar
Was it a conscious choice for Priyanka to choose a film like Baywatch?
"Yes. It's my first movie in Hollywood, so let's not assume it's the same kind of thing that happens in America. People didn't know me very much. The kind of films that came to me were very interesting because of Quantico," she says.
"You can't just arrive there and say, 'Mujhe picture chaiye. People have to come to you. After Quantico, I got some amazing films. I liked Baywatch the most because it was a huge, global movie. I used to be a Baywatch fan when I was growing up. Secondly, I was the villain in it. I liked the fact that I would be doing something different in my first film. After Alex Parrish, I wanted America to get introduced to me as something completely different because Alex is such a positive character."
Priyanka has played negative characters earlier in films like Aitraaz and Saath Khoon Maaf. Did she take inspiration from them? "No, I wanted Victoria to be different. We haven't seen female villains much in Hindi cinema. Kajol was amazing (in Gupt), one of my favourites. But I wanted Victoria to be feminine and yet, evil. There's something very scary about that."
There was something else that was very scary for Priyanka in Baywatch. Watch this video to know:
Will there be a season three for Quantico?
"After every season, the channel goes back and they do a consensus to see which shows should come back for another season and which shows they will cancel. Right now, we are in that phase. Even after season one, we didn't know if season two was coming till last May," Priyanka answers, adding that she is still under contract with ABC.
Priyanka tells us how she has tried to clear the stereotype of Indian cinema and Indians in her work abroad. "Yes, there is a stereotype about the Hindi film industry and Indians in general, in the west. All of us may have experienced or heard about it, like, do we have elephants walking on the road or do we speak English well... there is a lack of understanding. What is conscious from my end is that when I walk onto a set there, I want them to know that I am an actor, who knows my job," she says.
How does she explain the song-and-dance in our movies?
"Songs and dance are a part of our culture since our birth," she replies. "We dance when someone is born, while celebrating birthdays... If we play music now, we will all dance! Our stories are told by music. I explain that it is a cultural difference. But besides that, it's cool to see people, who have watched Quantico and my Hindi films, write to me. It's great to have that cultural exchange."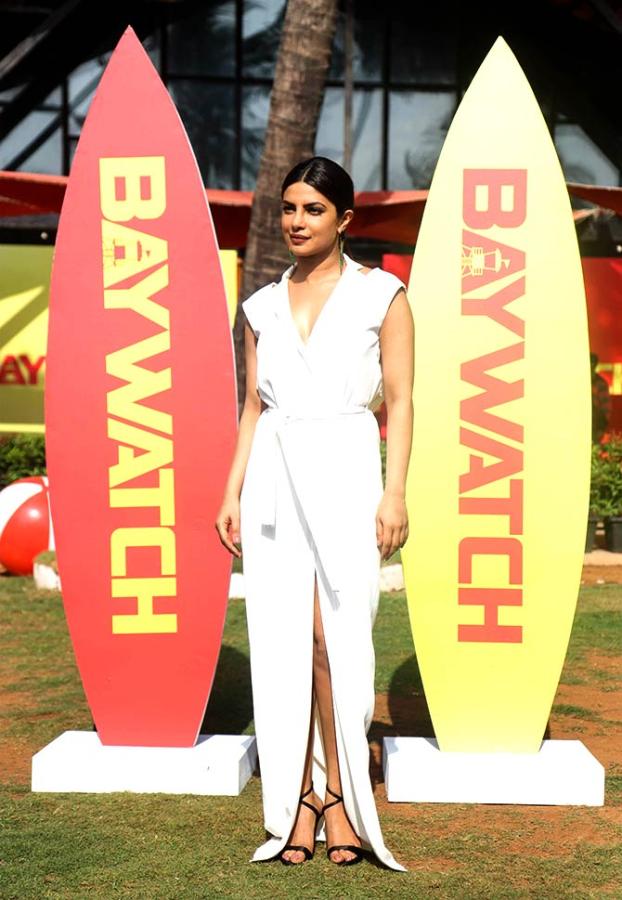 IMAGE: The Baywatch villain poses. Photograph: Pradeep Bandekar
Priyanka's production debut -- the Marathi film Ventilator -- won three National awards this year. How does she feel about it? "I was very excited! Whenever I get anything from the government, I am in New York for some reason. When I got my first National Award for Fashion, the Padma Shri award... I was there," she rues.
It was a special film for Priyanka. "I made this for my father. I have put his photograph in the first frame. When my father was in hospital on ventilator, a similar situation was on (like in the film). We had made a very difficult film, there were 118 actors in it!" she says, adding, "I was Miss World, that's why I got films. But I didn't know anyone. I had to introduce myself. That's why it's my company's mandate to give a chance to new artists -- actors, directors or musicians. Purple Pebble Pictures is a small production house. We want to make small but good films."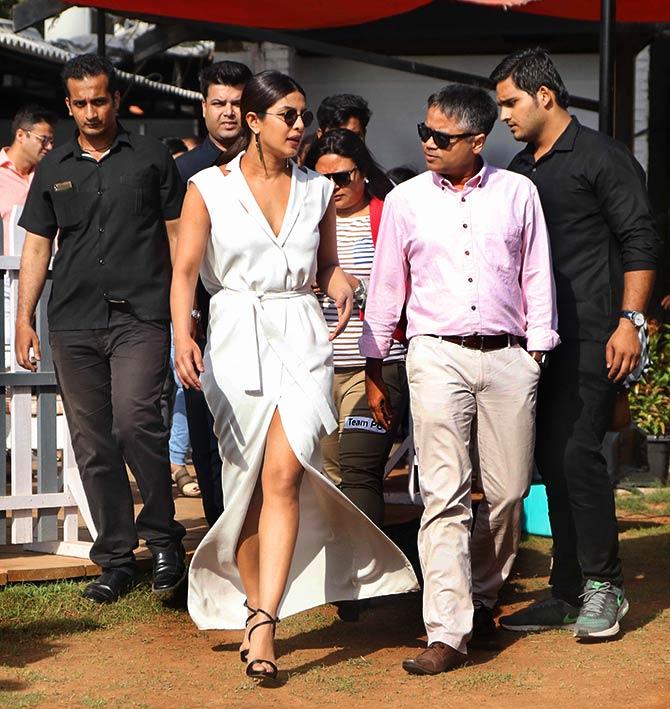 IMAGE: PeeCee has a chat with Viacom 18 COO Ajit Andhare. Photograph: Pradeep Bandekar
Will Priyanka return to Bollywood if Quantico 3 doesn't happen?
"I never planned that mujhe Hollywood mein janda ghadna hai. I was doing Hindi films here. ABC came to me and asked, 'Would you like to do television?' I love Quantico. Everything I am doing internationally just happened, it was never a plan," she says. "Till people want to watch me, I would want to do films. I am an artist. I will go wherever my work takes me."
The actress says she has 'locked' three Bollywood films but cannot announce them yet.
Does she wish Hollywood was more like Bollywood? "I wish Hollywood was not so punctual! Badi problem hoti hai mujhe," she says.