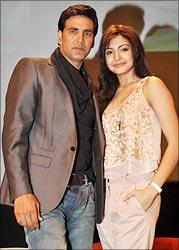 The Patiala House music launch, held at Whistling Woods International, started out like any other Bollywood event -- late by an hour-and-a-half, and attended by the filmmaker, Nikhil Advani, and the cast, including the protagonists Akshay Kumar and Anushka Sharma.

All that made it stand apart was the claim that it was the first Bollywood music launch simulcast on Livestream, YouTube and Facebook.
The music has been composed by Shankar-Eshaan-Loy, while the lyrics have been penned by Anvita Dutt.

"The film is all about getting a second chance and pursuing your dream," said Advani. "Akshay's character wants to become a cricketer and play for England, but due to certain circumstances his father doesn't allow him to. The movie is about the struggles, hope and aspirations."

Akshay said he went through similar situations in real life too. "I always wanted to be a martial arts teacher and wanted to learn it from Bangkok," he said. "I requested my father to send me there. In spite of all the difficulties in his life, he let me pursue my dreams."

Akki answered questions from Whistling Woods students -- one of whom, Tanvir Singh, will debut with the film -- and told them to follow their dreams. He assured the students that there was ample scope for everyone to enter the film industry and that he was keen on giving chances to fresh faces.
He said he believed that the ratio for success is 70 percent luck and 30 percent hard work; if luck favours you, hard work will automatically follow, he added.
"I am enjoying my stint as a producer and I produce films, which I personally want to make. I don't do it for money," said the actor. "Till now I have produced eight films, some of which have worked and some haven't had a successful run, but believe me, neither my distributors nor I have suffered a loss in any of the films. I don't know the fate of Patiala House, but I have reached a position where returns are not really a concern, I just want to offer good cinema."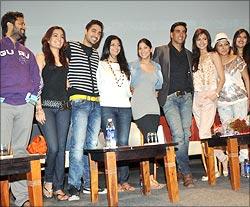 Akshay said actors like him, Shah Rukh Khan and Salman Khan couldn't do low-budget films like Udaan, Peepli [Live] and Tere Bin Laden, which did very well last year, because box office returns are dependent on their films. "When a person like me or Shah Rukh or Salman does a film, we have to collect a certain amount of money in the box office, so that the distributors and exhibitors get their money back," he explained. "The budget of these movies are somewhere between Rs 4 to 8 crore, but a film like Patiala House costs Rs 21 crore and Dabangg's budget was Rs 140 crore. So, we cannot do these kind of films because there is a very niche audience."
Anushka, who is basking in glory of the success of Band Baaja Baarat, shared her experience of working with Akshay. "It was a dream come true," she said. "It's just my fourth film and I am fortunate to work with him. He is a so methodical and I have never seen anyone who is so dedicated. Akshay would make sure he would reach the sets on time and unlike other actors who after finishing their shoot would go back and relax in the vanity van, Akshay would stay back till the end of the day and give valuable inputs. What more can one ask for?"
Hard Kaur, who also stars in Patiala House, was at the launch and capped the event with her performance of Laung Da Lashakara from the film.
Photographs: Pradeep Bandekar