Parzaan Dastur, the small Sikh boy we loved in Kuch Kuch Hota Hai, has grown up to become an actor of substance. After starring in the brilliant Parzania, Parzaan is looking forward to his next film, Sikandar, directed by Piyush Jha. The film also stars R Madhavan, Sanjay Suri and Ayesha Kapoor (who played the small Michelle McNally in Sanjay Leela Bhansali's Black).
Parzaan spoke to Patcy N about his new film, and more.
Parzania released in 2005. Why haven't we seen you in a film since?
I didn't get any film offers apart from Sikandar, so I just concentrated on my studies. I'm studying in HR College, Mumbai, and have just gave my Std 12 board examinations.
How did you get Sikander?
Piyush Jha saw Parzania and called me and said that he liked me work. He told me that he wanted to work with me. I auditioned for the role but did not get a call from his office after that. So I stopped thinking about it. Then I got a call after several months. That's when I got the script narration. We shot the film during my vacations. If my vacations weren't on, I would not be doing this film, as my parents are very strict about education. They want me complete my education, and not compromise on my studies.
What is Sikandar about?
Sikandar is about two kids -- my character Sikandar and his friend Nasreen (played by Ayesha Kapoor). Sikandar is a 14 year old boy from Kashmir, whose parents were killed due to militancy. Yet he leads a normal. He's a football player. One day, on his way back from school, he finds a gun. That gun changes his life. He is thrown into certain circumstances that throw his innocence out of the window.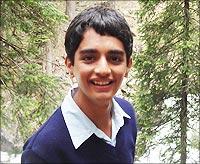 Does he become a terrorist?
You have to watch the film for that. How many of us in Mumbai find a revolver when they are walking on the streets? Just imagine when you have a gun in your hand and you are in unwanted circumstances, how much can you hold on to your innocence even if you are a child?
How was it working with your co-star Ayesha Kapoor?
Ayesha is a wonderful actress. I don't have to talk about her acting skills -- everyone must have seen Black by now. She has a lot of dialogues in Sikandar. She is not fluent in Hindi but she had to speak Hindi with a Kashmiri twang here. So she would ask Piyush or me about pronunciations, nuances and the meaning of the dialogues. Yet, she did a very good job.
Did you become friends with Ayesha off the sets?
We had a very hectic schedule. We shot mostly in the day, as we needed the light. We had the evenings and nights to ourselves. Our hotel had a small garden, and we would have a small bonfire there, as it was very cold. We would sit and chat. We went out a few times too -- we would go boating and fishing.
The film is shot in Kashmir. What was that like?
Kashmir is so beautiful, you can't describe its beauty in words. I spent about 35 days in Kashmir. I will never forget those days till I die! Just imagine someone who has grown up in a concrete jungle for 17 years and suddenly you are surrounded by greenery, mountains and snow. The people there are different. There are no proper roads. But it was great. I want to go there again and again. After staying there for over a month, I have become a changed person.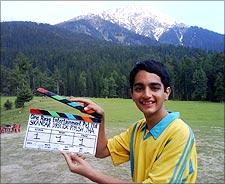 When you learnt the film would be shot in Kashmir, were your parents worried initially?
Initially, yes. But they knew Piyush and the production people, so they were okay with it. Plus, we were about 40 of us. I was not the only one there, so there was no reason for them to get scared.
We shot around Palgham. I didn't feel unsafe even for a single day, even though we travelled to Pangham everyday.
You had a workshop before you shot for this film.
Yes, we did. I am very bad in sports and I play a football player in the film. I trained for about three months to get the technique right. Then I worked with a football choreographer for a week, who told me what exactly I would be doing in the film.
Secondly, since I play a Kashmiri, I had to learn the Kashmiri dialect. Mushtaq Kak, a friend of Piyush Jha, trained me. He taught me the Kashmiri twang and how Kashmiris emphasise on certain words.
I have a few stunt scenes in the film, and had to train for that as well. I had to fall without getting hurt and things like that. My stunt directors Parvez and Feroz Sheikh showed me the stunts until I mastered them.
Apart from this, Piyush helped me develop my character. I would go to his office everyday, and we would discuss why my character behaved in a certain way. He also helped me understand the Kashmir problem though the film has nothing to do with it. That's just the backdrop of the film.
How was your director Piyush Jha?
I have not worked with many directors but I can tell you that Piyush made it simple for me to play this intense character. I knew exactly what I was supposed to do even before I went to Kashmir for the shoot. I had no questions on the sets, he had cleared all my doubts and confusion. He opened my eyes to Kashmir.
You have been a child artiste. Do you think you will be accepted as an adult actor?
I'll be thrilled if I get accepted, and disappointed if I don't. If I get more movies, I will put in more effort so that people appreciate my work.
You have passion for music as well. Would you like to cut an album some day?
I have to learn a lot more in the field of music even though I have started composing music. But if I get a chance in films, I will pursue a career in acting.