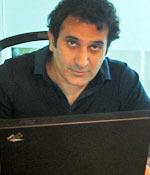 Many actors decide to become a director after gaining experience as an actor. The latest to join the bandwagon is Parmeet Sethi, who has been in the industry for close to two decades now.
He has played many successful roles in shows like Dastaan, Kyunki Saans Bhi Kabhi Bahu Thi, Jassi Jaisi Koi Nahin and Don. Parmeet's directorial debut, Badmash Company starring Shahid Kapoor, Anushka Sharma, Meiyang Chang and Vir Das is scheduled for a release this Friday.
Here are excerpts from an interview with the suave actor-turned-director:

Your directorial debut is in the news for a number of reasons. One of them being the transformation of actor Parmeet Sethi to director Parmeet Sethi. How did the idea of making Badmaash Company come to you?
It is very difficult to pinpoint on how I conceived this. This was an idea that was there in my mind for quite some time and I had started to develop on it. The surroundings and society helped me crystallise the idea. The number of scams happening around us -- the Telgi scam, the fertilizer scam -- every day you read stories about people being conned. I realised that I want to tell this to people. I thought of the idea for two days and finished the story within six days flat. I was also writing an adventurous love story for Yash Raj but I don't know whether I will direct that or not.
What is the USP of your film? Why would people like it? 

This is complete family entertainment. Everyone in the family can connect with this movie and enjoy. The setting of the scams in the movie is very interesting and the whole script has got a freshness attached to it, which will definitely impress viewers. We have seen scams in Bunty Aur Babli as well, but they were very Bollywood-type! The scams you will see in my movie will give you a more intelligent and international flavour, yet very convincing. 

Did you always want to become a director?
Yes. After spending my first year in acting I realised that I wanted to make films and not just act in them. The satisfaction you get from making a film in unparallel. I was always interested in things happening behind the camera and that is why becoming a director was a natural outcome of it.
The obvious question you may ask is, why did I make the shift after so many years. Well, initially I thought I did not have the experience and maturity to become a director and also I have to admit that I was doing well as an actor and it was difficult to take a decision to move midway.
Since I depend on acting to run my household, I could not afford to take the risk early on in my career. So, I gathered experience, the guts and then decided to move to direction.
Have you been behind the camera in your career as an actor?
As a director, no. I have never assisted anybody as a director. I have learnt everything on the set with my experience as an actor. I remember when I was doing my show Dastaan, I once corrected a few scenes but that was it.
However, as a writer I have done quite a few shows. When I started my production company (named Archana Talkies after his wife Archana Puran Singh) we did not have a script for a stand up show. And we had to shoot the next day! Archana was almost in tears. I asked her to calm down, went to my study and within two hours gave her a script. I was very scared when she started reading because she was laughing. But she liked it and after that we called up the director and read it out to him. He too liked it. That gave me the confidence to start writing my own scripts. I have already written a few shows like Samne Wali Khidki and Aasman Se Tapki. But I have never given my name anywhere.
How did you tie up with Yash Raj for Badmaash Company?
Well... believe it or not, I just picked up the phone, called Aditya Chopra and told him about my idea and read out the script. Thankfully, though we had worked 15 years back in Dilwale Dulhaniya Le Jayenge, he did not forget me. It was my debut film and I played a negative role there. I met him, he liked my script and then we started working on this!
Initially he thought that I will give him a one line story idea for the film. So when he saw me prepared with the full story, he was pleasantly surprised. I gave him the story in January 2009, and within a few days I got a call from him saying the script was superb and mindblowing and he wanted to make it into a film! So there I was...working with Yash Raj again.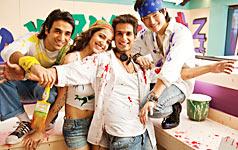 It was a dream sequence... I was walking on the beach with my wife and a friend when I got this call. I couldn't believe what Aditya was saying so I passed the phone to Archana. When she also heard the same thing, I realized that I had got the biggest break in my life!
How did you do the casting for the film?
It was a collective process involving the producer and the director. Shahid was my first choice and Chang was in my mind when I wrote the script. Vir came in much later. Aditya did not pressurise me to sign up Anushka. He just asked me to meet her. After my meeting, I was convinced that she was the right choice! Yash Raj gave me everything that I asked for. We have shot in the US, Bangkok and wherever I wanted. I am very satisfied with the outcome. 

Yash Raj is craving for a hit for quite some time now. They must be banking heavily on you. 

I was never under any pressure. I wrote the script in six days. When I made the film also, I was never under any pressure. I am confident about the outcome and am certain that the audience will not go back saying this is a bad film. They will enjoy the movie. But whether this will create a new record in the box office is something I am not sure of. No one can predict the business success of a movie. You can at the most pray. That is what I am doing. 

But you cannot deny the stress that comes along any association with the film industry. 

There is stress, but I control that by spending a lot of time with my family, having meals with them. I take my son for a football practice in the morning, the younger one to art school. They are 14 and 11. These small things that help me de-stress. 

How has the support from your better half been? 

Archana is my bouncing board and has been with me throughout my highs and lows. We are soul mates. We are at peace with each other and know our roles in each others lives very well. And the best part is that we are best friends first. When we have problem we first talk as friends and then suddenly the whole tension disappears. But I must admit that she is the boss in the house.