'Kriti Sanon is an educated, well-read, articulate actress.'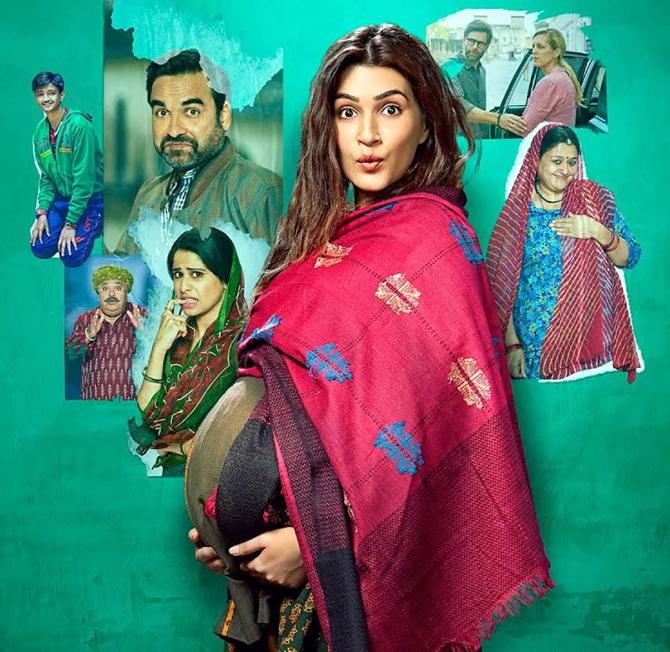 "I've had so much fun!" Pankaj Tripathi tells Subhash K Jha about working in his latest film, Mimi.
"It's a film about child surrogacy, but it doesn't take itself too seriously.There is no lecturebaazi on morality. It just moves to its own rhythm."
He had a lovely time shooting with his pretty co-star, Kriti Sanon.
"Kriti Sanon is an educated, well-read, articulate actress. She is not an airhead. She knows what she's doing. Working with her was such a joy. Most of our scenes are together. At one point in the story, she tells everyone that I am the father of her unborn child, when in fact, I am not," says Pankaj.
"It is a story that has a lot of unpredictable twists and turns. Kriti and I would speak on so many subjects other than cinema. Aaj kal ke young actors sirf cinema ke baare mein nahin jaante. They are aware of the world around them."
Pankaj says he is fortunate to work with good actors.
"I am very lucky with my co-stars, especially female actors, I enjoyed working with Janhvi Kapoor in Gunjan Saxena and Richa Chadha in Shakeela. In Mimi. I have Kriti as well as Sai Tamhankar as my co-stars. She is a well-known name in Marathi cinema. Then there is Supriya Pathak, another favourite of mine. Shooting for Mimi was like a dream come true for me."
Pankaj feels having talented co-stars makes the actor's job easier.
"One cannot do anything on one's own. Every good actor needs competent co-stars. When you have Sai, Supriya, Kriti and Manoj Pawha", as I did in Mimi, your job is much easier and enjoyable.
"Supriya Pathak is so talented and underused. I'd just sit and hear her talk, as she shared her experiences. So much to say, so much to give. I felt like a student in front of her."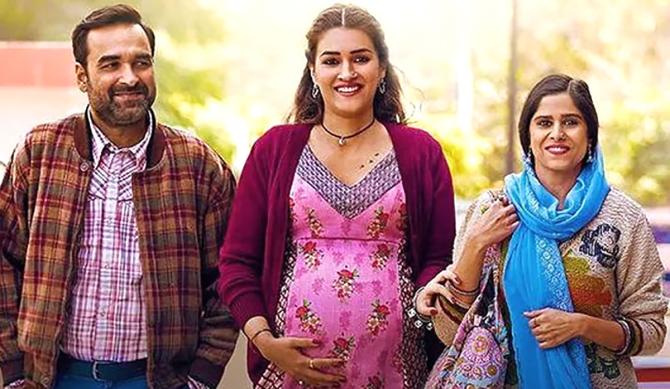 The actor has fond thoughts about his Mimi director.
"Like me, Laxman Utekar is from rural India. He is from the interiors of Maharashtra and I am from Bihar. We had a lot of things in common."
Laxman allowed Pankaj to improvise.
"I wouldn't change scenes but I do change words in my dialogues until they sound like my own words, and not something that comes out of a laptop," he says.
Pankaj has tried something new in Mimi.
"For the first time, I've let myself go. I've let the emotions flow. Usually, I like to keep it under check. I am not an actor, who enjoys a display of emotions. But in Mimi, I have shown my character's feelings more strongly than ever before."
The other pleasure of shooting Mimi were the locations.
"We shot in a village called Churni in Rajasthan. The entire district is filled with history. I am a crazy fan of heritage homes. Every day after shooting. I would take off to visit the old havelis. Each one had its own story to tell."
The one thing that sets Mimi aside from Pankaj's other assignments?
"I play the leading man, not the heroine's father or the hero's mentor. It is a refreshing change. From playing bit roles, any and everything that came my way, to the lead... I look back at my journey with pride and humility."
"I never planned anything. I kept acting in whatever films came my way because I love to act. I never thought I would get better roles because I didn't think of roles as good or bad. They were an opportunity to act."