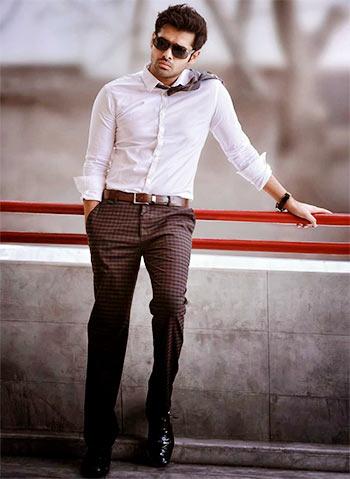 Telugu actor Ram did not have a release last year. His releases in 2013, Ongole Githa and the multistarrer Masala (with Venkatesh) met with a tepid response.
The energetic star is bouncing back this year with three films. One of them, Pandaga Chesko, is up for release this Friday, May 29.
In this interview with Rediff's Radhika Rajamani, Ram talks about Pandaga Chesko, his co-stars Rakul Preet Singh and Sonal Chauhan, and his directors, and throws light on his two forthcoming films currently under production.
What do you look for in a script?
It's like watching a film. One should be happy and satisfied.
There should be a surprise element, something I have not done before. A script should excite me enough.
Does Telugu cinema offer you that?
My three films were experiments. Endukante Premanta was about a soul going around, Ongole Githa was set in a Mirchi yard and Masala was a multi-star film.
Such films happen once in a while. Telugu cinema has mainly commercial films.
There are hundreds of people investing money in producing films. One has to think about that also.
You did Masala with Venkatesh. Are you game to do more such films?
Definitely I would like to do such films. There should be a bound script. I should be excited to do it.
I am not sure if multi-starrers will work in Telugu business-wise as compared to Bollywood. If there are two superstars, the producers have to pay double remuneration.
Were you happy at the rather tepid response to Masala?
There was a risk in doing it. It was a gutsy character.
I was not satisfied with the response though I didn't give it much thought.
How did Pandaga Chesko happen?
During the shoot of Masala at Panchgani, the producers came.
Normally, in Telugu, the producer sets the hero and director and then the script is written.
I had thought about buying some scripts and I had started to do so.
I bought about six-seven scripts.
Pandaga Chesko was one such script which I had heard in 2013.
The producers heard it in 2014 and the director Gopichand Malineni made some changes to it.
Is this film a family entertainer with romance and action?
It has all the usual ingredients. I haven't done the role of a millionaire before.
In films people generally are rich because of their ancestral property. But nowadays, in the software industry, one can make a lot of money at a young age.
One can make an app and earn money. There are 100 billionaires below 30 now.
In Pandaga Chesko I play one such self-made guy who is a very today's guy.
Was it easy to relate to the role of this millionaire?
It was a lot of fun (laughs). I got to live a millionaire's life, use super cars.
I could drive a Lamborghini!
Anyone from the masses can also connect to the way the character is dealt with. There is a balance and the film is entertaining.
You play this millionaire who visits India. What happens next?
You have to see the film. The story happens in India.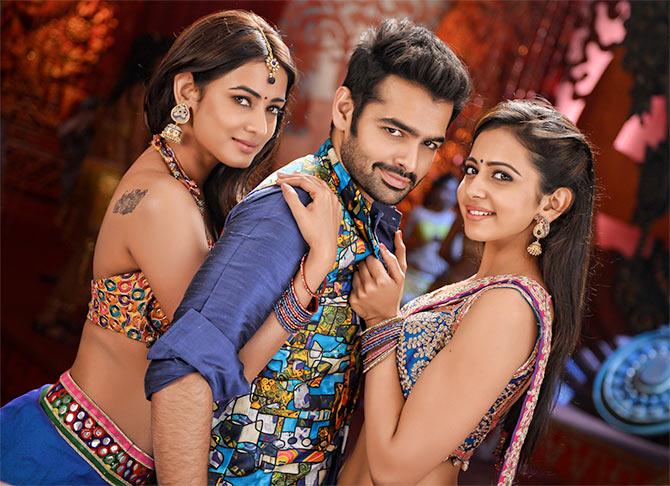 Image: Sonal Chauhan, Ram and Rakul Preet Singh in Pandaga Chesko
What was it like acting with Rakul Preet Singh? She had good words to say about you and your energy when I spoke to her.
It was a lot of fun. On the very first day she was speaking in Telugu, a language that heroines struggle to speak. That conveyed only good words about her.
Both of us are major foodies, and 99 per cent of our conversation revolved around food. More so since we were both on a strict diet and could not eat! Once in a while, we had our cheat days.
You also share space with Sonal Chauhan who plays the other heroine in the film...
I have two songs and quite a few scenes with her. She has a good role in the film which is completely different and in contrast to what Rakul plays.
Sonal is there in the foreign parts and in the second half. It was fun working with Sonal too.
How did you find Gopichand as a director?
He is uncompromising and makes sure he gets what he wants.
When we pitched for the title Pandaga Chesko, it was impossible to get it. But Gopichand was so determined to get it, that he finally got it!
He is good with entertainment and made some changes in the screenplay.
What is there in Pandaga Chesko for the audience?
Every generation will have their own thing to watch. Every frame is a visual treat.
Every frame looks like a celebration. That is how the character is conceptualised. Wherever the hero is, it is like a festival to be celebrated.
Now you seem to have two films back to back, Shivam and Harikatha...
Shivam is confirmed as the title while Harikatha is a working title.
I have finished three schedules of Shivam and two schedules of Harikatha.
I am planning for both films to releases this year!