'Gajendra Chauhan may be a good administrator, or even a good leader, but he lacks the basic quality of inspiring others.'
'If the students aren't inspired, if they cannot dream big, how will they become successful?'
Pallavi Joshi tells Ronjita Kulkarni/Rediff.com why she is worried about FTII's future.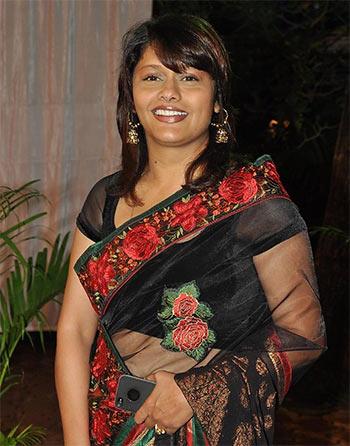 The controversy raging around the Film and Television Institute of India shows no sign of abating.
Weeks after Gajendra Chauhan was appointed FTII chairman, its students are still on strike.
Oscar winner Resul Pookutty, director Anand Patwardhan, director Kiran Rao, actor Piyush Mishra and most recently actor Ranbir Kapoor are firmly behind the student protest.
FTII Governing Council members, actress Pallavi Joshi and director Jahnu Barua, resigned this week.
The Governing Council, defunct for a year, was revived only a month ago.
"Students aren't inspired by the current leadership," Pallavi Joshi told Rediff.com "We have a lot of creative minds in FTII -- directors, cinematographers and other technical talent."
"FTII boasts of great alumni like Naseeruddin Shah. We have had chairmen like Adoor Gopalakrishnan, Girish Kasaravalli and Shyam Benegal."
"It doesn't matter to me who they (the information and broadcasting ministry) appoint. The government will always make its own choice; this happens worldwide," she added.
"What matters is that the leadership should be able to inspire the students."
"Gajendra Chauhan may be a good administrator, or even a good leader, but he lacks the basic quality of inspiring others," Joshi says, explaining the opposition to the actor who played Yudhishtr in B R Chopra's 1980s television serial Mahabharat.
"If the students aren't inspired, if they cannot dream big, how will they become successful?"
"Movies are entertaining, but at the same time, it is also an artistic medium. One has to be grounded, but one should also dream big and be allowed to fly."
She points out that she started her career with Shyam Benegal (one of Joshi's earliest movies was Benegal's Susman in 1988, co-starring Shabana Azmi and Om Puri).
"I took in his influences at a young age" -- she was barely 19 then -- "and that shaped my career and who I am. If I had been influenced by a B or C grade director, my career would have been different."
"Students these days are so sorted. They know their craft, their job."
"When Shyam Benegal, Vinod Khanna and Girish Kasaravalli became chairmen, students did not agitate. What you have done in your career carries weight."
Students, Joshi reveals, haven't been able to graduate from the FTII since 2008. They must finish their course and make a short film as part of their syllabus. But since they haven't graduated, they haven't started their careers yet.
"They feel that if they cannot make a short film, how can they make a feature film and go out on their own?"
"One entire generation of filmmakers and technical talent is getting disgruntled, and I don't want that. We've had talent like Rajkumar Hirani. I want that process to continue," she asserts.
She believes that previous governments have done very little, but the current government has decided to "pull up its socks."
I&B Minister Arun Jaitley met the FTII students and the Governing Council on July 3, but the talks failed.
"Some points discussed were approved, like better grants, better equipment. The government agreed to give more funds. But I thought something positive would come out of the meeting," Joshi says.
FTII alumnus, movie mogul Subhash Ghai, she says, would have made the perfect chairman.
"Subhash Ghai has given blockbusters; he is the biggest showman in the industry. He is a perfect guide."
The FTII governing council itself has a great deal of talent, she feels. Jahnu Barua is a National Award-winning director, Rajkumar Hirani has made big blockbusters that are "classy and clean," Vidya Balan is a National award-winning actress.
"Gajendra Chauhan has practically done nothing," Joshi says.
"We are hoping more people will step down (from the FTII governing council) after his appointment," says Joshi. "I don't know what the future of FTII is going to be."
Pallavi Joshi's photograph: Abhijit Mhamunkar