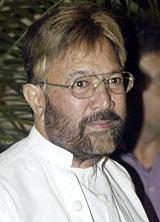 People across Pakistan mourned the death of Rajesh Khanna, with Prime Minister Raja Pervez Ashraf describing him as a 'great actor' and others taking to social networking websites to pay tribute to the romantic hero.

In a special message, Prime Minister Ashraf conveyed his condolences at the death of Khanna. He said Khanna was 'a great actor whose contribution to the field of films and arts would be long remembered.'

Ashraf said Khanna had a 'large fan following across the borders and captivated audiences with his excellent acting skills.' He said he shared the grief of the bereaved family.

Most television news channels led their bulletins with extensive reports on Khanna's death in Mumbai at the age of 69 after a prolonged illness. The reports featured songs and clips from Khanna's many hit films, which were equally popular across the border in Pakistan.
Geo News channel, Pakistan's popular news channel, aired a nearly hour-long tribute to Khanna -- including contributions from actors, filmmakers and musicians -- within hours of the death of the superstar.
Singer and actor Ali Zafar wrote on Twitter, 'Rajesh Khanna - RIP. So many fond memories from his movies and songs.'
Leading actor and filmmaker Syed Noor told the media, "Rajesh Khanna was such a huge actor of the subcontinent that he will be remembered by the people for many years to come. The era he reigned over is unlikely to be experienced by any other actor of this subcontinent."
© Copyright 2022 PTI. All rights reserved. Republication or redistribution of PTI content, including by framing or similar means, is expressly prohibited without the prior written consent.