'Is it okay to write your future in blood??'
'India and Indians have become intolerant... that's scary.'
Rohit Roy is stumped by the state of affairs in India.
Reportage: Patcy N. Video, photograph: Hitesh Harisinghani/ Rediff.com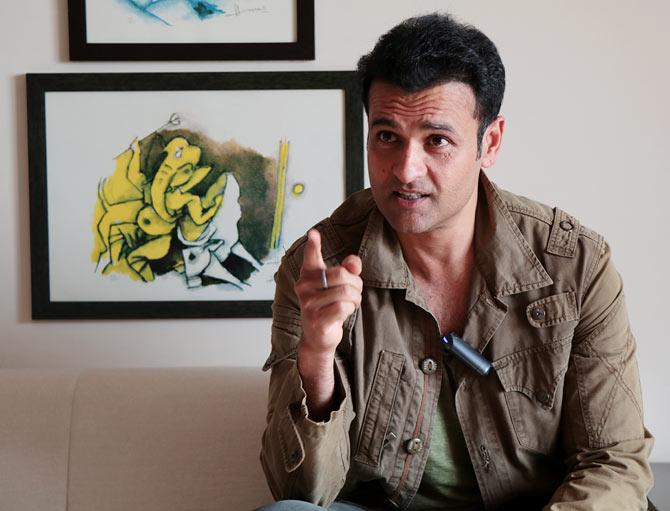 Sanjay Leela Bansali, Deepika Padukone and the Padmavati team, who have been facing violent opposition and death threats, have been getting support from surprising corners.
After Simi Garewal, Rohit Roy -- who is rather upset with the increase in regressive thinking -- has spoken out in support of the film.
'For the first time, I'm sad, frustrated, enraged that I'm an Indian living in India... never thought I'd ever say that. Indeed, very sad.. Jai Hind,' he tweeted on November 20.
He was immediately trolled but refuses to let that bother him.
He posted a series of tweets to make himself clear:
'India is what it is bcoz of its diversity, sense of democracy n imprtntly, it's secularism.. Hinduism, a way of life, is inclusive in nature.. couple yrs bck, kiran felt unsafe, Aamir khan used the word 'intolerant' and all hell broke lose.
'Today, ppl are offering rewards for the heads of actors/directors for a film that they haven't seen ONE SINGLE frame of! the govnt is doing nothin to stop this.. abetting even! Forget creative freedom, isn't this 'INTOLERANCE' scary for all Indians?
'A film is being used by some for political leverage.. does calling to behead a gentleman in any way legal, tolerable or democratic!!? How then are the powers that be quiet about it? No arrests, no warnings even! History cannot be distorted, no question abt it...
'Bt under the garb of respecting n safe guarding your history, is it ok to write your future in blood?? Even using the word behead is barbaric! N what's strange is tht in protecting the 'image' of a 'mother' u want to behead a daughter of the country who is merely portraying her!?
'India/Bharat has survived many an onslaught frm outsiders over centuries n we have survived and come out stronger bcoz the entire country n its ppl set aside thr differences to fight the outsiders .. today in every corner of india, there is unrest.. this fight will be disastrous.
'Yes India and Indians have become intolerant.. Now to an extent that it's scary.. one doesn't know what wrath of which faction one will incur while even making a statement which they don't take fancy to...
'Javed saab ki ek line yaad aati hai.. Tum unke jaisa kyun banna chahte ho.. unko apne jaisa banao.. everything can be sorted through dialogue and communication and tolerance! Putting out a bounty for someone's head in this century is plain unacceptable and disgusting.. Jai Hind.'
He clarified that his tweets were not about Padmavati but about the situation in India. 'Sorry but my tweets are not about #Padmavati or any film.. they are about the prevailing situation in our country.'
Rohit clarifies himself further in the video, and feels 'the country is going to the dogs'.